There is a viral social message claiming that you can get an early COVID-19 vaccine appointment by submitting a request via MySejahtera's Helpdesk feature. The Special Committee on ensuring access to vaccines (JKJAV) has debunked the message as fake news and such requests have drowned out authentic complaints and urgent requests sent by the public.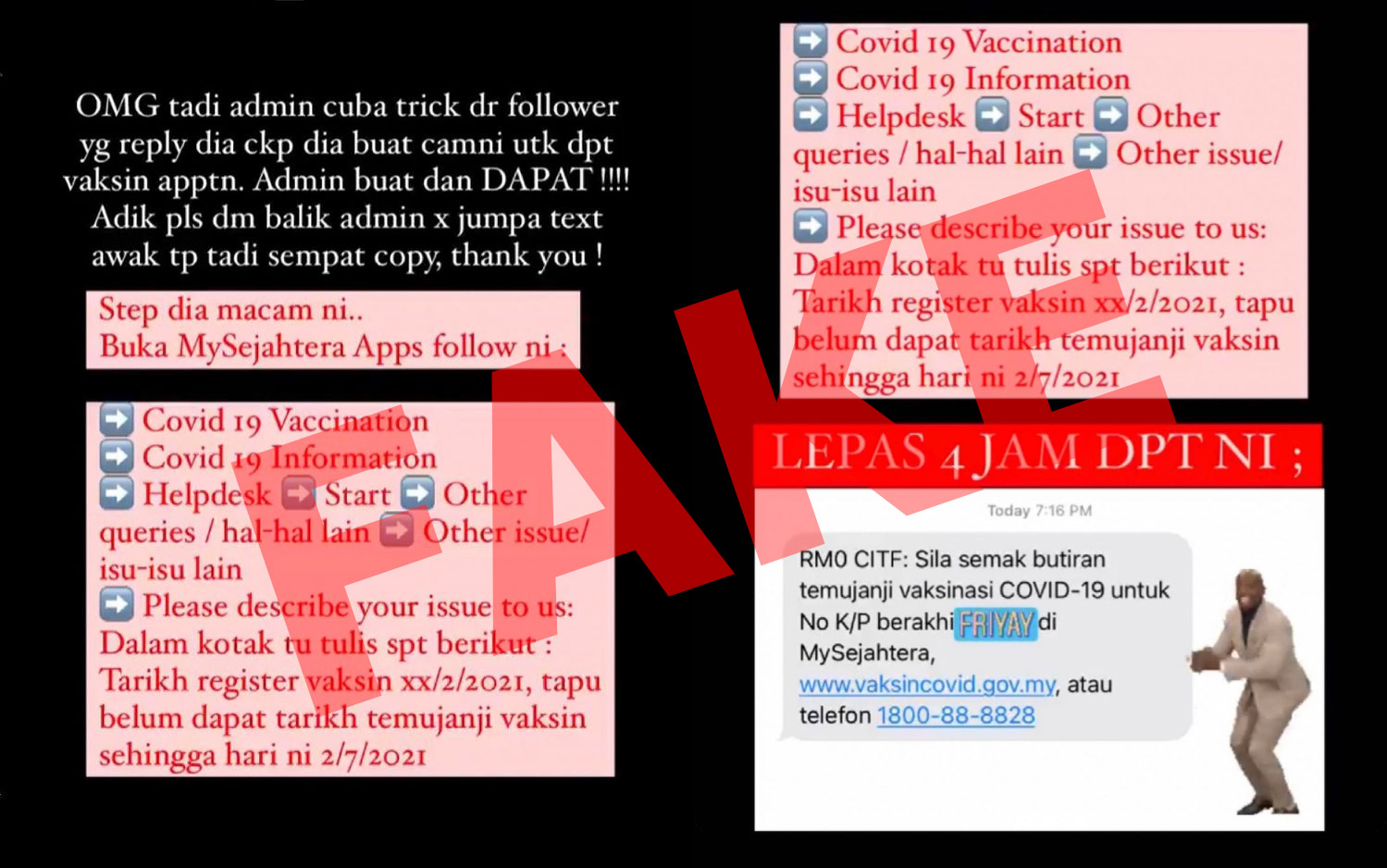 An instagram post claims that some people have obtained their appointments immediately by submitting a complaint on MySejahtera Helpdesk under the "Others" category. The message also claimed that some got their appointment just 4 hours after submission.
The JKJAV has stressed that there are no shortcuts to acquiring the vaccine appointments and they are being scheduled automatically and in stages. It said there's no need to go to the MySejahtera Helpdesk for this purpose.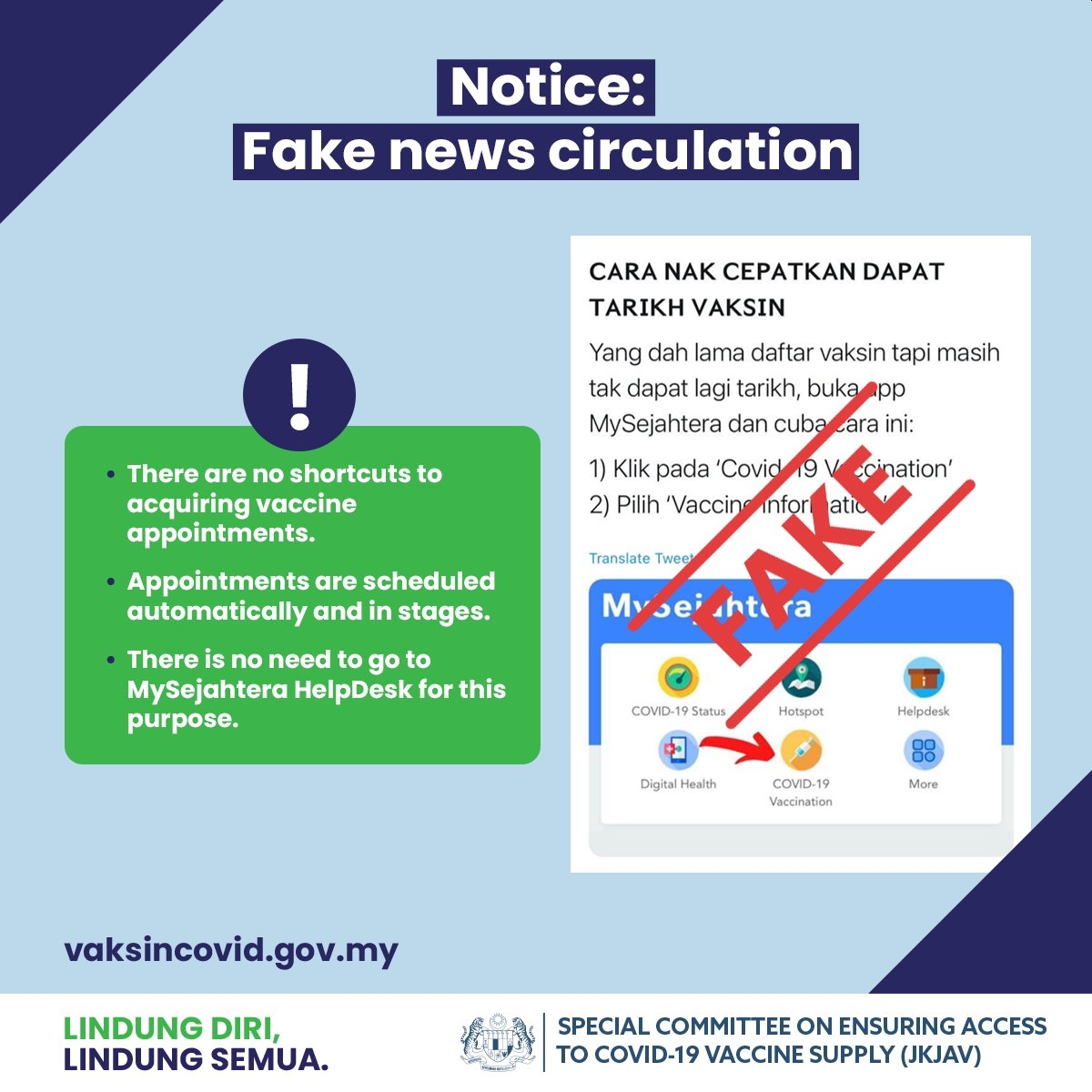 At the moment, the National COVID-19 immunisation programme has already started sending out vaccine appointments to adults aged below 60 years old under Phase 3 in Kuala Lumpur, Selangor, Melaka, Putrajaya, Labuan, Pulau Pinang and Sarawak. With the arrival of more vaccine supplies in July, more adults are expected to get their appointments soon. Malaysia aims to hit 300,000 vaccinations per day in July and 400,000 vaccinations per day in August.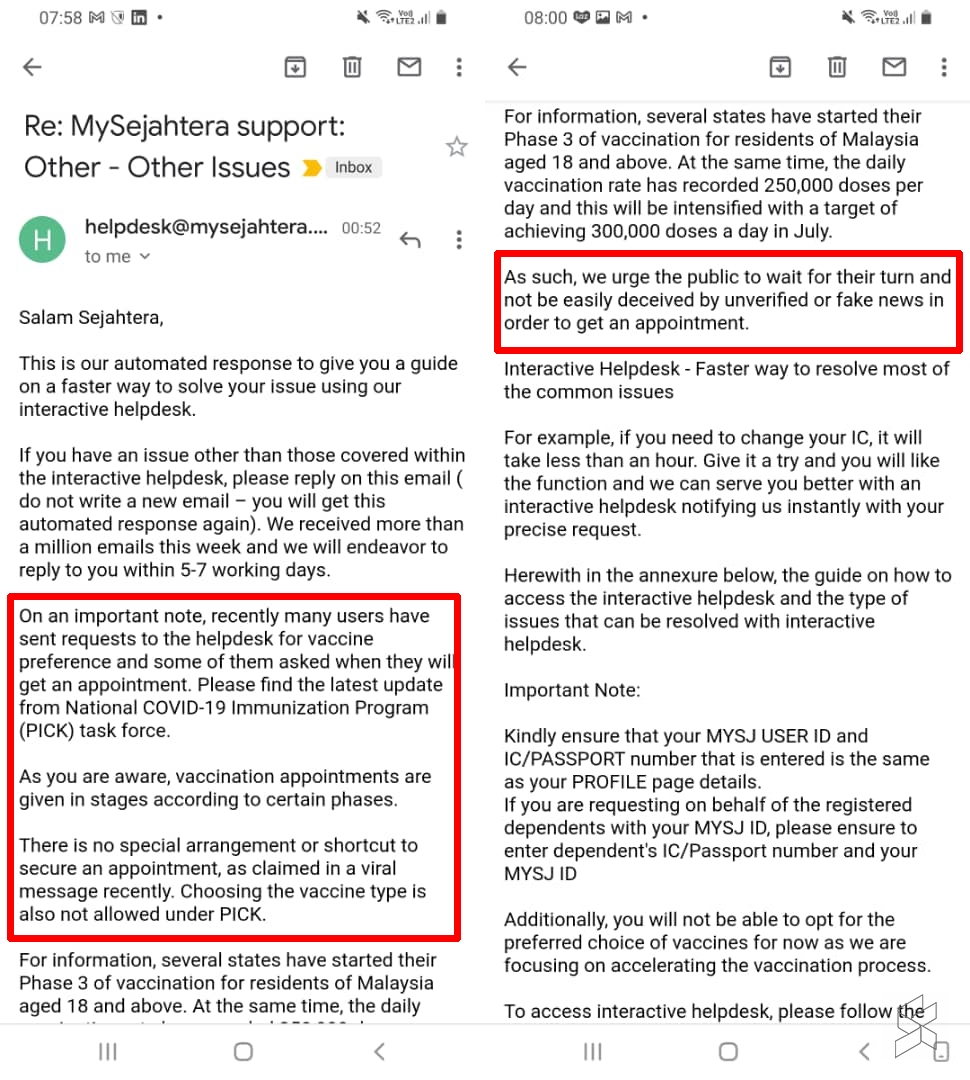 For those who have attempted this viral MySejahtera Helpdesk trick, you will receive a long reply telling you that there's no such special arrangement or shortcut to secure an appointment as claimed in a viral message. So don't bother trying as they will reject your request.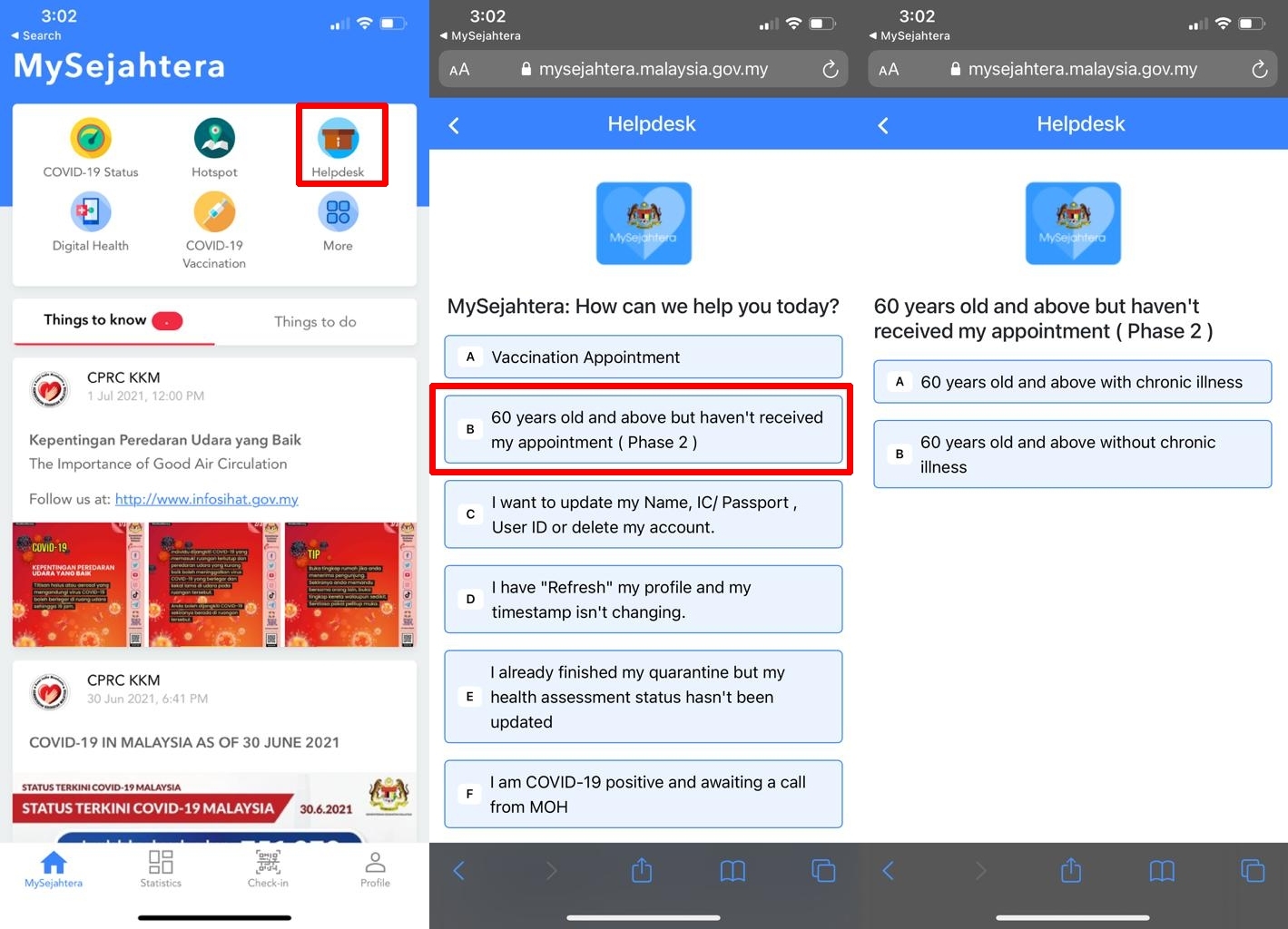 At the moment, Phase 2 is still being prioritised and the programme aims to vaccinate all registered senior citizens by the end of this month. For senior citizens that have yet to receive their appointment, you may use the MySejahtera Helpdesk feature to follow up on the status. Just go to the home screen, tap on Helpdesk, select B. 60 years old and above but haven't received my appointment.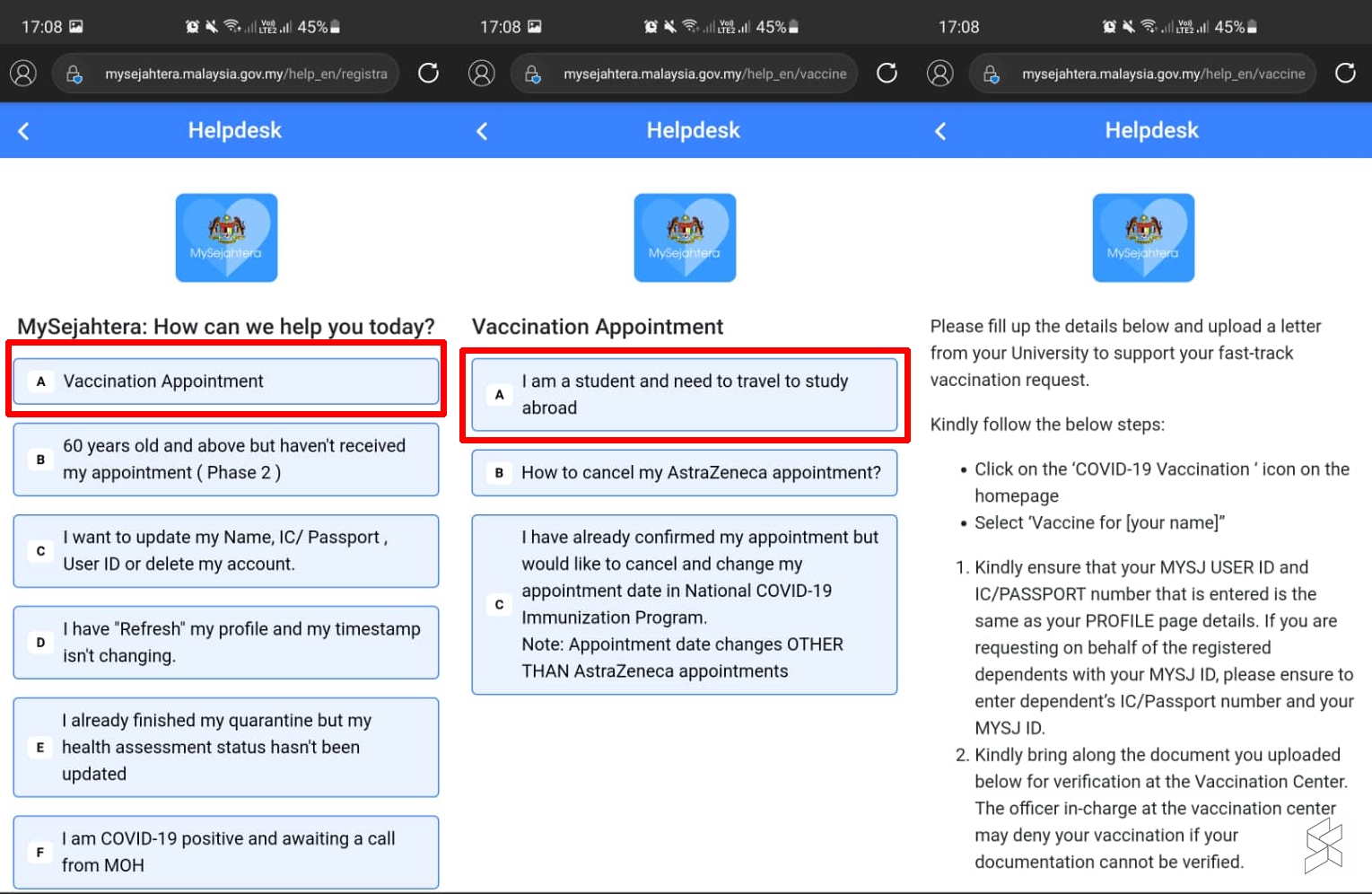 For students going overseas to study, you may also request early vaccination via MySejahtera Helpdesk. Just select A. Vaccination Appointment and then A. I'm a student and need to travel to study abroad. You'll also need to provide your details as well as a supporting document from your university.
MySejahtera Helpdesk feature will soon get an update that allows individuals with certain conditions to request priority for vaccine appointments. This includes OKU, people with critical illness, pregnant and breastfeeding mothers and people who need to travel soon for work or medical treatment.
[ SOURCE ]
Related reading