Minister in charge of coordinating the National Immunisation Programme, Khairy Jamaluddin has said that the next 3 months will be crucial as Malaysia will receive a large number of vaccine doses. At the moment, Malaysia is currently hitting 250,000 doses a day and it aims to ramp up to 300,000 per day this month.
At the moment, more than 60% of registered senior citizens have received at least one dose. Khairy said the programme aims to complete vaccinations for registered senior citizens by the end of this month. During last week's press conference, it was revealed that over 2 million senior citizens have gotten at least a dose while 729,343 have not yet gotten their jab.
The next three months will be the busiest and most crucial period of PICK as we ramp up capacity across the country.pic.twitter.com/ukL0MzDkYN

— Khairy Jamaluddin 🇲🇾🌺 (@Khairykj) July 3, 2021
Although adults below 60 years of age (Phase 3) have started getting their vaccination in several states, Phase 2 individuals which include senior citizens, people with chronic diseases, and people with disabilities are still being prioritised. Senior citizens that have yet to receive their appointment can use the helpdesk feature on MySejahtera as shown below: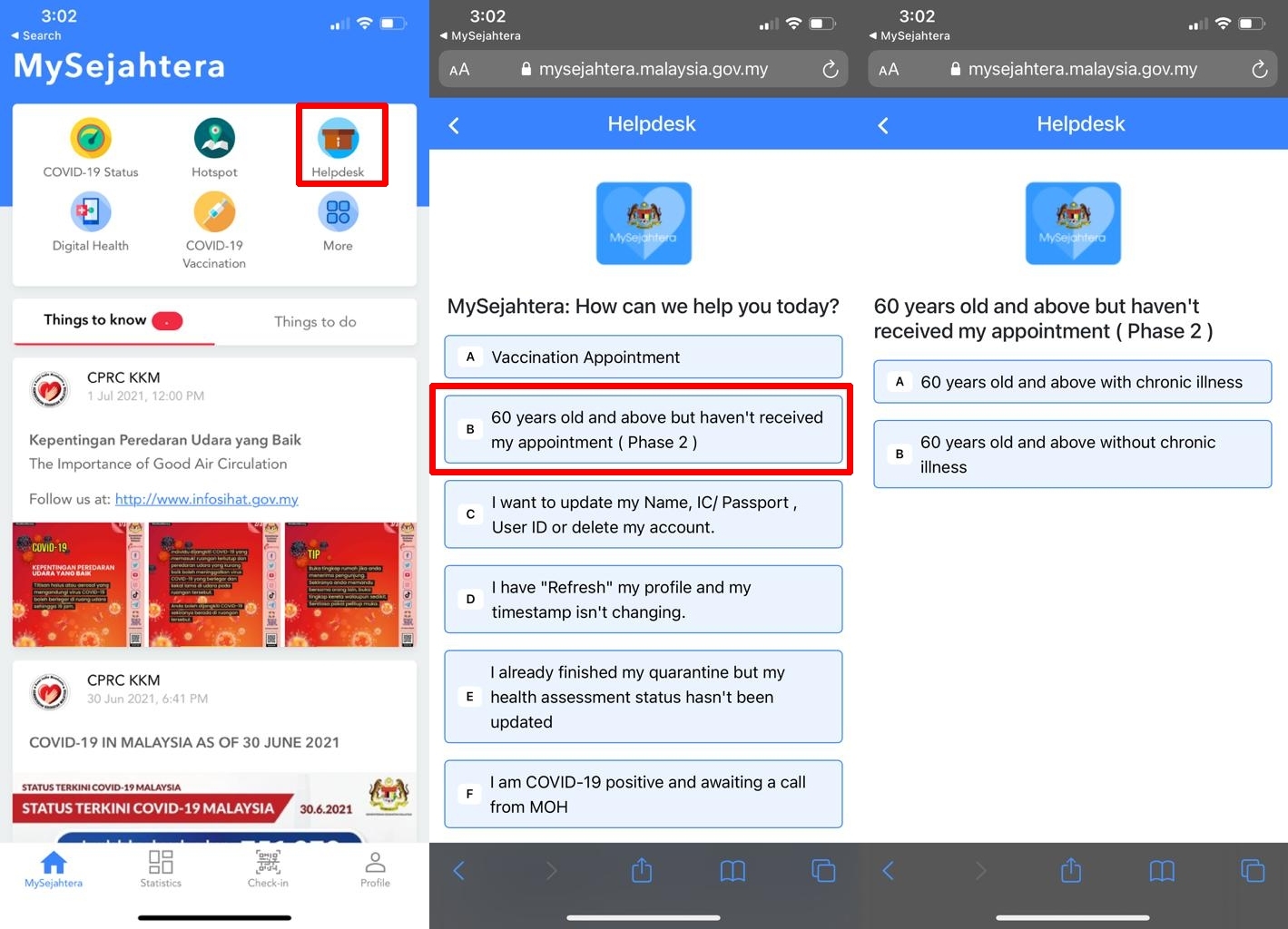 At the moment, Malaysia has administered over 8 million doses since the start of the programme in February 2021 and more than 12 million doses are scheduled will arrive in July alone. Khairy said that he is thankful that some countries have taken steps to address the global vaccine inquity and Malaysia has recently received vaccine donations from the US, Japan and China.
Besides the current Pfizer, AstraZeneca and Sinovac vaccines, Malaysia will also receive the single-dose CanSino Bio vaccines this month. This would be a booster for the vaccination program as the single-dose vaccine can accelerate vaccinations for residents in rural and hard-to-reach areas as well as refugees.
The Minister also shared that there are now over 1,400 vaccination centres (PPVs) throughout the country. The PPVs come in all shapes and sizes which include pop-up PPVs, places of worship, schools, universities, community halls, places of work, plantations, and even restaurants. To increase accessibility, they are also drive-through PPVs, mobile units and special PPVs for the people with disabilities.
For people in rural areas without access to MySejahtera, their details are recorded manually and then uploaded to the system later. Besides the government sector, over 1,500 GP clinics and 120 private hospitals are also operating as PPVs.
Besides the originally planned phases, the government has already initiated Phase 4 which focuses on vaccinating workers in the crucial economic sectors including manufacturing, transport, construction, and plantation. The target is to vaccinate at least 300,000 workers in the next few weeks.
At the time being, the plan of administering the 3rd dose is still being studied. Khairy believes that COVID-19 is most probably endemic, possibly requiring regular vaccination similar to the flu jab in certain countries. He also added that the government will continue to improve MySejahtera helpdesk feature to troubleshoot issues related to vaccination.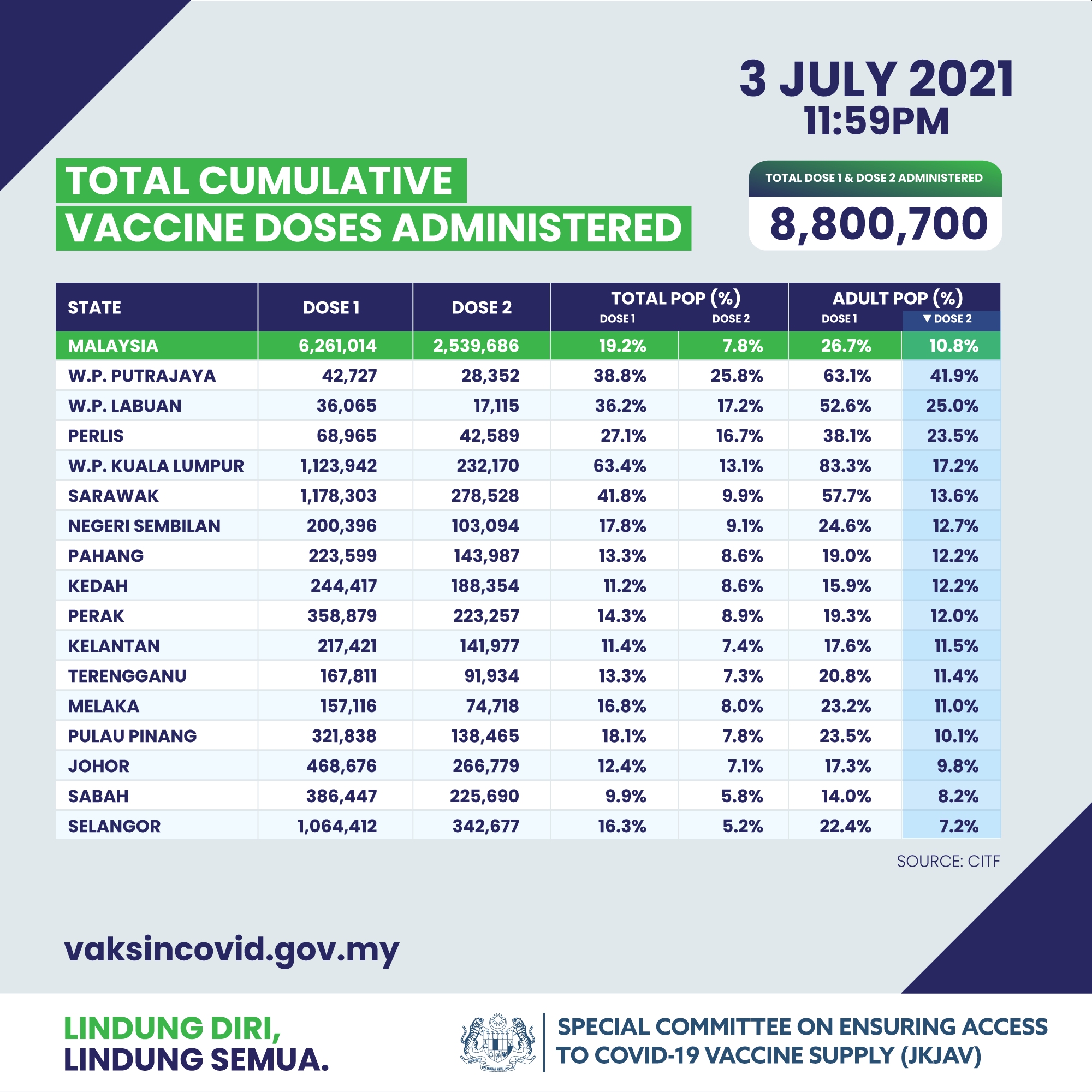 As of 3rd July 2021, over 6.2 million people in Malaysia have received at least one dose which is 19.2% of the total population. Meanwhile, over 2.5 million have completed their vaccination with two doses, which is equivalent to 7.8% of the total population.
In Kuala Lumpur, Sarawak and Selangor, over 1 million people have already gotten at least one dose in each state. For this month, over 14 million vaccines will be distributed throughout the country and Selangor will receive the most with 4 million doses.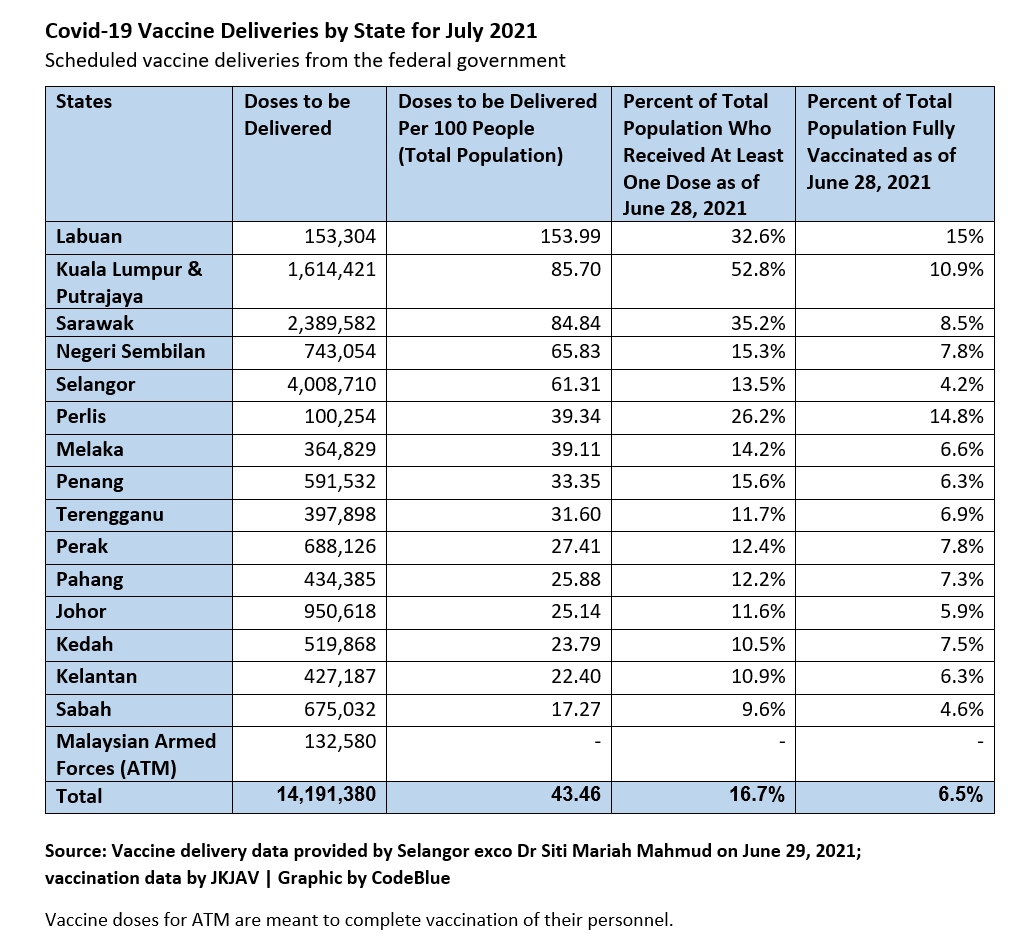 At the moment, close to 17 million people have registered which is slightly over 50% of Malaysia's total population. Malaysia aims to vaccinate 80% population before the end of the year. If you haven't registered, you can do so via MySejahtera or online at vaksincovid.gov.my.
[ SOURCE ]
Related reading