Malaysia's National COVID-19 Immunisation Programme is getting a boost in supply with the arrival of 2 million vaccines donated by Japan and the USA. Minister of Science, Technology and Innovation, Khairy Jamaluddin said 1 million AstraZeneca vaccine doses from Japan will be received tomorrow while another 1 million Pfizer vaccine doses contributed by the USA will arrive on Friday. The combined 2 million doses can be used to fully vaccinate 1 million individuals in the country.
As announced by the US Government on 3rd June, the Biden-Harris administration has pledged to donate at least 80 million doses globally as part of its strategy for global vaccine sharing. For the first batch of 25 million doses, 19 million will be shared through COVAX.
From this amount, 7 million doses will go to Asia which include India, Nepal, Bangladesh, Pakistan, Sri Lanka, Afghanistan, Maldives, Malaysia, Philippines, Vietnam, Indonesia, Thailand, Laos, Papua New Guinea, Taiwan, and the Pacific Islands.
Last week, the Japanese government announced that it will donate additional 2 million doses of AstraZeneca vaccines to Taiwan and Vietnam, and one million doses each to Thailand, Malaysia, Indonesia, and the Philippines. Two weeks ago, the Chinese government has also announced that it will donate 500,000 doses of the Sinovac vaccine to Malaysia.
14 million vaccines will be distributed in July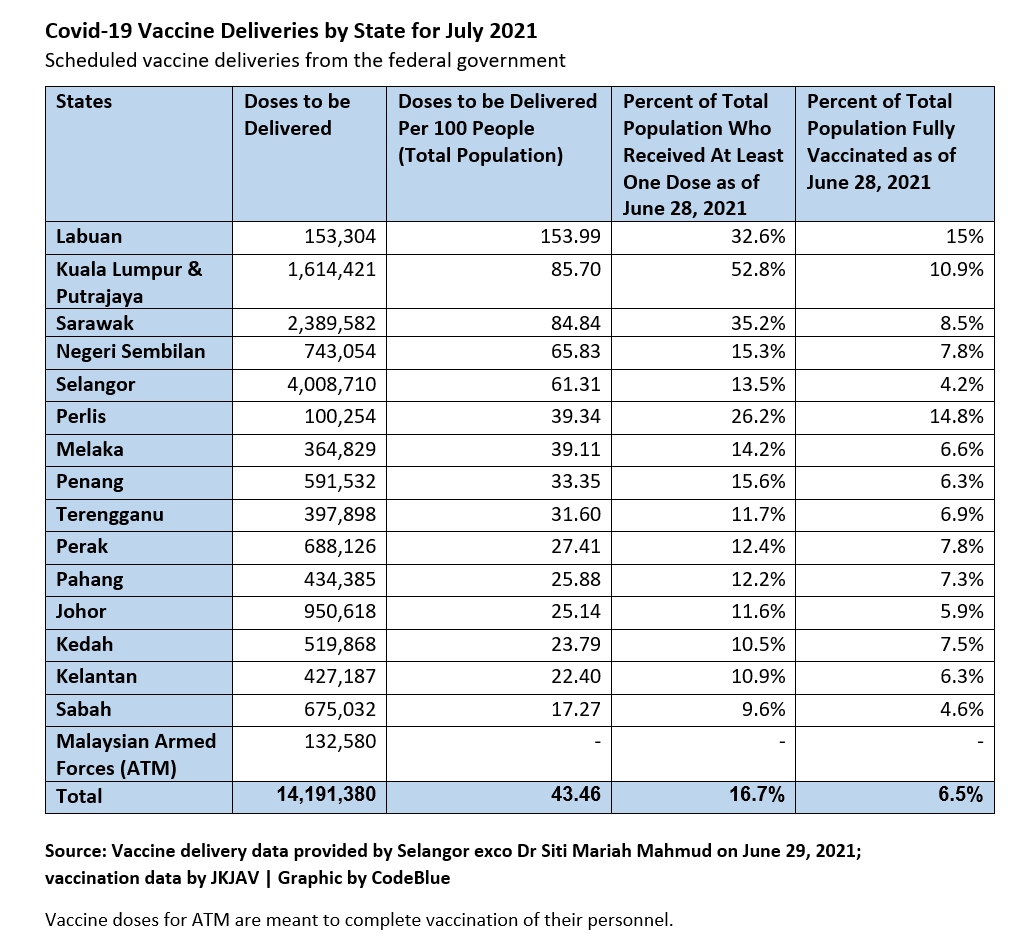 As reported by CodeBlue, over 14 million vaccine doses will be distributed throughout Malaysia in July. That's more than what's required to hit more than 450,000 jabs per day assuming vaccination capacity can be ramped up quickly in all states.
Selangor will receive the most with over 4 million doses and it aims to fully vaccinate 40% of its population by the end of July. Malaysia aims to ramp up vaccinations to 300,000 per day in July and up to 400,000 vaccinations per day in August.
Over 700,000 senior citizens are still not vaccinated
Phase 2 which covers senior citizens and people with disabilities are still ongoing. Khairy shared a total of 5,363,387 registered individuals are categorised under Phase 2 and this includes 2,848,431 senior citizens. As of 29th June, 2,119,088 senior citizens have received at least one dose, which means that 729,343 are still not vaccinated.
Khairy has shared that Phase 3 which covers all remaining adults below 60 years of age has already started in stages in Kuala Lumpur, Selangor, Melaka, Putrajaya, Labuan, Pulau Pinang and Sarawak. As of 29th June, 11,379,508 individuals registered are categorised under Phase 3.
[ SOURCE ]
Related reading