Sarawak State Disaster Management Committee advisor Dr. Sim Kui Hian said Sarawak will reconsider its earlier decision not to accept the AstraZeneca vaccines. The state is also confident that it will be able to complete its vaccination programme by August provided there's no disruption of vaccine supply.
He said on Facebook that he is looking forward to work closely with the Ministry of Health and the COVID-19 immunisation taskforce to accelerate the vaccine delivery to the state and to re-discuss the AstraZeneca opt-in programme.
It was reported that Sarawak initially declined the offer to accept the AstraZeneca vaccines due to public concerns over its side effects. Several lawmakers including Baru Bian and Dr. Annuar Rapaee have urged the SDMC to reconsider its position as data has shown that the potential benefits of the vaccines far outweigh the risks.
Khairy Jamaluddin, the minister in charge of the COVID-19 vaccine coordination efforts has said that the AstraZeneca option is still open for Sarawak. A million more AstraZeneca doses are expected to be arriving in May.
According to a survey conducted by Borneo Post, almost 70% agreed that Sarawak should provide AstraZeneca vaccines as an option. 52.7% have also answered that they are willing to take the AstraZeneca jab.
For the first batch of AstraZeneca online booking which was offered for Kuala Lumpur and Selangor residents, all 268,000 doses were fully booked within 4 hours. Details of the next round of opt-in bookings is expected to revealed soon and it will be open to more states outside of the Klang Valley.
Sarawak is also looking at expediting vaccine supplies through self purchases from next month onwards. According to Dr. Sim, the state has the ability to scale up to 80,000 vaccinations per day through the Ministry of Health and private healthcare facilities.
As of 11.59pm on 12th May, Malaysia has administered a total of 1,914,438 doses and 732,305 individuals have completed their vaccination with two doses. In Sarawak, 123,393 individuals have received at least 1 dose and 69,353 of them have received two doses.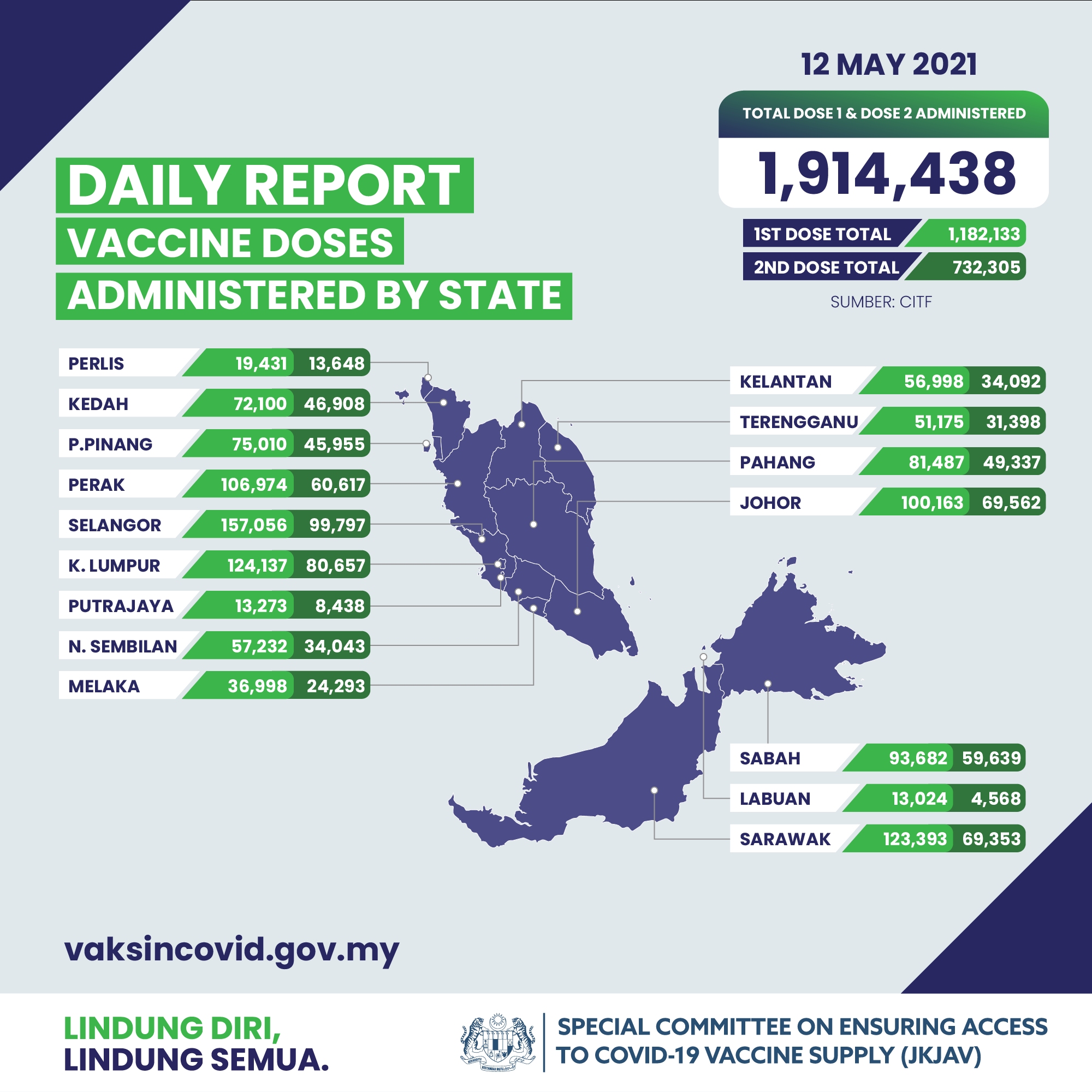 He also shared concerns that only 1,124,241 Sarawakians have registered for the vaccination so far. He urged those who are still hesitant to register as soon as possible. Otherwise, he said, there's no reason for the federal government to supply more vaccines to the state.
Related reading