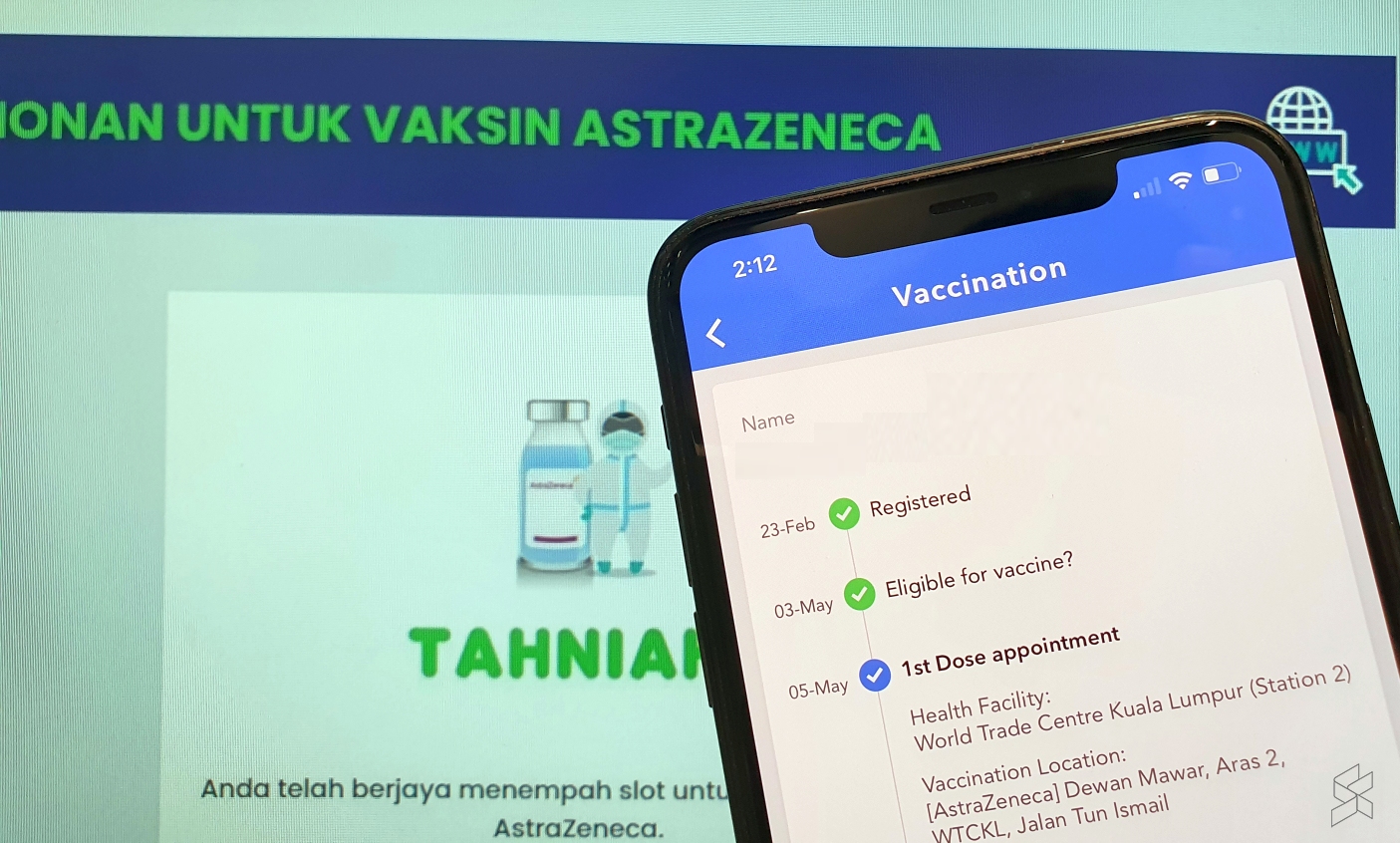 The voluntary booking for 260,000 AstraZeneca vaccine doses was fully snapped up within 4 hours yesterday. Those who have successfully booked their slots have started receiving their appointment details via MySejahtera since this morning. If you've got the push notification, here's what you need to do to confirm your slot.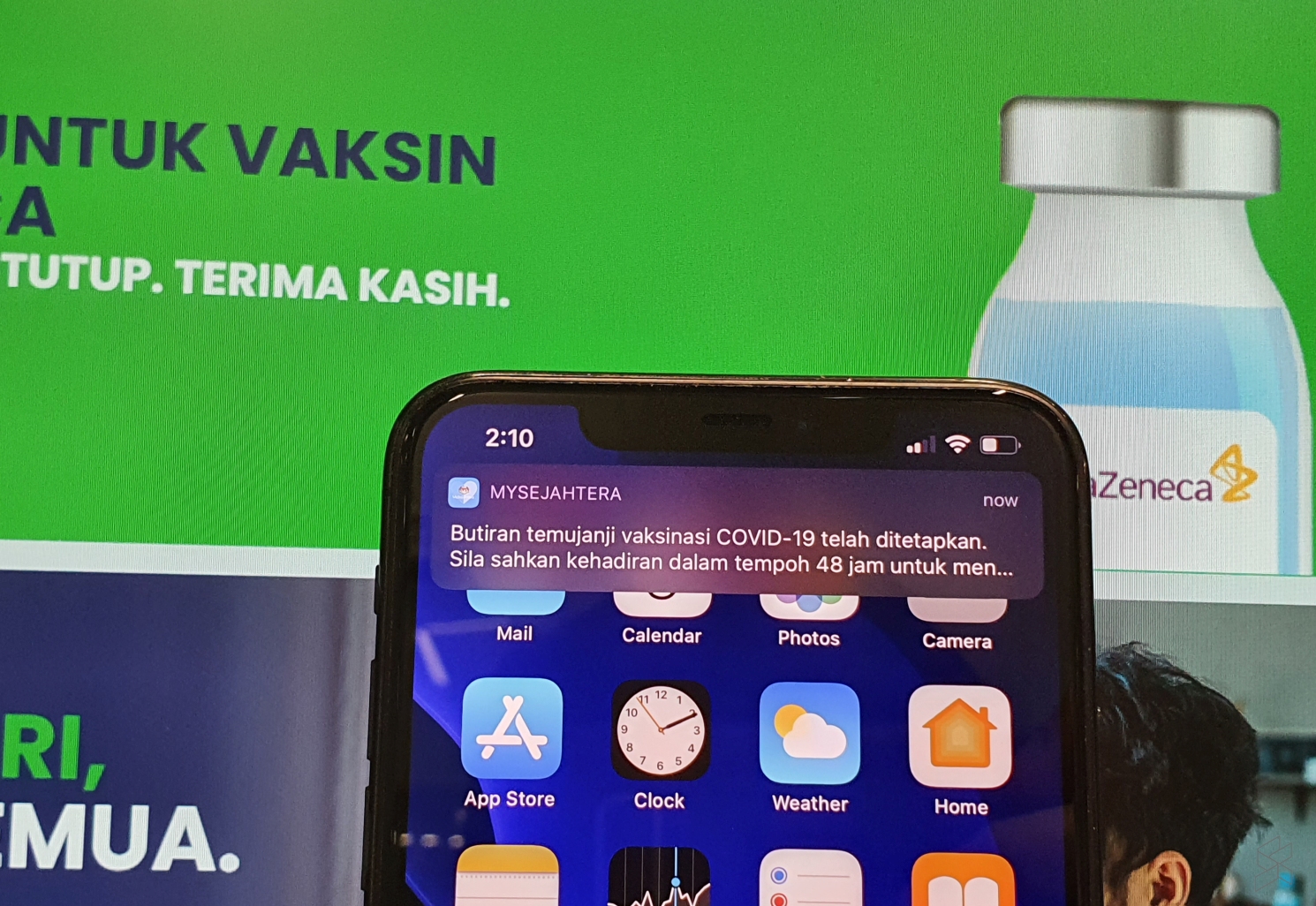 After receiving the MySejahtera notification, your vaccination page will be updated with details for the 1st Dose appointment. This will include your preferred vaccination centre and date, as well as your assigned vaccination time.
If you've booked but haven't received the notification, don't panic as the notifications are being rolled out gradually within 48 hours after booking. Within the SoyaCincau team who have booked, half have not yet received their appointment details as of 5pm today.
Confirm your appointment within 48 hours
You must confirm your appointment within 48 hours to secure your spot and this can be done by clicking the link under the 1st Dose appointment section. Just select Yes and click on Submit.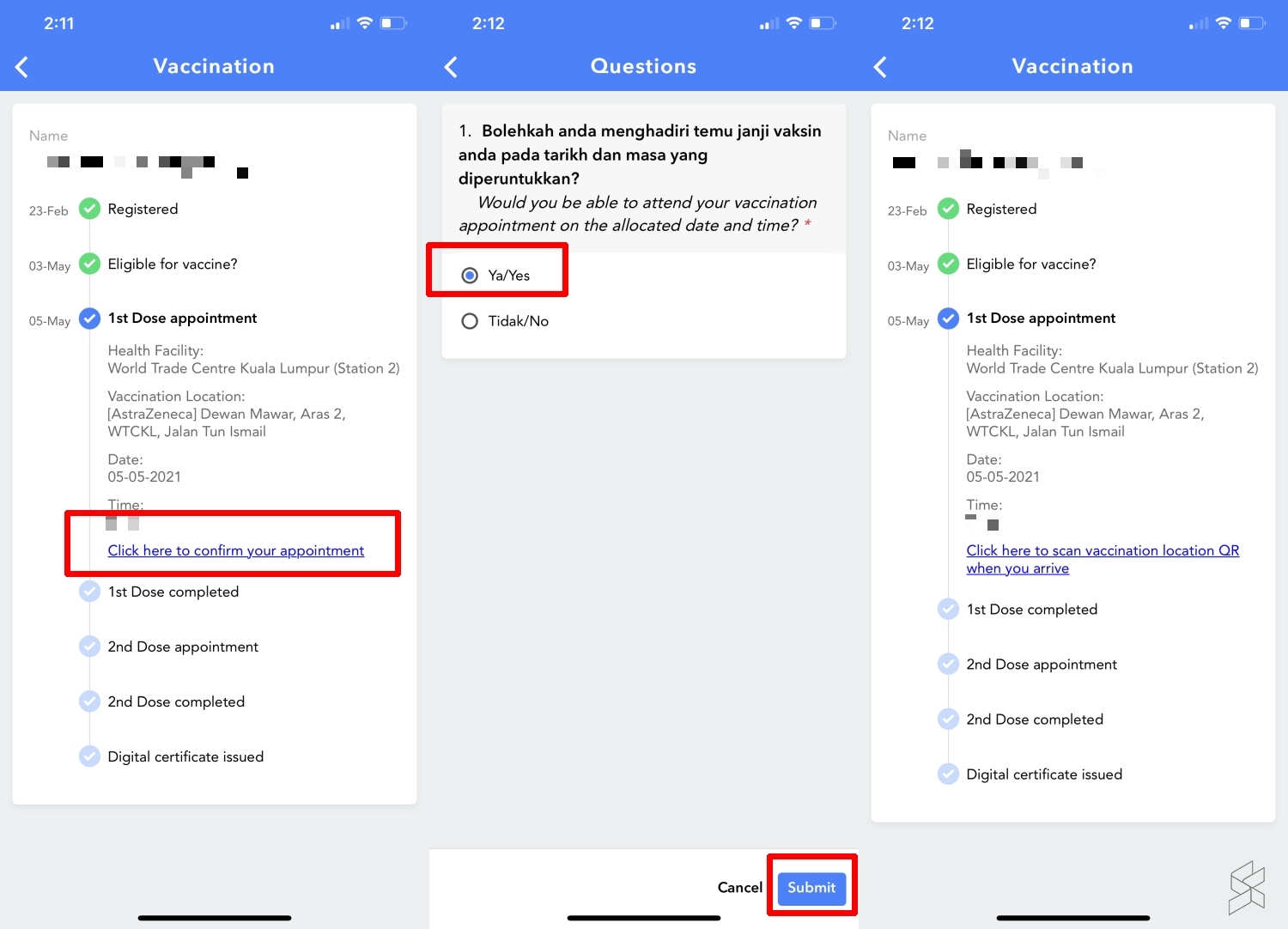 If you do not accept the appointment, you will be placed back in the mainstream immunisation program. At the moment, the program is in Phase 2 which covers senior citizens, people with chronic diseases and people with disabilities. Phase 3 which covers all remaining adults is expected to begin this month.
According to JKJAV, you can't swap appointment slots and you can't give your slot to another person.
What to expect on vaccination day?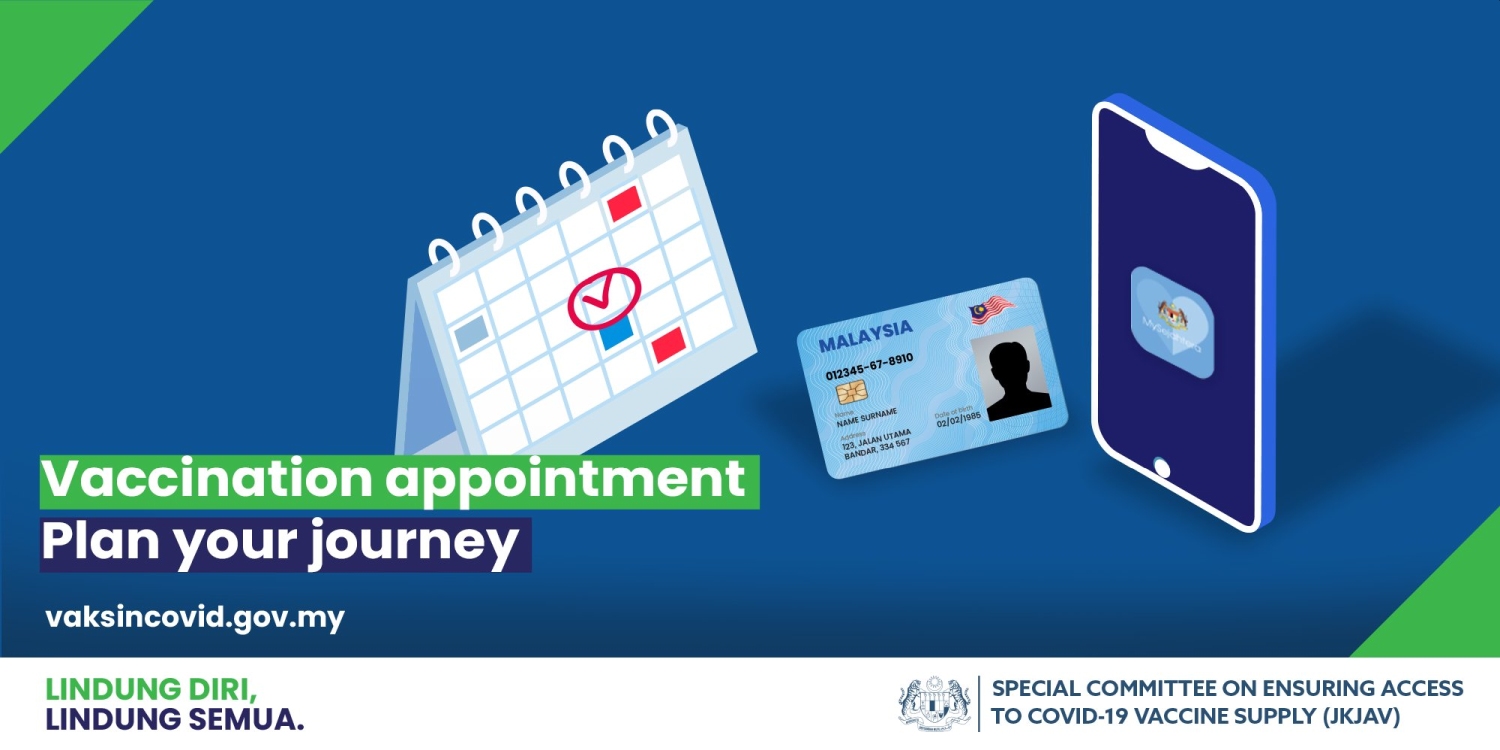 On the appointment day, you are expected to arrive at the vaccination centre on time. You must bring along your identification card as well as your smartphone that has your MySejahtera app installed. You will need to use MySejahtera to scan the QR code when you arrive at the centre.
Only those who have a valid appointment may enter the vaccination centre. For those who require assistance, you may bring one person along.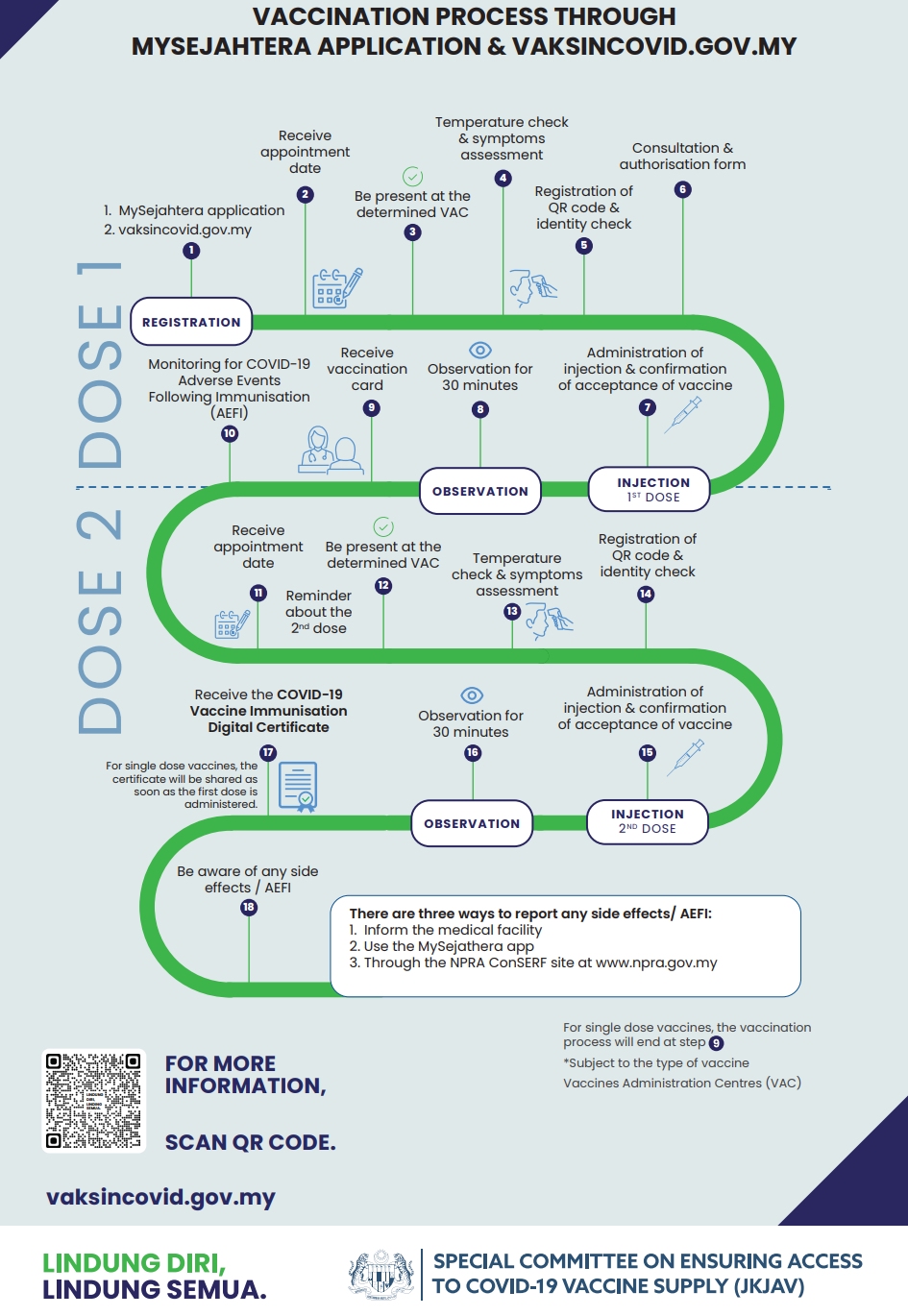 Before receiving the jab, there will be a consultation session to determine if you're fit to proceed. According to JKJAV, a pre-vaccination assessment is required for people who are immunocompromised, have severe allergies or with bleeding disorders. You are also required to sign an acceptance form before getting the injection.
After receiving the jab, there will be a 30-minute observation session to check for immediate side effects that may occur. Once that's done, you will receive a vaccination card and the details will also be recorded in your MySejahtera app. A digital certificate will be issued after you've completed the vaccination with two doses.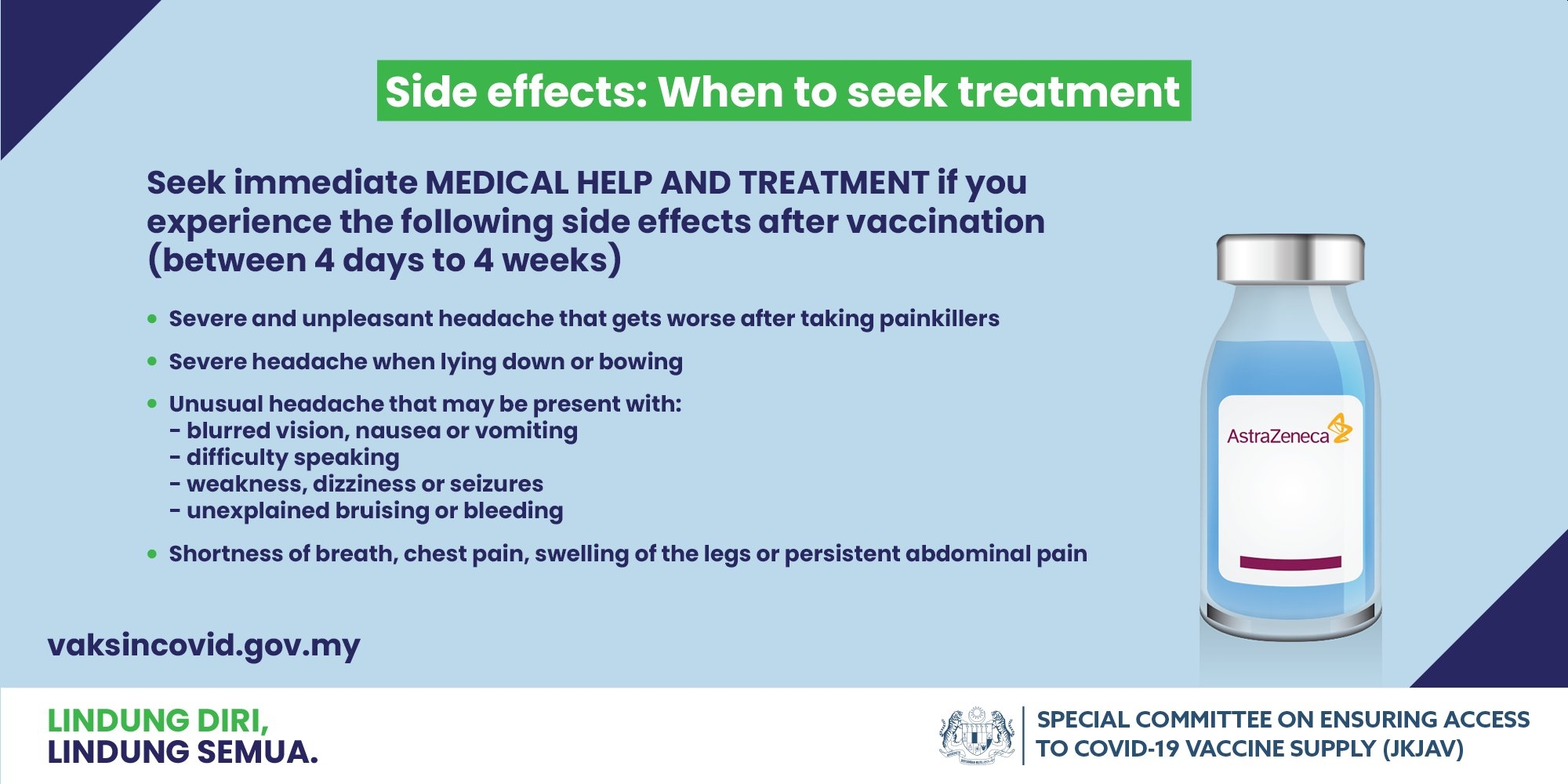 If you do experience any adverse side effects between 4 days to 4 weeks after receiving the jab as listed above, you are urged to seek immediate medical assistance and treatment. All recipients of the vaccines are also urged to report any side effects via the MySejahtera app.
As announced earlier, Malaysia will be following a 12-week interval between doses for AstraZeneca vaccines. That means you'll only receive the second dose 3 months after the first jab. As a comparison, Pfizer has a 21-day interval while Sinovac has a shorter 14-day interval.
AstraZeneca vaccines offered as opt-in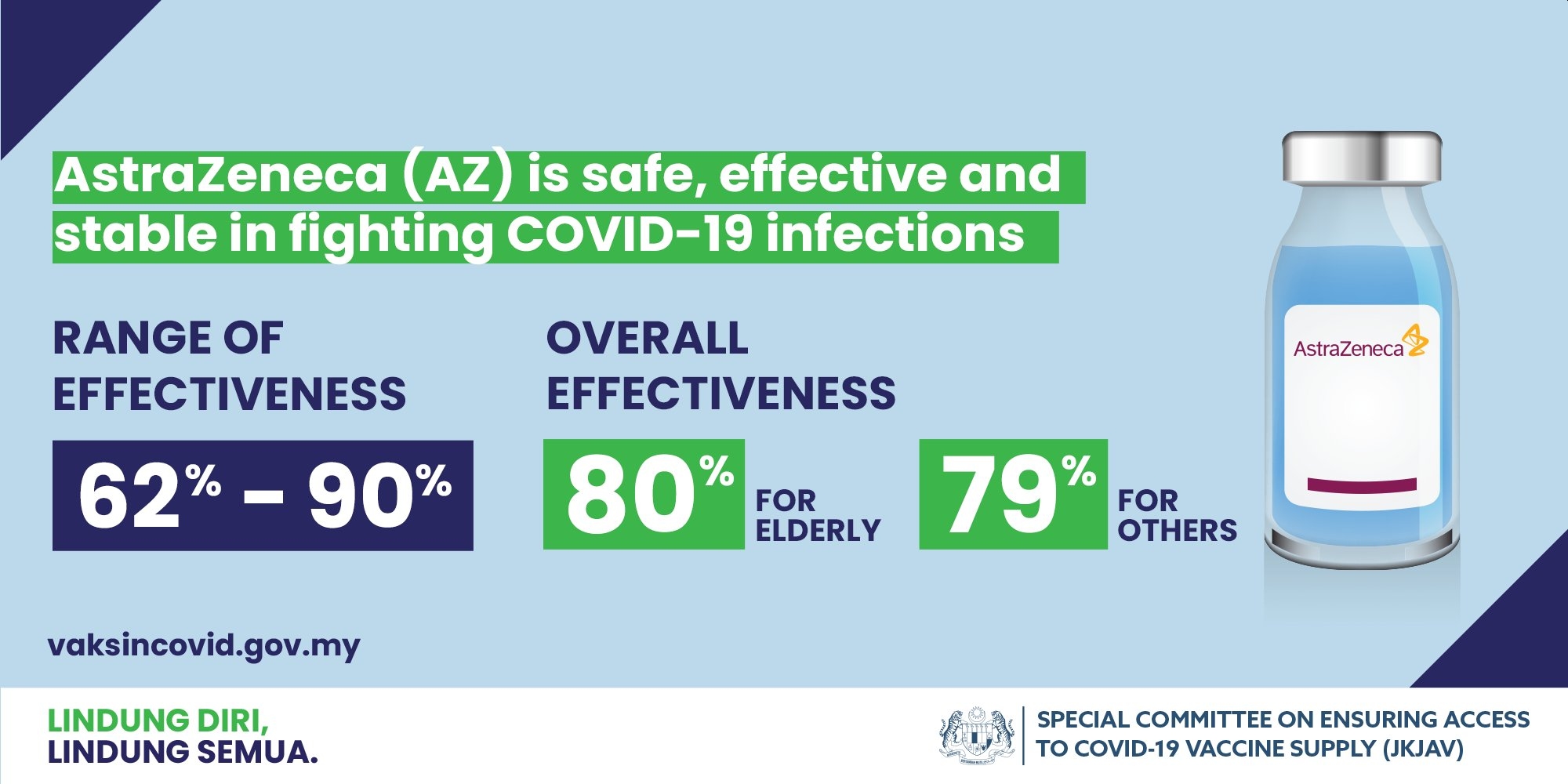 To recap, AstraZeneca vaccines are offered as an opt-in on a first-come-first-served basis. It is separated from the mainstream National COVID-19 immunisation program which is currently administering Pfizer and Sinovac vaccines. For the first batch of 268,000 doses, it is only offered to adults (aged 18 years old and above) residing in Kuala Lumpur and Selangor. There are a total of 4 vaccination centres for AstraZeneca in the Klang Valley and the first opt-in program runs from 5th May until 6th June.
As shared by Khairy Jamaluddin, the minister in charge of coordinating the COVID-19 immunisation program, another million doses of AstraZeneca vaccines are arriving this month. The committee will extend the opt-in program to more states except for Sarawak which has declined.
For more info, you can refer to the official document or visit vaksincovid.gov.my.
Related reading