[ UPDATE 2/05/2021 13:40 ]: AstraZeneca vaccine slots are still available but they are running out fast. 100,000 appointments received as of 1:00PM. More details here.
[ UPDATE 2/05/2021 11:25 ]: AstraZeneca vaccines will be administered at 4 locations in Kuala Lumpur and Selangor from 5th May until 6th June 2021. More details here.
====
Malaysia opens its booking for AstraZeneca COVID-19 vaccines tomorrow on a voluntary basis. As announced recently, the United Kingdom (UK) developed vaccines will not be included in the mainstream national immunisation programme and they will be offered separately only to those who want it.
Here's everything you need to know about the AstraZeneca vaccines in Malaysia.
How to book AstraZeneca vaccine?
As announced by Minister of Science, Technology and Innovation, Khairy Jamaluddin, all adults (18 years old and above) residing in Kuala Lumpur and Selangor will be able to book their vaccine slots tomorrow, 2nd May at 12pm on vaksincovid.gov.my.
If you've already registered for the national COVID-19 immunisation programme, you do not need to re-register. All you'll need to do is to click "MOHON SEKARANG" on the website when it is available tomorrow at noon.
According to Khairy, you can book the date and the vaccination centre via the website. You will receive a notification via the MySejahtera app.
When can you get the jab?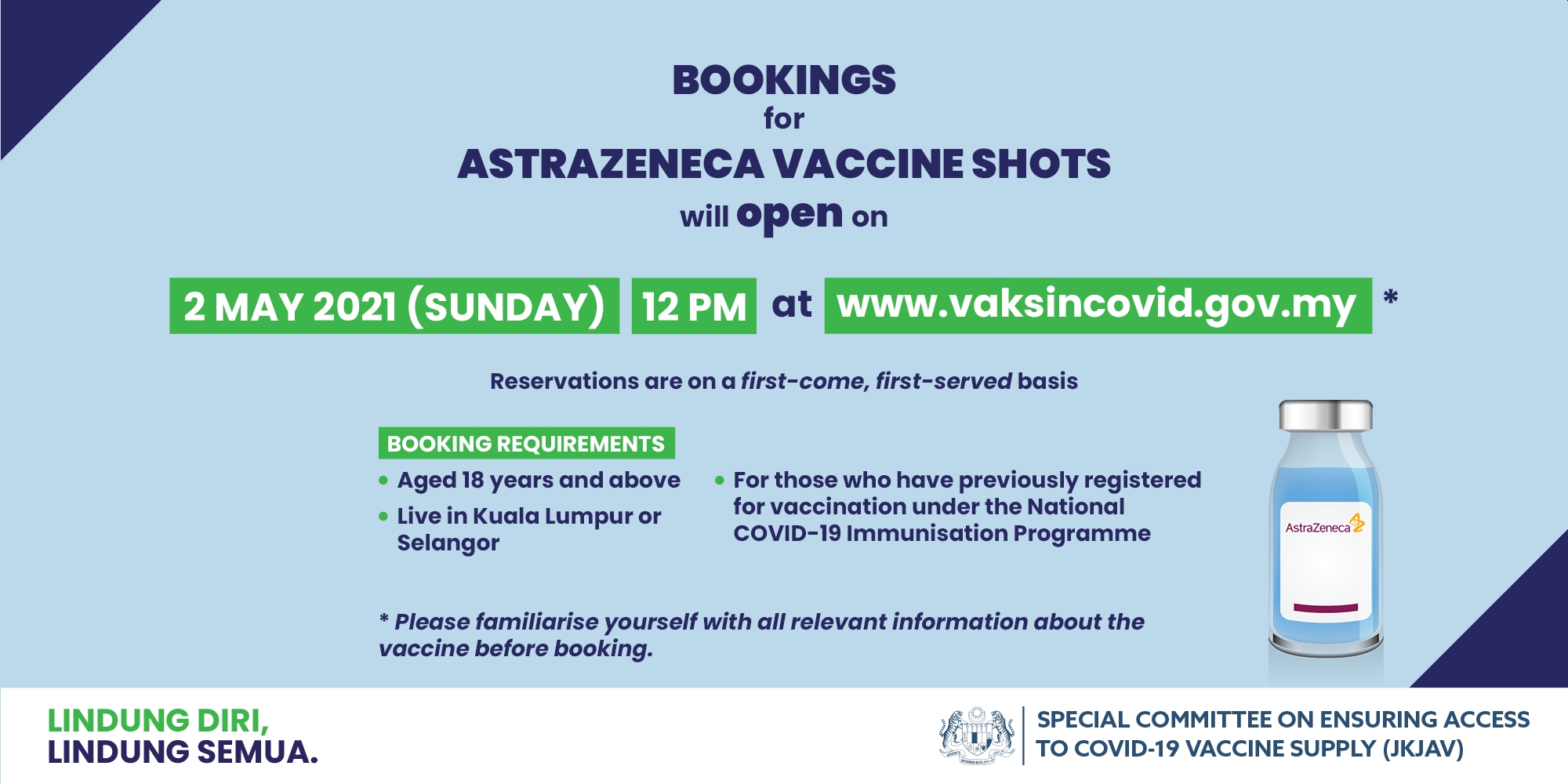 The first appointment for the AstraZeneca vaccine will begin on Wednesday, 5th May 2021. The AstraZeneca vaccines are offered on a first-click, first-served basis via the website to the first 268,000 people.
UPDATE: The vaccines will be offered at 4 venues – World Trade Centre Kuala Lumpur (WTCKL), Ideal Convention Centre Shah Alam (IDCC), Universiti Malaya (UM) and Universiti Kebangsaan Malaysia (UKM). More details here.
Similar to the current immunisation program, there will be a pre-vaccination screening with doctors at the vaccination centre before you receive the jab. Similar to Sinovac and Pfizer, this is a two-dose vaccine.
Although the special committee on ensuring access to COVID-19 vaccine supply (JKJAV) had initially listed a 28-day interval for AstraZeneca, Malaysia has decided to go with a longer 12-week interval between the first and second dose. The extended interval is still within the recommendations of WHO. Studies have shown that the vaccine had a 76% efficacy rate when the 2nd dose is delayed to 3 months.
AstraZeneca Safety concerns
AstraZeneca has received conditional approval by Malaysia's National Pharmaceutical Regulatory Agency (NPRA) on 2nd March 2021. The NPRA is an independent health regulatory body that ensures the vaccines are safe and effective before it is authorised for use.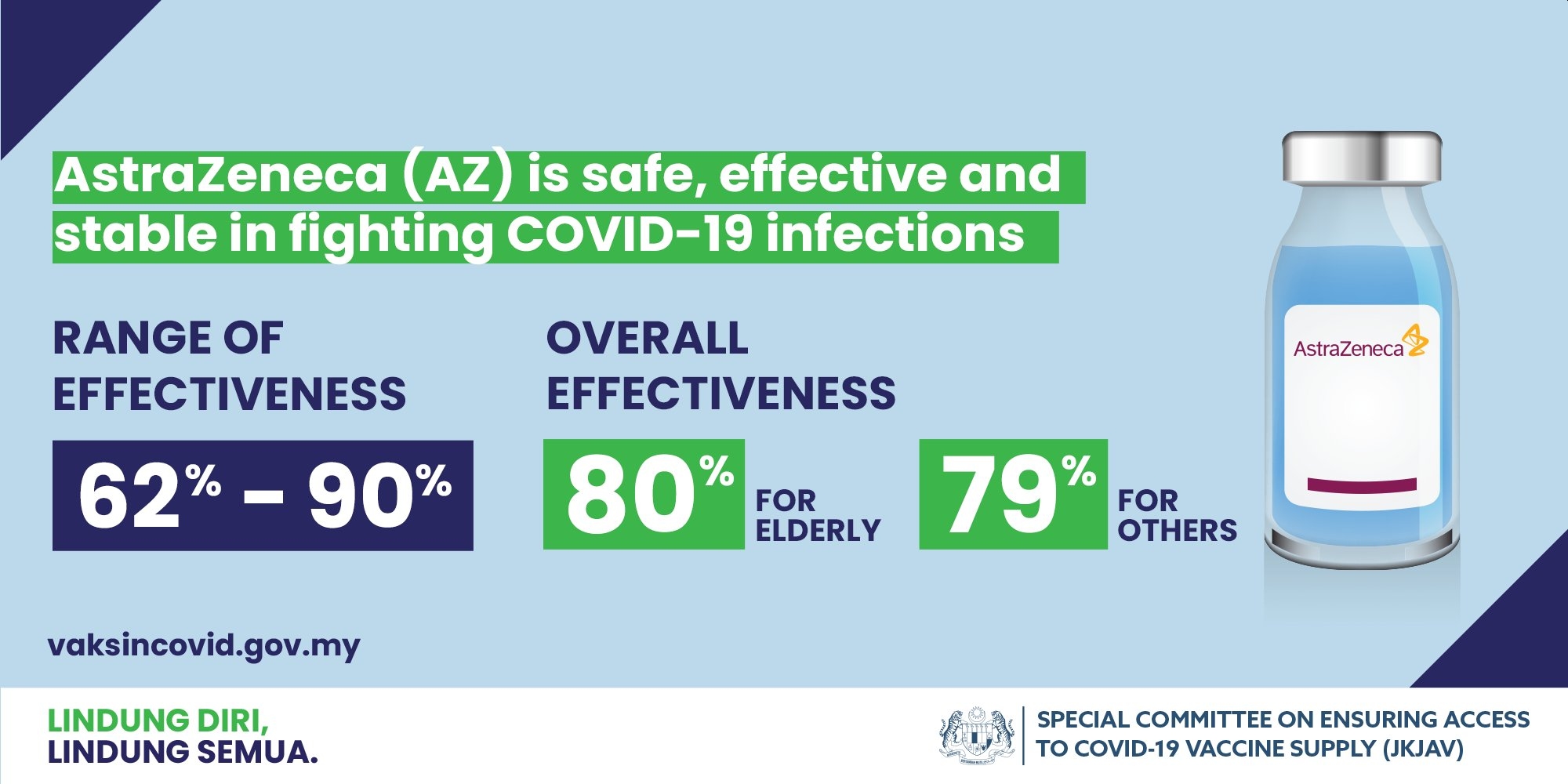 There were recent concerns of blood clots with AstraZeneca vaccines and this resulted in a pause in a number of countries in Europe. The European Medicines Agency (EMA) has found the very rare cases of unusual blood clots with low blood platelets are estimated to occur in 1 in 100,000 (0.001%) vaccinated people.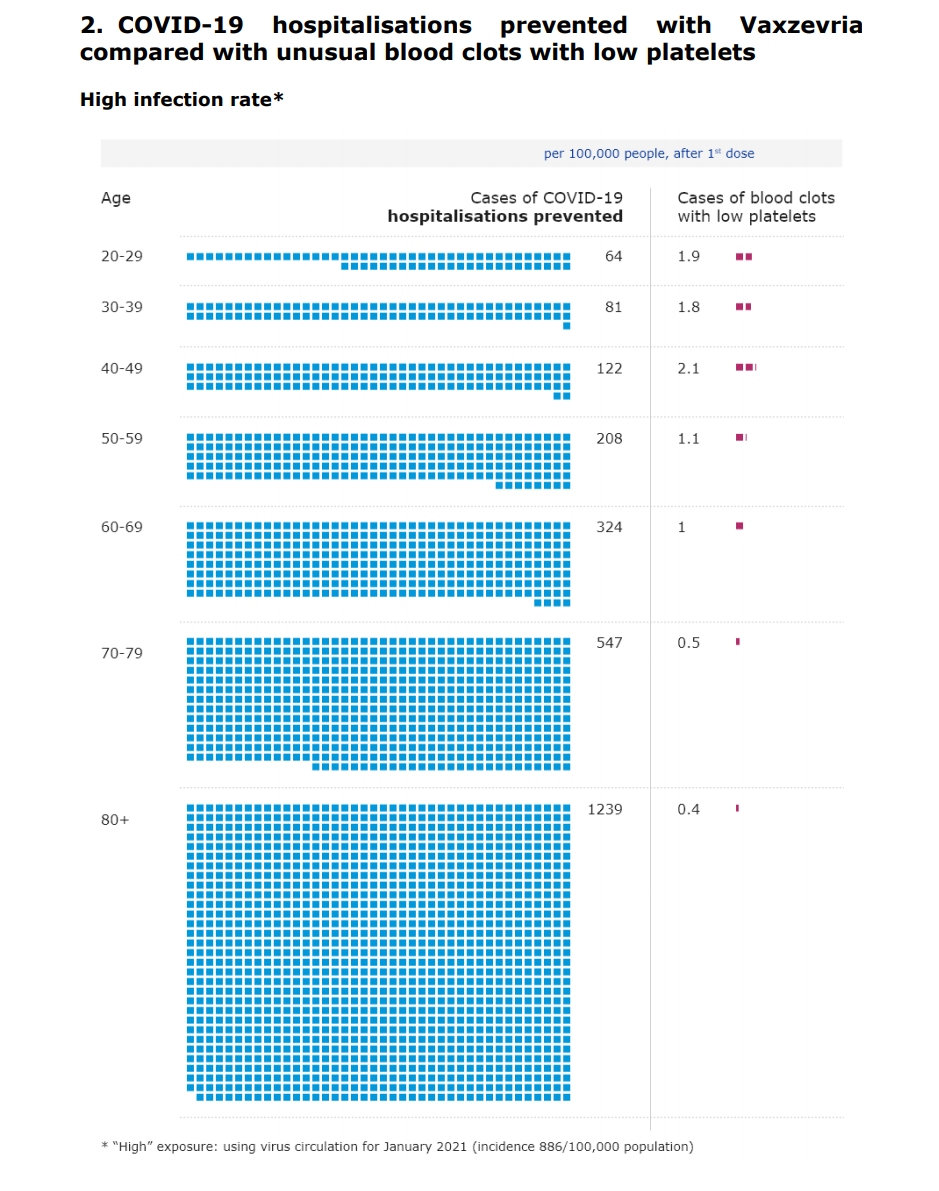 At the moment, the vaccine is still approved in the EU because the vaccine benefits outweigh the risks and vaccinations have resumed in most countries. The risk of blood clot is even lower with 4 in 1,000,000 (0.0004%) for people aged 80 years old and above. You can check out the EMA's visual report on the number of prevented hospitalisations and death versus the number of cases of blood clot.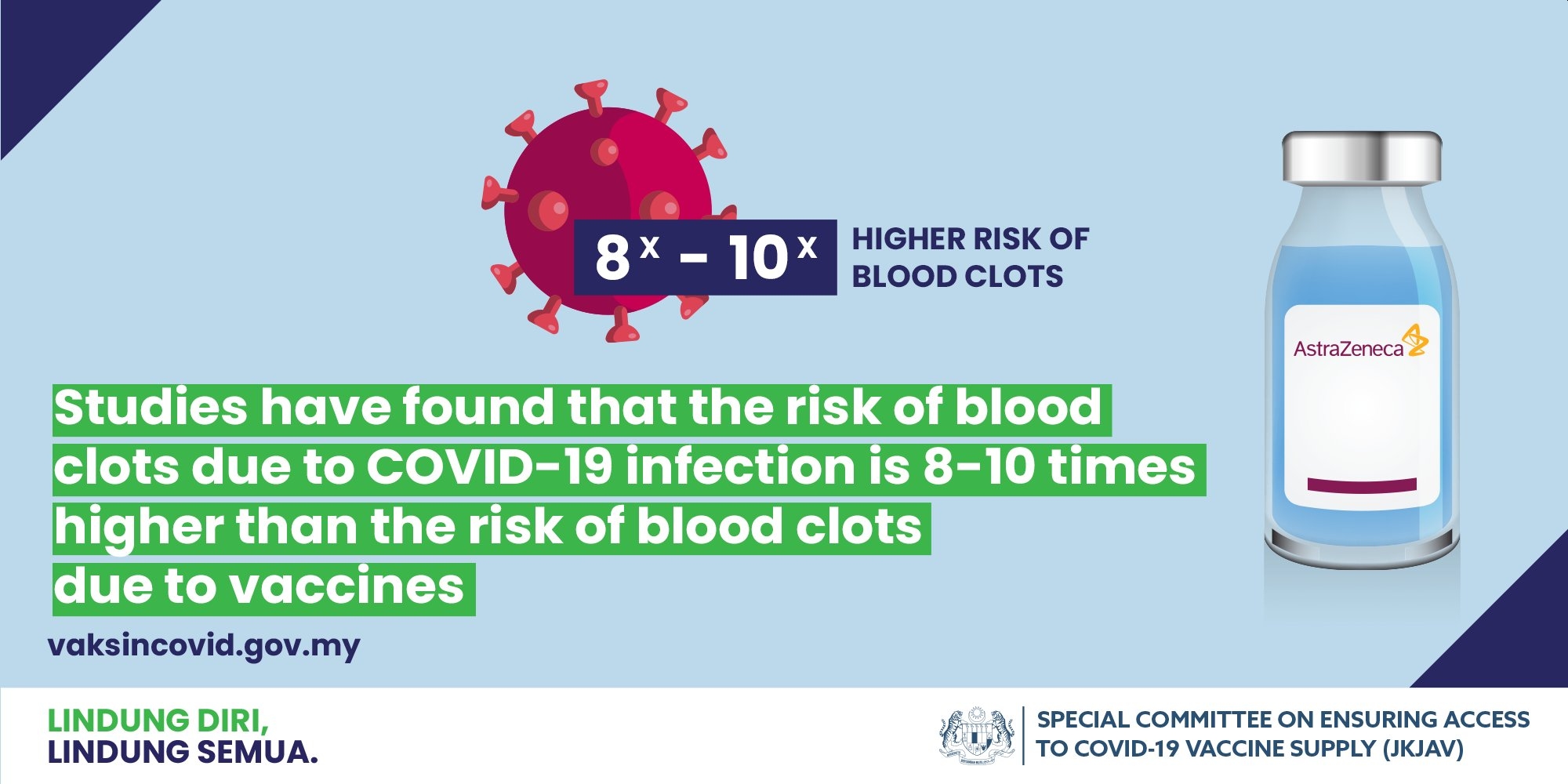 Studies have also found that the risk of getting blood clots due to COVID-19 infection is 8-10 times higher than the risk of getting blood clots due to the vaccine.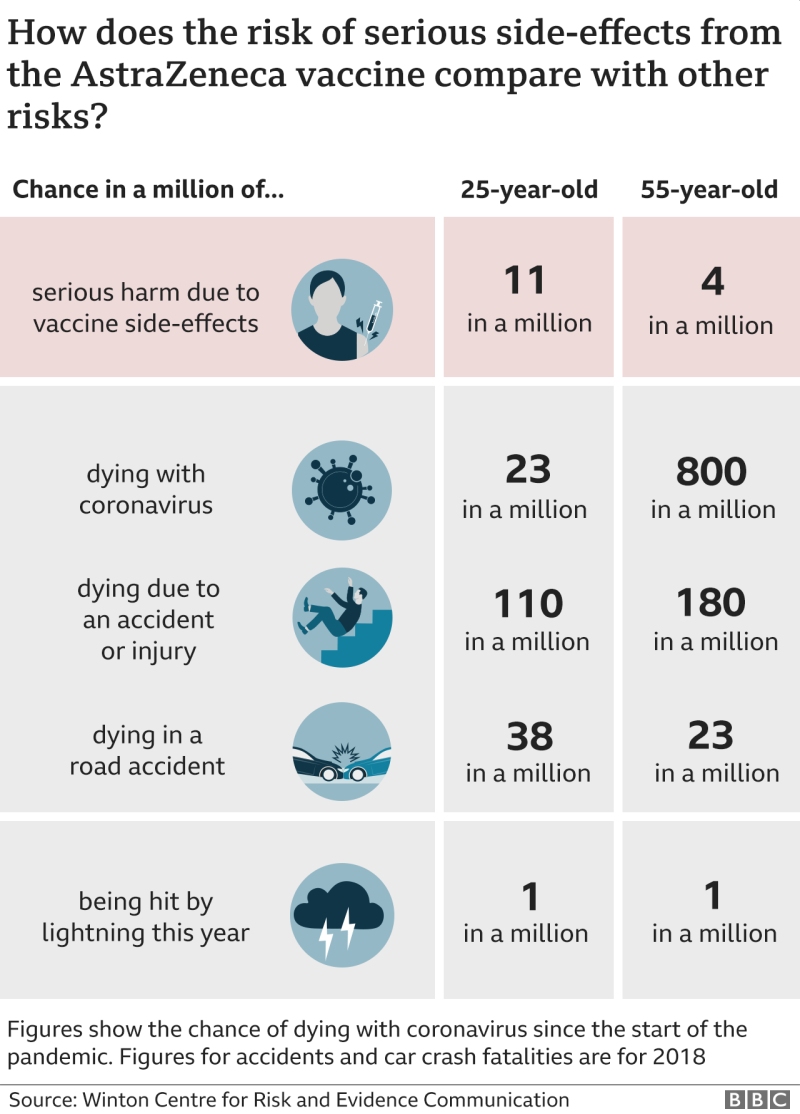 Health D-G Dr Noor Hisham has recently shared an infographic showing that the risk of getting serious harm due to AstraZeneca vaccines is far lower than dying in a car accident and dying due to COVID-19. According to the infographic, people aged 55-years old are 200x likely to die with COVID-19 and more than 5x likely to die in a fatal car crash than suffering a harmful side-effect from AstraZeneca vaccines.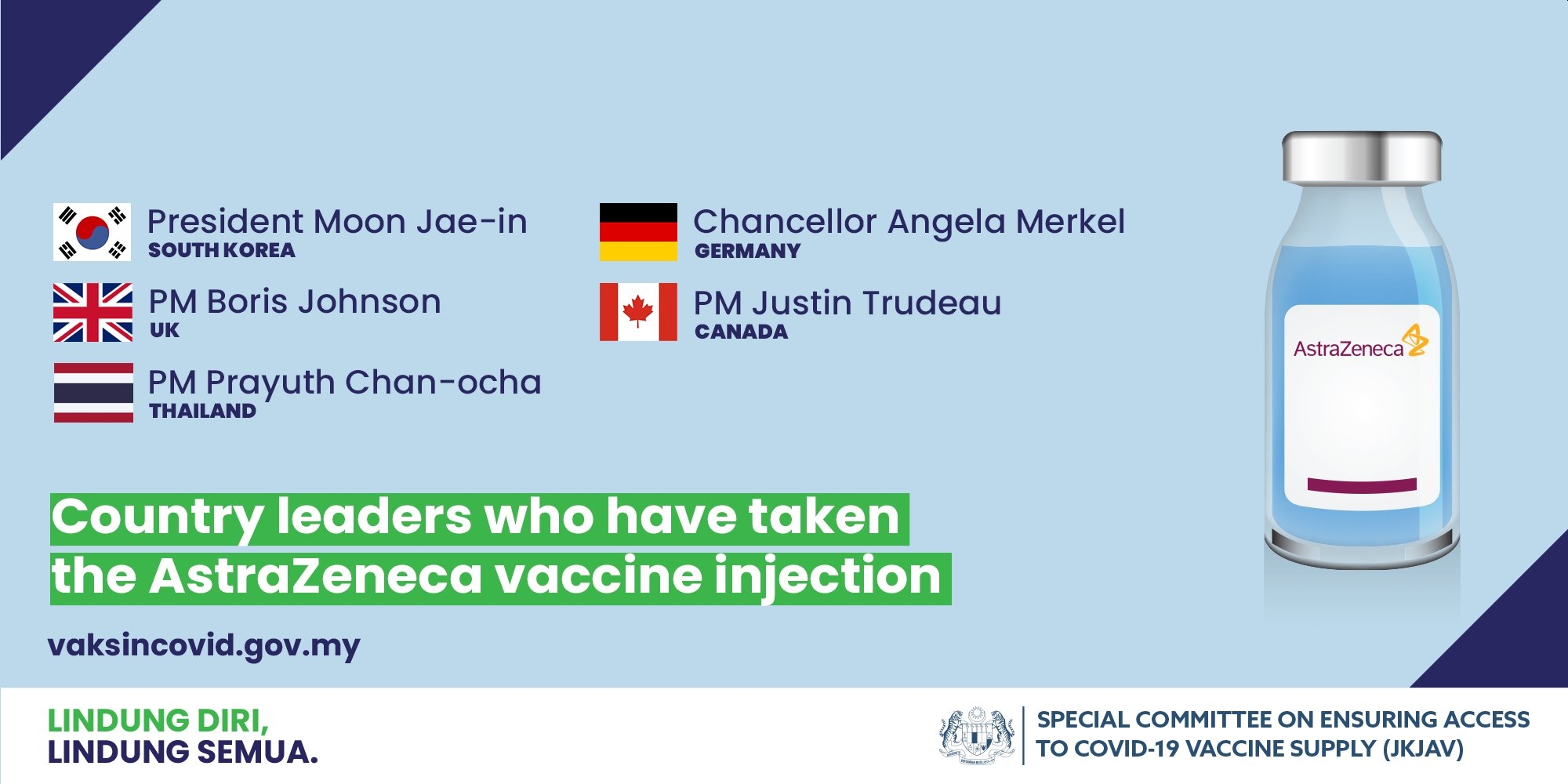 In the UK, over 34 million people have received at least one dose of the AstraZeneca vaccine. Several world leaders including Thai PM Prayuth Chan-ocha, UK PM Boris Johnson, South Korea President Moon Jae-in, Germany Chancellor Angela Merkel and Canada PM Justin Trudeau have also received AstraZeneca vaccines.
When to seek treatment?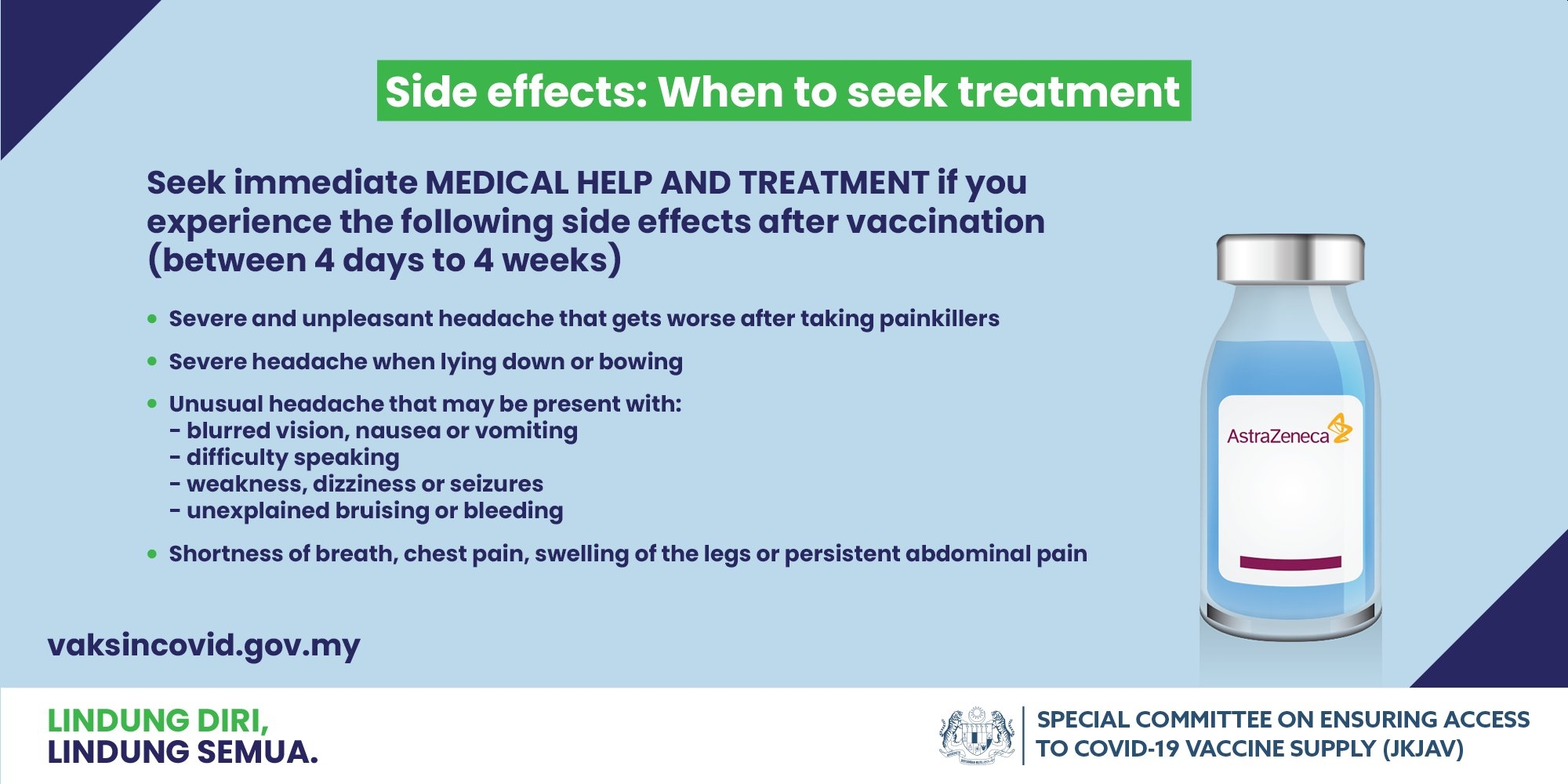 As shared by JKJAV, you are urged to seek medical help and treatment if you experience the following side effects within 4 days to 4 weeks after receiving vaccination:
Severe and unpleasant headaches that gets worse after taking painkillers
Severe headaches when lying down or bowing
Unusual headaches accompanied with blurry vision, nausea, vomiting, difficulty of speaking, dizziness or seizures, unexplained bruising or bleeding.
Shortness of breath, chest pain, swelling of legs or persistent abdominal pain
Those who opt to get the AstraZeneca jab in Malaysia are also covered by the government's COVID-19 vaccine injury fund. The fund provides compensation of up to RM500,000 to cover serious side effects which require prolonged hospitalisation, permanent disability or death due to the vaccine.
For further reading, you can check out the AstraZeneca documentation by JKJAV here.
Related reading