A week after a bug was discovered with the company's iOS 14.7 update concerning Touch ID iPhones and their Apple Watch, Apple has released an iOS 14.7.1 update that fixes the issue. The update also includes some "important security updates recommended for all users".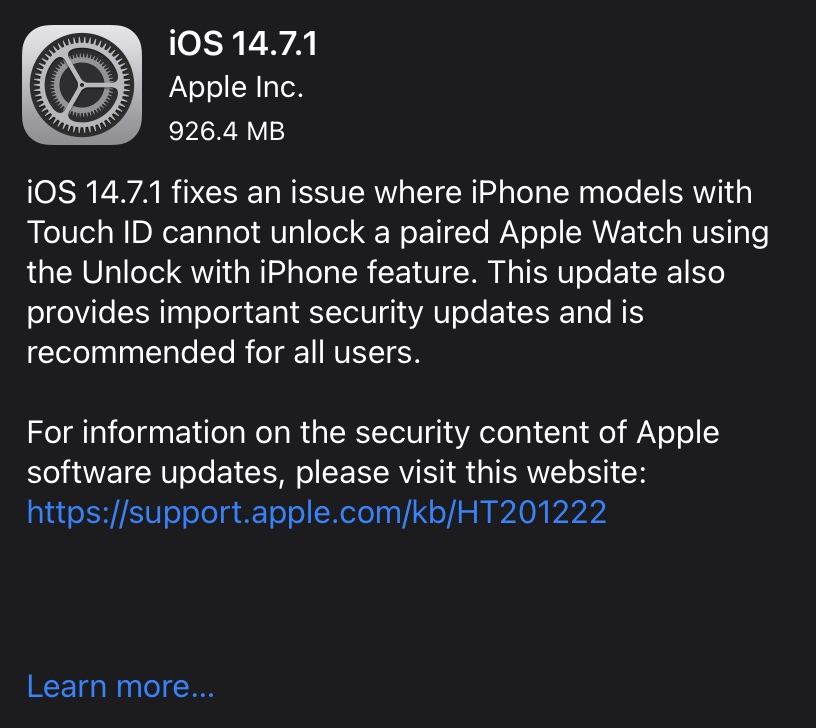 "iOS 1.4.7.1 fixes an issue where iPhone models with Touch ID cannot unlock a paired Apple Watch using the Unlock with iPhone feature," wrote Apple on their update page.
If you're unfamiliar with how the Apple Watch unlock feature works, you would need to unlock your Watch every time you put it on your wrist. To do that, you either need to manually punch in your pin number on the Watch itself or by unlocking your paired iPhone. The latter is a much easier option.
Users with Face ID iPhones (iPhone X and above) have no problem unlocking their Apple Watch by unlocking their iPhones with facial recognition through the iOS 14.7 update. But some users with older iPhones with Touch ID had faced a problem doing the same thing.
With the new iOS update that you can now download, it should fix the problem you might have with your Touch ID device. You can look for the setting by going through Settings on your iPhone, then General, then tap Software Update.
iOS 14.7 was released one week ago. It brought support for the MagSafe Battery Pack for iPhone 12, as well as other updates for things like Apple Card accounts and HomePods.
Apple also recommends that the iOS 14.7.1 update, along with the iPadOS 14.7.1 update that is also available, is for all users—not just for Touch ID device users. The update "also provides important security updates and is recommended for all users". You can find more information on the security update on their support page.
[ SOURCE ]