Before iOS 15 is released in the next couple of months, Apple has rolled out iOS 14.7 update which brings a few new features and bug fixes for supported iPhone models. If you own an Apple Watch, watchOS 7.6 is also rolling out as well and it brings ECG support to 30 more countries.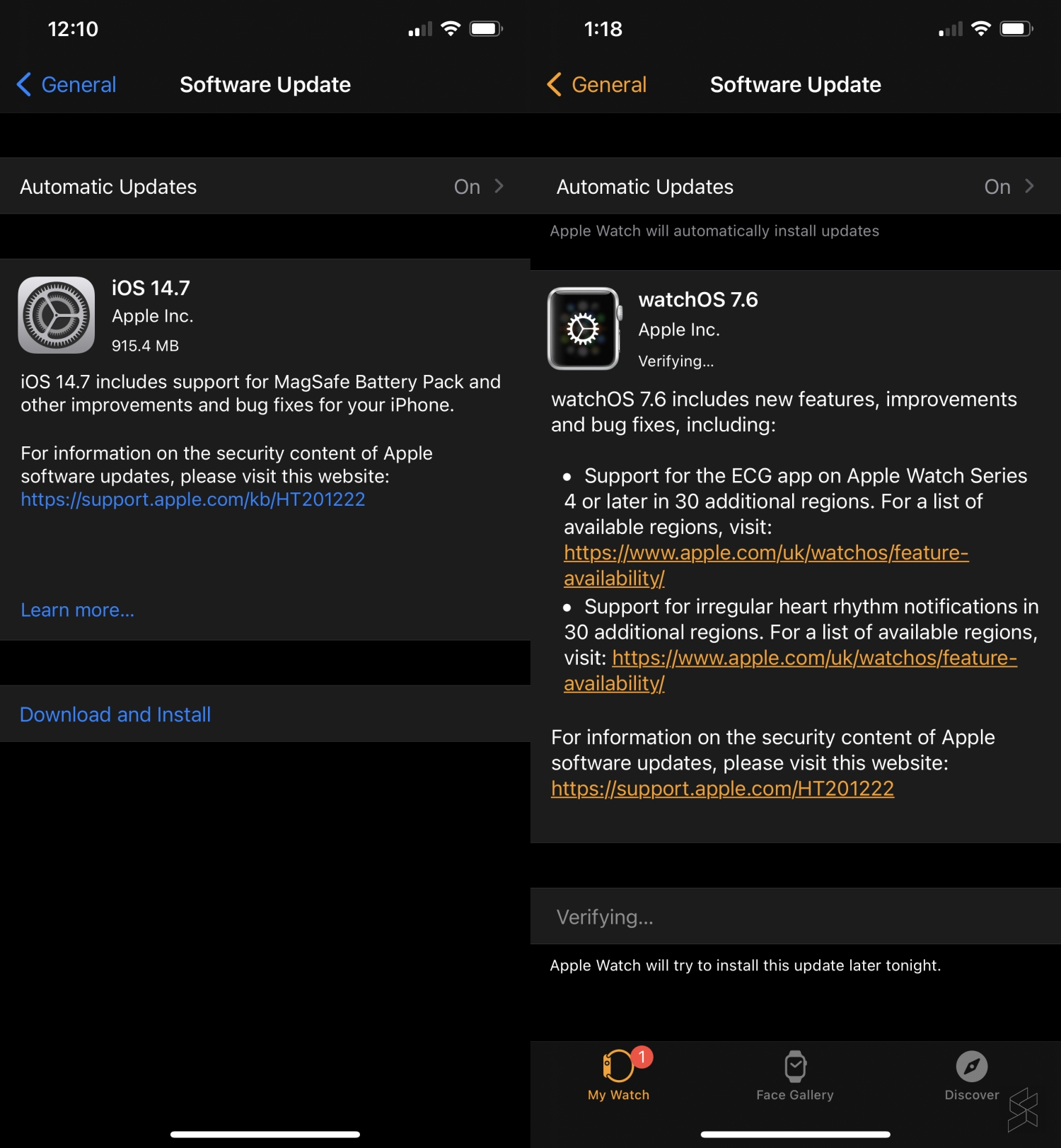 Upgrade to iOS 14.7
If you haven't received a software update notification, you can download iOS 14.7 manually by going to Settings > General > Software Update. iOS 14.7 is about 915MB in size.
iOS 14.7 enables support for the new MagSafe Battery Pack which can also be charged via reverse wireless charging on the iPhone 12. For countries that support Apple Card, the new update also allows the option for users to combine credit limits and share co-owned accounts with an existing Apple Card user.
The update also brings some subtle tweaks for the Podcasts app and the ability to set multiple timers on the HomePod via the Home app.
Upgrade to watchOS 7.6
Users of Apple Watch Series 3 and above can also update to the latest watchOS 7.6. To update, just launch the Watch app on your iPhone, go to General > Software Update.
Your Apple Watch must be connected to the charger and have at least 50% of battery life in order to proceed with the update. Apart from bug fixes, the new update also enables ECG and irregular heart rhythm notification in 30 more countries. This includes Brunei, Fiji, Haiti, Monaco, Seychelles, Slovenia, Ukraine and Vatican City.
The ECG feature was already enabled for Apple Watch users in Malaysia on iOS 14.6 and watchOS 7.5. Take note that ECG is only available for Apple Watch Series 4, 5 and 6. It is not available on the Apple Watch SE. However, irregular heart rhythm notification is supported on Apple Watch Series 3 and above.
Related reading