[ UPDATE 25/07/2021 19:00 ]: IGP has issued a press statement expressing regret over the police's previous statement urging people to take a COVID-19 antibody test. He said the police have no jurisdiction to make such recommendations. Learn more here.
===
The Royal Malaysian Police is urging the public if they have suspected of receiving a blank COVID-19 vaccine shot to make a police report. This is to ensure that further investigations can be carried out accordingly.
The statement by Bukit Aman Criminal Investigation Department director Datuk Seri Abd Jalil Hassan was issued following allegations that some people were not vaccinated properly. Police are also investigating allegations of illegal sale of COVID-19 vaccines under Penal Code Section 420 for fraud.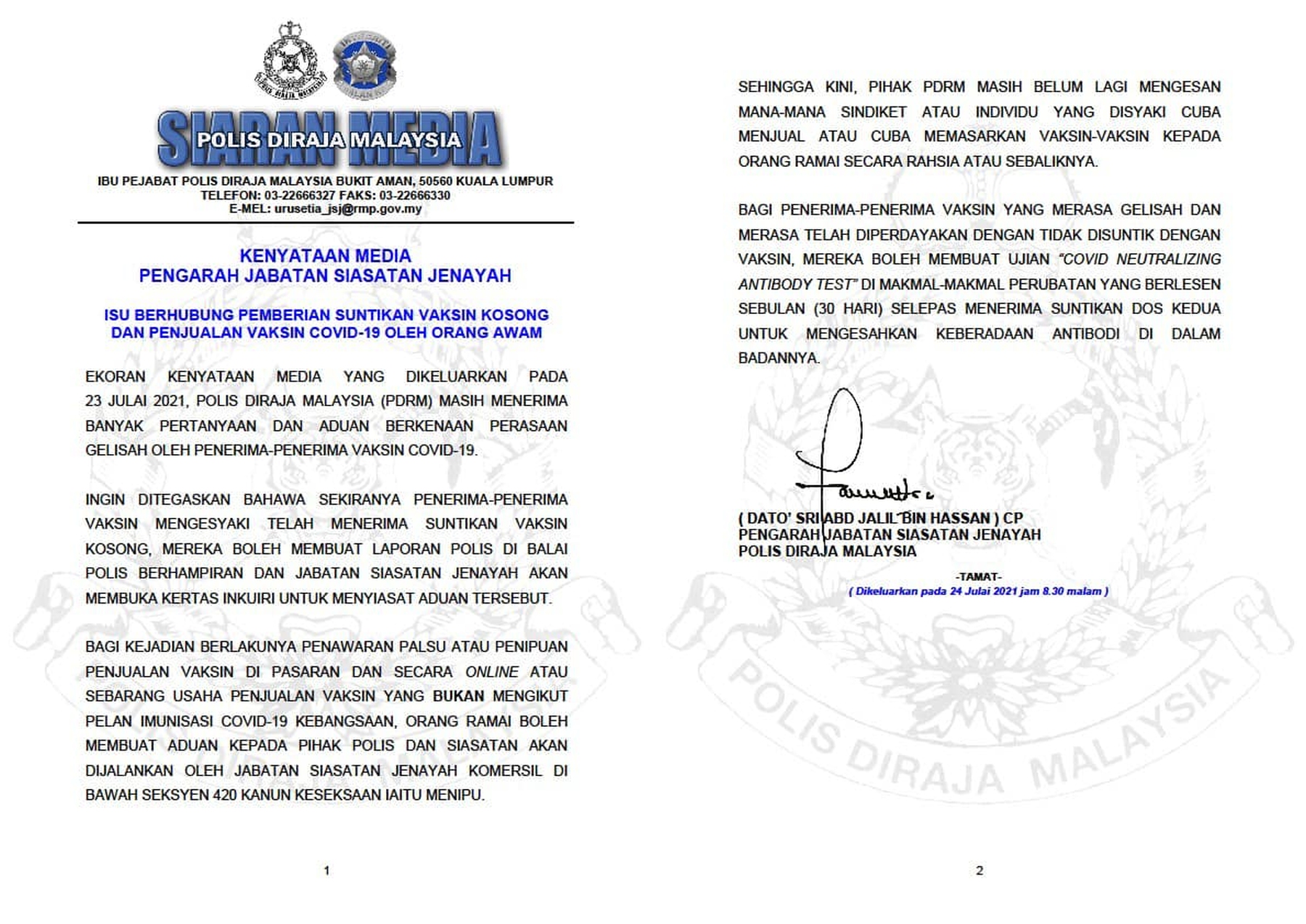 How to report blank vaccine shot?
According to the police, individuals suspected of receiving empty vaccines can make a report at their nearest police station. The report will be investigated by the Criminal Investigation Department.
The statement also said that individuals who are concerned or suspicious of not getting vaccinated properly can conduct a COVID Neutralising Antibody Test at licensed laboratories 30 days after receiving their second dose to verify the presence of antibody in their body.
Several labs have started advertising COVID-19 antibody tests through blood samples and they mostly cost RM120. Do note that you don't get COVID-19 antibodies directly from the vaccines. The antibodies are developed by your immune system after vaccination and the level of antibody varies from one person to another.
Only 3 confirmed cases so far
As revealed by the Minister in charge of the vaccine coordination effort, Khairy Jamaluddin, a total of 13 reports have been made and only 3 incidents of empty vaccinations have been confirmed so far. The National Immunisation Programme has administered over 16 million doses nationwide.
One incident involved a drive-thru PPV in Kedah where the vaccinator had admitted negligence. The other two incidents are reported in Banting and MITEC where the vaccinator wasn't sure if the vaccine was administered properly. The affected individuals have been an extra dose.
Khairy said the majority of the reports were proven false or inconclusive. He shared some made police reports just because they didn't experience side effects after vaccination. However, he assured that complaints about blank jabs are taken very seriously to preserve the integrity of the National Immunisation Program as well as thousands of frontliners who are working tirelessly to vaccinate everyone.
SOP for vaccinators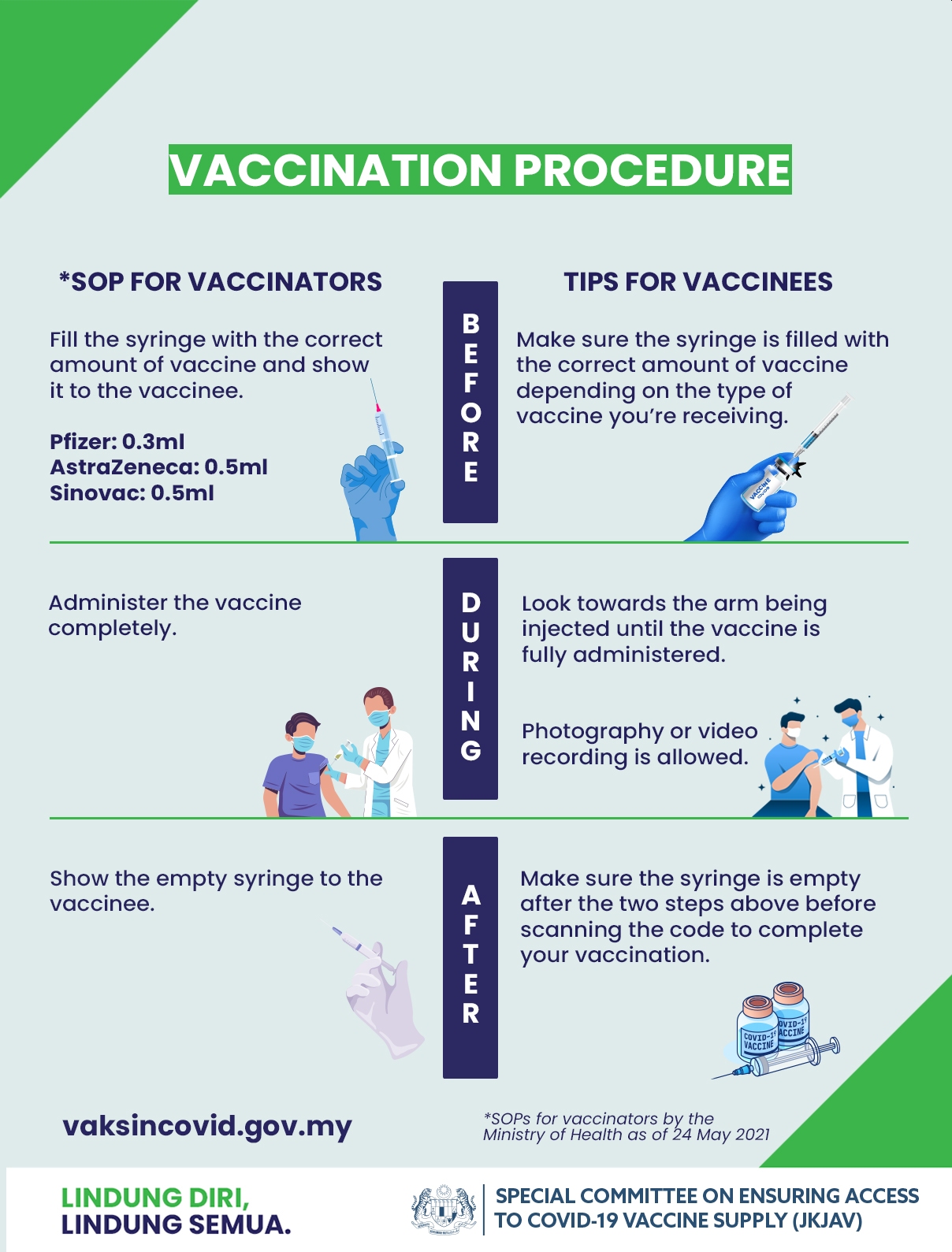 To mitigate any doubt, the COVID-19 immunisation task force is allowing everyone to record themselves getting the jab. As announced in May, all vaccinators must show the syringe filled with the right dose before administering the jab. They are also required to show the empty syringe after the vaccination is completed.
Khairy encourages everyone to record themselves so that everyone has hard proof that they have gotten their vaccination. He added, "When you get your vaccine, look at it, don't look away, look at it, look at it to make sure you're getting the right dose, don't be scared."