Individuals who have completed their COVID-19 vaccination with two doses will soon be allowed to conduct more activities including dine-in at restaurants, social, and sports activities. Prime Minister Muhyiddin Yassin has given a teaser ahead of the official announcement that's expected in the next couple of days.
The government also plans to provide the option for fully vaccinated individuals returning from their overseas trip to undergo the mandatory 14-days quarantine at home. Individuals will still get a wristband and will be required to go for a swab test before they are allowed to leave. The option provides convenience and lower costs for those returning home.
For husbands and wives in a long-distance relationship, they would soon be allowed to travel across state and district borders.
Muhyiddin said these reduced restrictions are not official yet and he's merely giving an insight before the full details are announced as a total package in the next couple of days.
He said he hopes that the relaxation of SOP will give breathing space for the people to live a slightly better life. Previously, Muhyiddin said that the decision will be made by the National Recovery Council this week and the move to reduce restrictions is in line with the transition to Phase 2 of the National Recovery Plan.
Right time to transition to Phase 2 of NRP?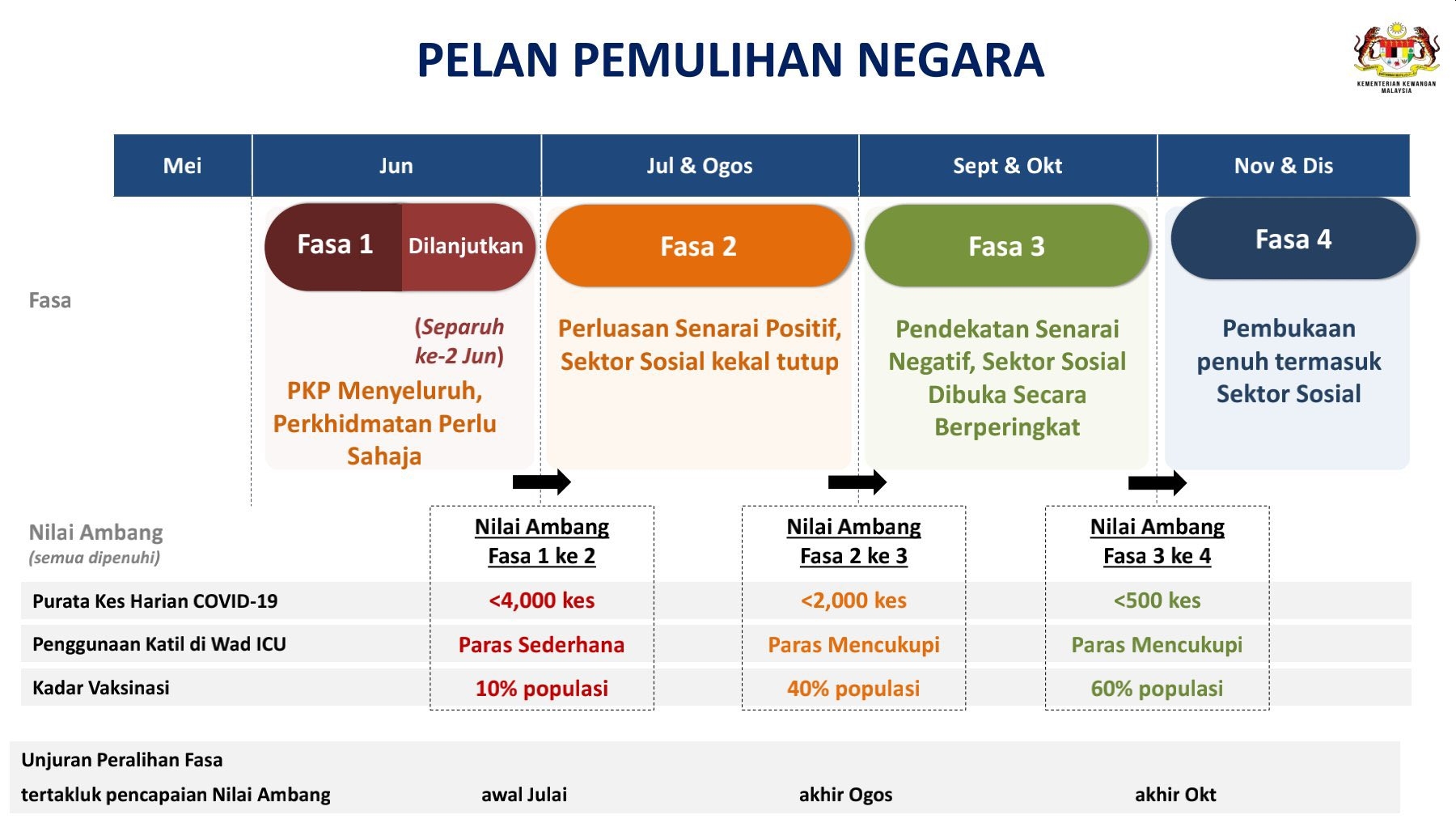 Under the National Recovery Plan, the transition to Phase 2 can happen if the country meets 3 criteria. This includes reporting less than 4,000 daily COVID-19 cases, moderate utilisation of ICU beds and 10% vaccination rate.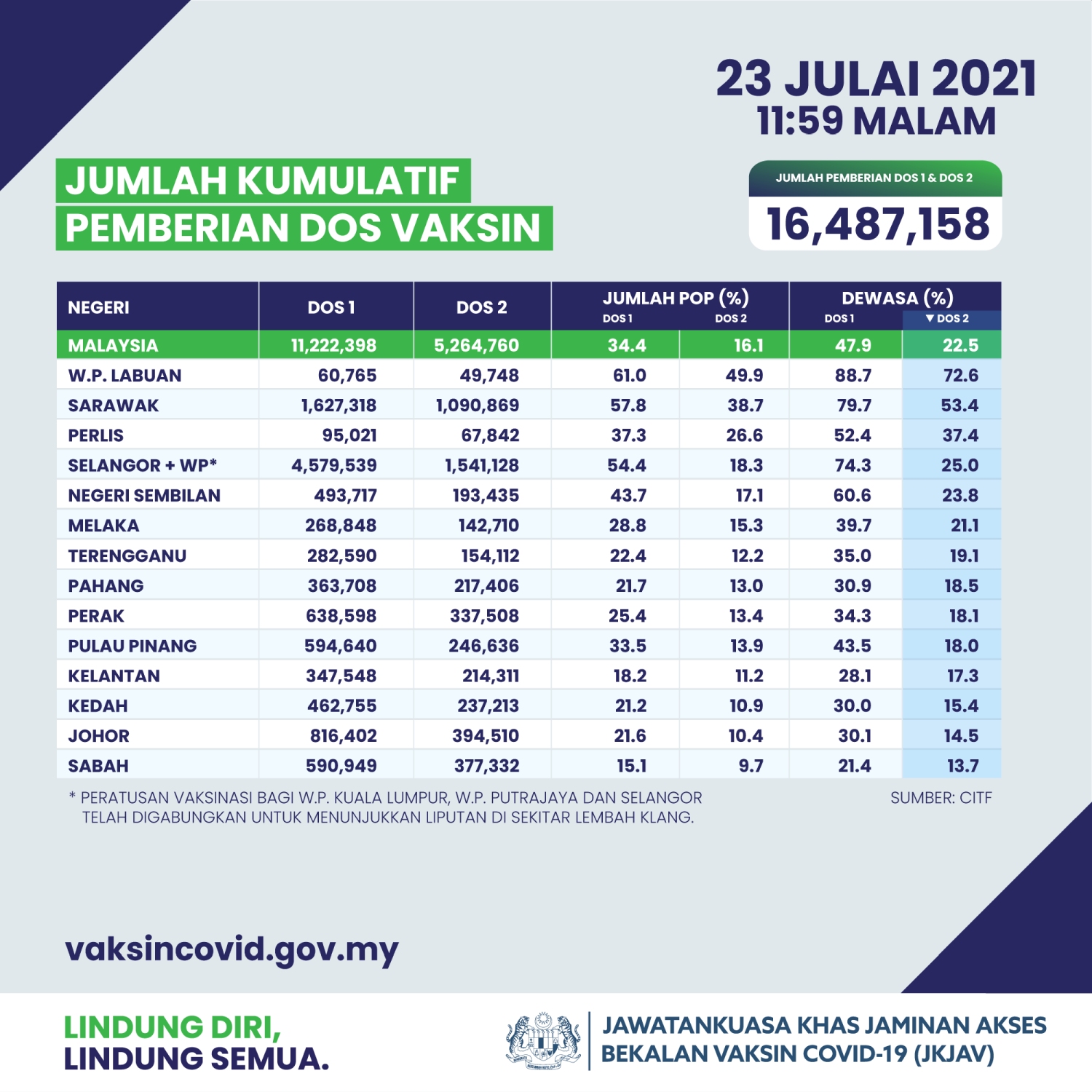 At the moment, the National Immunisation Programme has already reached its milestone of administering 500,000 doses in a single day. As of 23rd July, 11.2 million people or 34.4% of the total population have received at least one dose. Meanwhile, 5.2 million people or 16.1% of the total population have completed their vaccination with two doses.
Under the current Operation Surge Capacity, the NIP aims to vaccinate all adults in KL and Selangor with at least one dose by 1st August 2021. As of yesterday, over 1.5 million people in the Klang Valley have received two doses.
Muhyiddin aims to fully vaccinate all adults in Malaysia by the end of October 2021.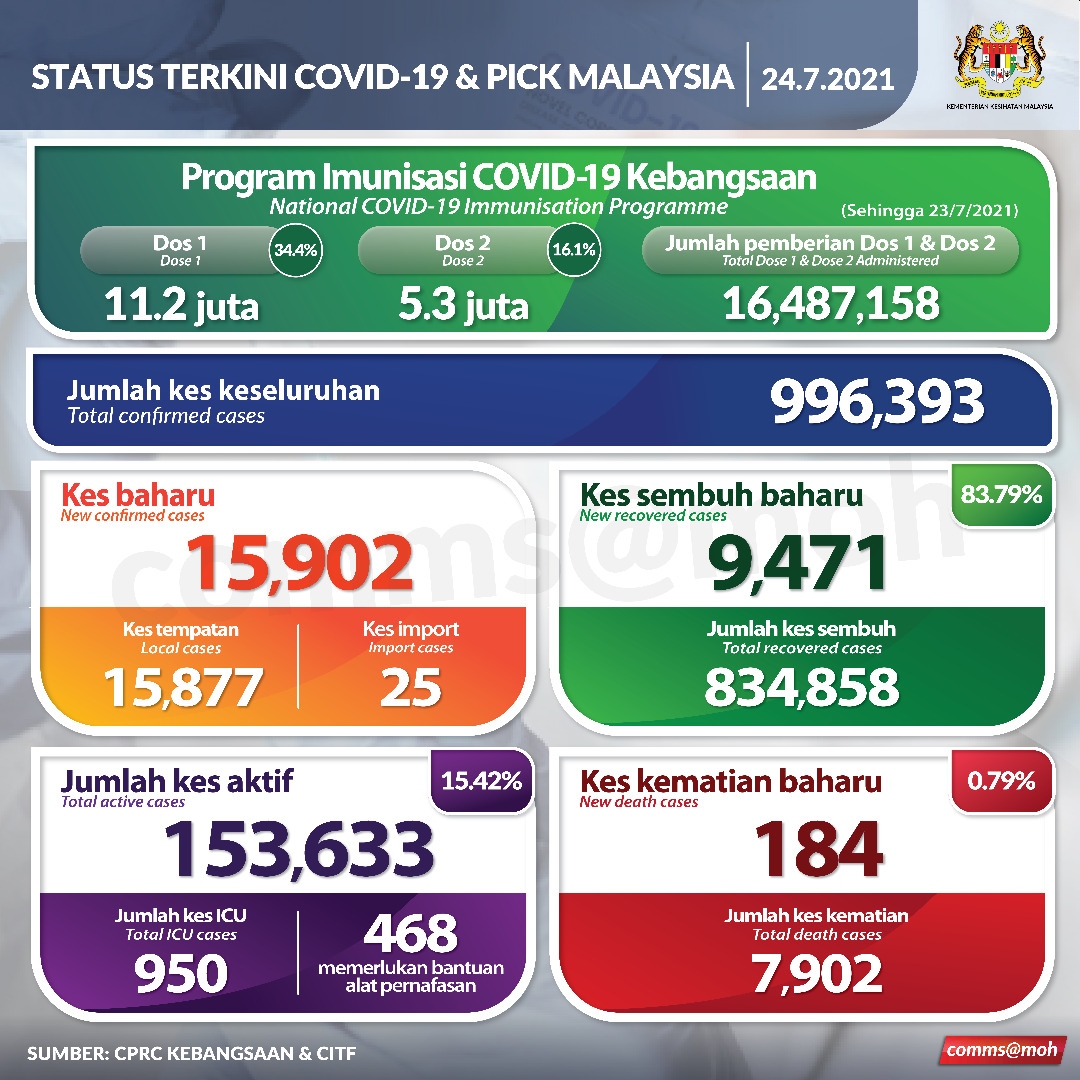 However, the current COVID-19 situation looks dire at the moment as Malaysia continues to hit record-high new daily cases for two straight days. Today, the Ministry of Health has reported 15,902 new COVID-19 cases and 184 deaths. There are currently over 150,000 active cases and ICU usage remains high with 950 cases which include 468 cases that require ventilators.
Enforcing of entry for fully vaccinated individuals
If more economic sectors and activities are permitted for fully vaccinated individuals, MySejahtera's digital vaccine certificate would likely be a mandatory requirement for entry. The definition of fully vaccinated must be defined clearly as individuals are usually considered "fully vaccinated" two weeks after completing their second dose for optimal protection. At the moment, anyone who received two doses will immediately get the orange digital cert under MySejahtera's profile page.
For better and smoother enforcement, the MySejahtera app should be updated to show a clear status of "fully vaccinated" on the check-in interface.
[ SOURCE , IMAGE SOURCE ]