Prime Minister Muhyiddin Yassin has revealed the National Recovery Plan which outlines the phases and conditions for Malaysia to get out of the COVID-19 pandemic. There are a total of 4 phases which include the current total lockdown to the reopening of all business and social sectors by the end of 2021.
The decision to move to the next Phase is determined by three conditions – the number of daily cases reported, the medical healthcare capacity (ICU) and the national vaccination rate.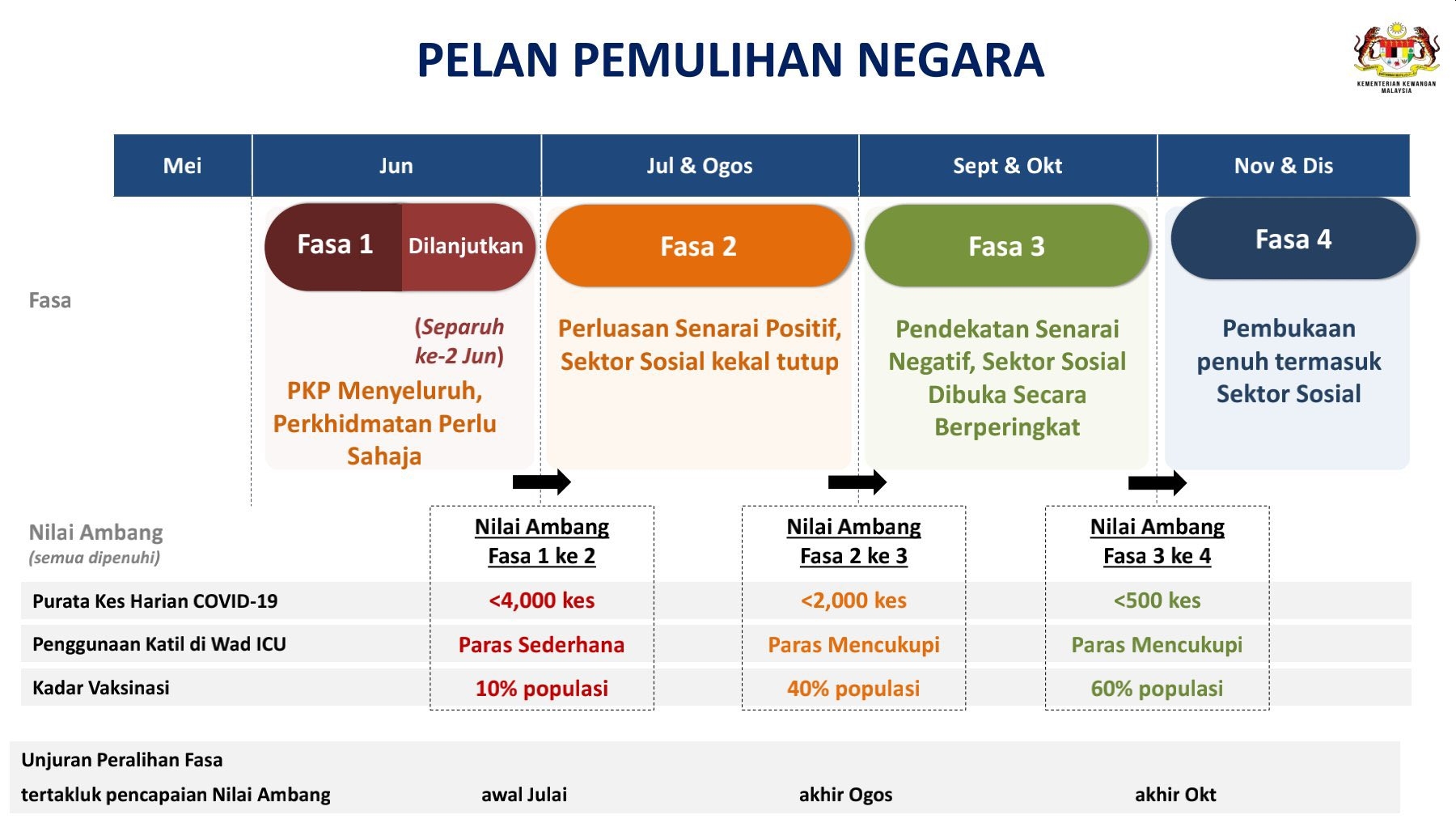 Phase 1 (June)
At the moment, Malaysia is under Phase 1 and the current total lockdown movement control order is extended until the end of June 2021. Under this period, only essential sectors are allowed to open and all social activities are prohibited.
Phase 2 (July – August)
The country can move into Phase 2 once new daily COVID-19 cases drop below 4,000 per day with moderate ICU capacity and 10% of the population have been vaccinated. Under Phase 2, more economic sectors can reopen while social sectors remain close.
Phase 3 (September – October)
Phase 3 can be activated once the daily number of COVID-19 cases drop to less than 2,000 cases, ICUs having sufficient capacity and 40% of the population is vaccinated. Under Phase 3, almost all business sectors can reopen while social sectors can be reopened in stages.
Both Parliament and schools can reopen under Phase 3.
Phase 4 (November-December)
Malaysia can move into Phase 4 when new COVID-19 cases drop to less than 500 per day and 60% of the population is vaccinated. Phase 4 allows all sectors including social to be open and domestic travel will be permitted.
[ IMAGE SOURCE ]
Related reading