If you're on Yoodo, you can also redeem the RM180 telco credit subsidy under the Jaringan Prihatin programme. The subsidy can be used to get RM15 off for a period of 12 months for those eligible under Bantuan Prihatin Rakyat (BPR) and Bantuan Sara Hidup (BSH).
If you're eligible, you can use it to redeem the 20GB Prihatin Pass for RM20, which is lower than the usual price of RM35 for 20GB of data. In addition, Yoodo is offering users free 2GB data every day as an added bonus.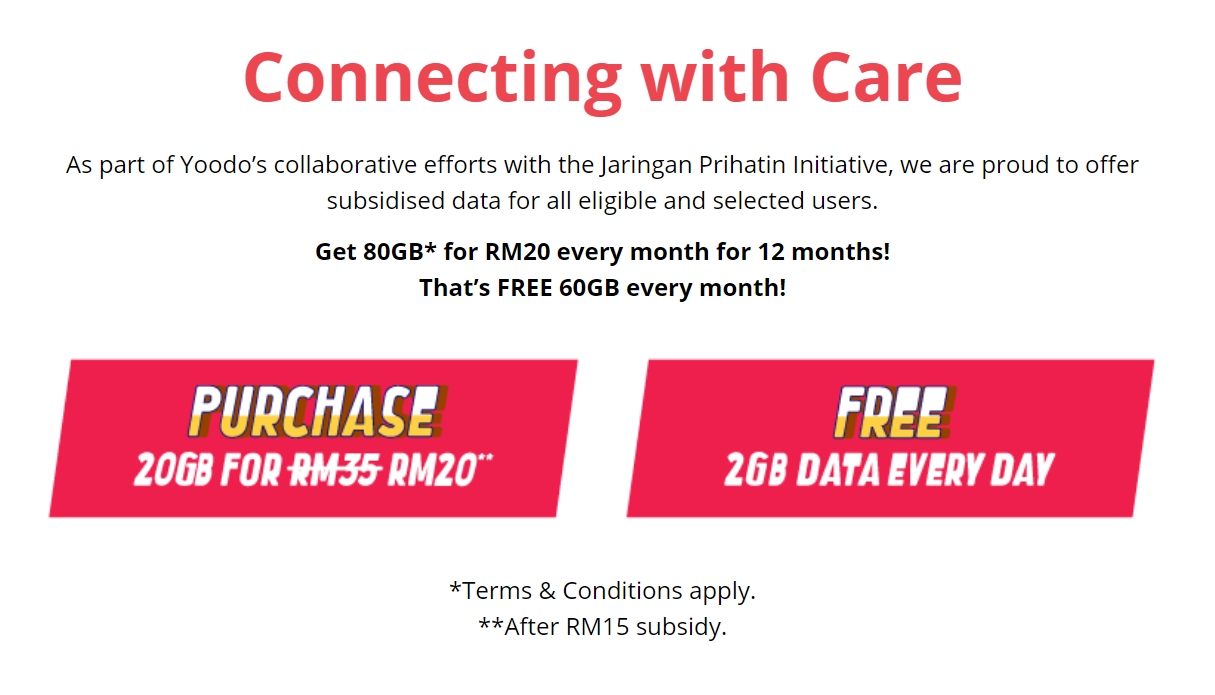 If your customised Yoodo plan only has voice call minutes or SMS but doesn't have a base data plan, you are still eligible to redeem the 20GB Prihatin pass. To redeem, just go to your Yoodo app, click on the menu icon on the top left corner and select Jaringan Prihatin.
Take note that the free 2GB daily data can only be redeemed after you have redeem the 20GB Prihatin pass. Like most telcos on the Jaringan Prihatin programme, this extra 2GB data is only valid for 60 minutes upon activation. You are only allowed to redeem the 2GB data pass once every 24 hours.
At the moment, Yoodo isn't offering any device bundles and if you're thinking of redeeming the RM300 subsidy for new phone, you'll have to consider other telcos. For more info, visit Yoodo's Jaringan Prihatin page.
Related reading