Realme has unveiled its line of magnetic wireless charging systems for its Android phones called the MagDart. A rival of the Apple MagSafe system, the headline Realme MagDart charger is the 50W one that has its own built-in fan.
It's pretty much the world's fastest magnetic wireless charger, though that may be due to there not being many others out there. While the 50W MagDart charger does look extremely bulky and cumbersome to use, there's no question that it's a fast charger. Realme claims that this 50W charger will fully charge a 4,500mAh battery in just under an hour, which rivals even the best wired charging solutions out there. You will however need to pair it with the Realme 65W SuperDart charger.
A more user-friendly option though is the 15W MagDart charger. It has a much slimmer hockey puck-like design, and measures just 3.9mm thin. This does come at the cost of shifting most of the electronic circuitry to the other end of the charging cable though.
At 15W, it's the same power output as the Apple MagSafe charger, but Realme says that it will charge your device faster than Apple's charger. According to them, the 15W MagDart can fill a 4,500mAh battery in 90 mins, which would actually be much faster than the MagSafe. The MagSafe in comparison takes about four hours to fully charge the iPhone 12.
The two MagDart chargers weren't the only things that Realme announced. There's also a Two-way MagDart Power Bank, which you can snap onto the back of your device to charge it, like the Apple MagSafe Battery Pack. Unlike the MagSafe Battery Pack though, the MagDart Power Bank can act as a wireless charging kickstand via an accompanying charging base. There's no word yet on the specifics though like battery capacity and power output.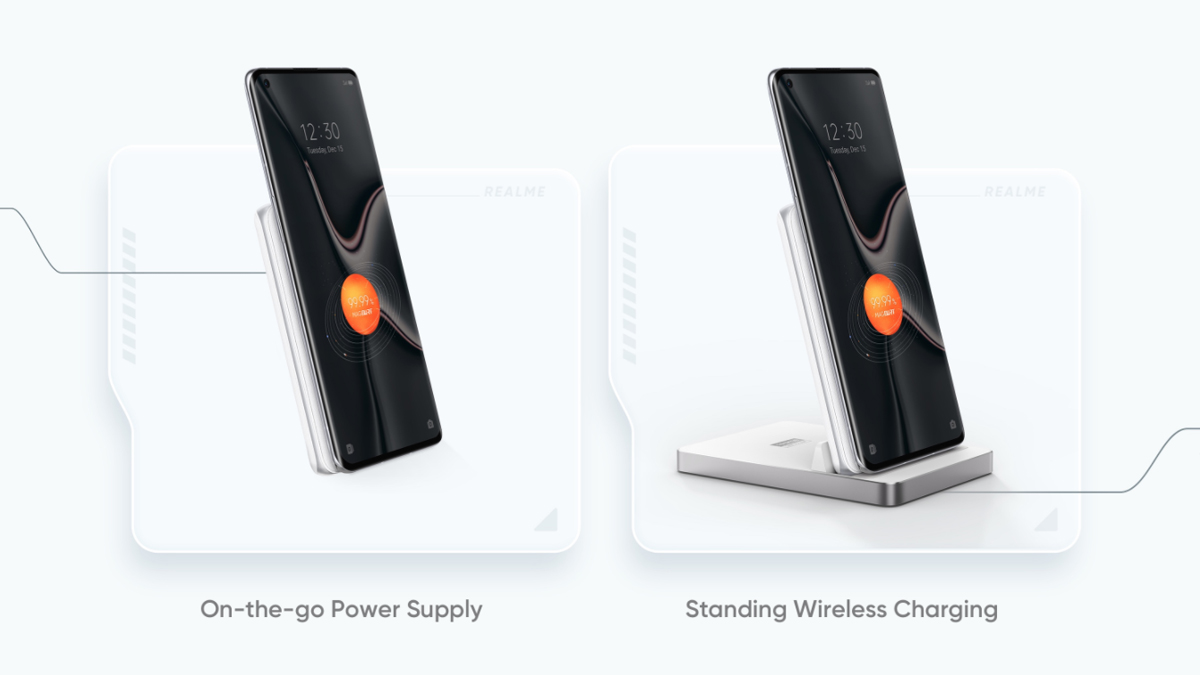 Realme didn't stop there, showing off a MagDart Wallet that again looks a lot like the Apple MagSafe Leather Wallet. The MagDart Wallet is made of white vegan leather and can hold up to three cards. And just like the MagDart Power Bank, the MagDart Wallet is also able to act as a kickstand to hold your device up.
Another MagDart accessory is the MagDart Beauty Light. Designed specifically for portrait selfie takers, it snaps onto the back of the phone and has a ring light attached. The ring light can be folded down or up and is powered by reverse wireless charging. The Beauty Light has 60 mini LEDs in it, and can be adjusted to change brightness and colour temperature.
As for what devices you'll actually be able to use with the MagDart charging system, so far there's only one: the Realme GT. And even then, that's thanks to a special MagDart case for the Realme GT, which otherwise doesn't support wireless charging at all. It's a carbon bumper case that has the MagDart module embedded into it, while also having a USB-C port for data and earphone passthrough.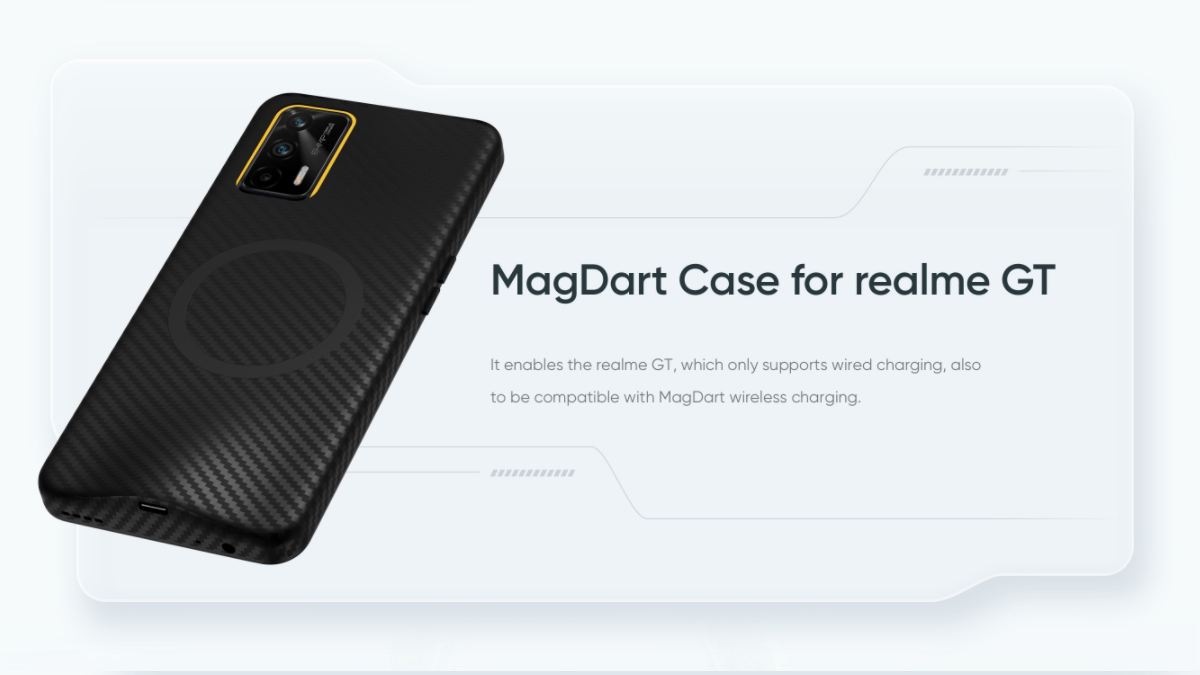 Despite a pretty flashy showcase, there's actually still no release date or pricing for the Realme MagDart products. The Realme Flash that they used to show off the MagDart ecosystem doesn't actually exist as it's just a concept device used to demonstrate their new magnetic wireless chargers. It's also worth pointing out that so far the only smartphone that'll officially work with MagDart devices is the Realme GT, which itself needs the special case to do so.
In the meantime though, if you're interested in Realme's new MagDart chargers, you can learn more about it from its product page on their website.