If you haven't gotten your COVID-19 vaccine, the National Immunisation Programme has started offering walk-ins for younger age groups in Kuala Lumpur and Selangor starting today, 2nd August 2021. Previously offered only to Klang Valley senior citizens aged 60 years, the walk-in vaccinations are offered to all remaining adults in phases. Here's everything you need to know from eligibility, venue, time and date.
Who can walk in?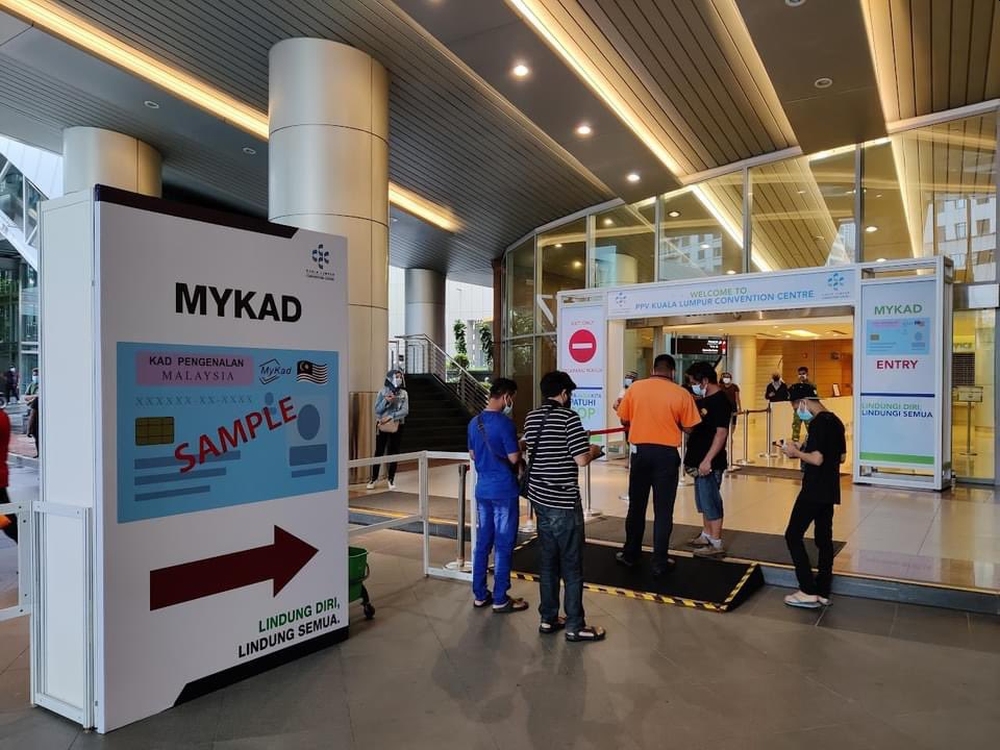 The walk-in vaccinations are only offered to individuals who are staying in the Klang Valley, which include Kuala Lumpur, Selangor and Putrajaya. It's only happening from 2pm at selected PPVs on a first-come-first-served basis.
The walk-in programme is split into 4 different groups based on nationality, age and health condition.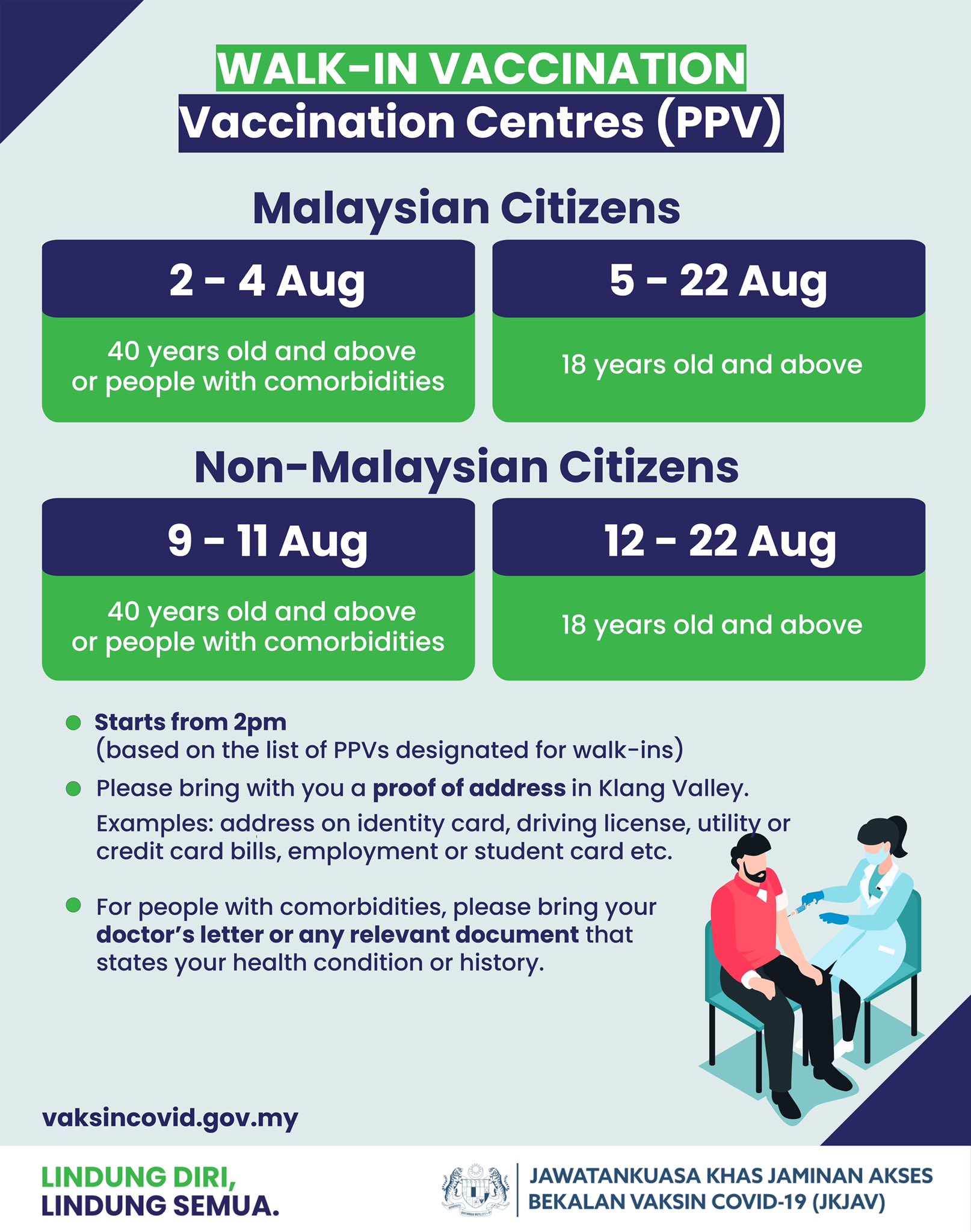 Malaysians
Malaysian citizens aged 40 years old and above can walk in from 2nd to 4th August 2021. This also includes adults with comorbidities such as heart diseases, diabetes, and high blood pressure.
For all Malaysians aged 18 years old and above, you may walk in starting from 5th to 22nd August 2021.
Non-Malaysians
For non-citizens, the walk-in phases will start a week later. For non-Malaysians aged 40 years old and above or with comorbidities, walk-in vaccinations are available from 9th to 11th August 2021. All remaining non-citizen adults aged 18 years old and above, can walk in starting from 12th to 22nd August 2021.
Walk-in PPV locations
Do note that not all vaccination centres (PPV) are offering walk-in vaccinations. The list of PPV is different for Malaysians and non-Malaysians.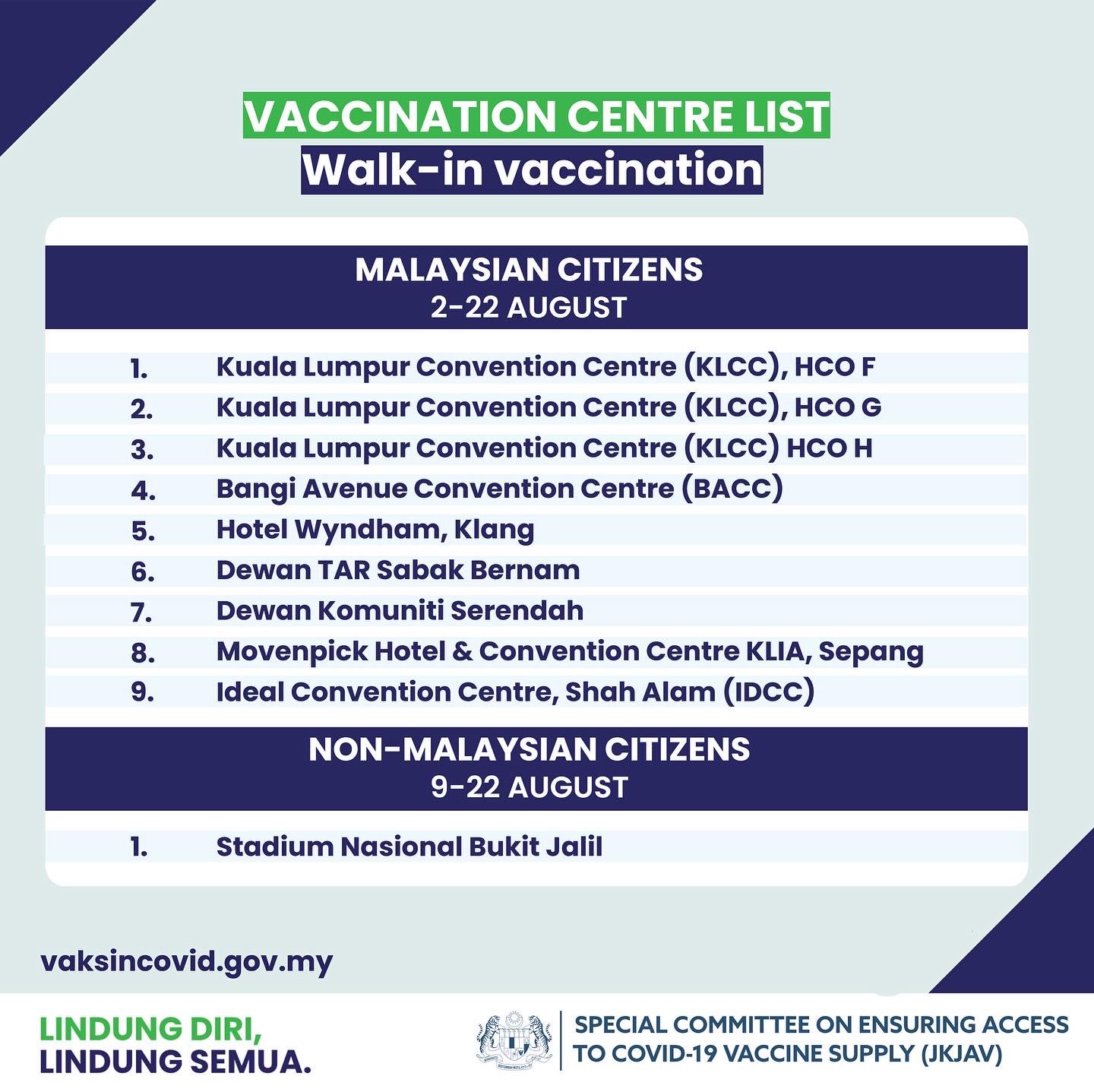 For Malaysians, you have 7 PPV locations namely:
Kuala Lumpur Convention Centre (KLCC) HCO F, G, H
Bangi Avenue Convention Centre (BACC)
Hotel Wyndham, Klang
Dewan TAR Sabak Bernam
Dewan Komuniti Serendah
Movenpick Hotel & Convention Centre KLIA, Sepang
Ideal Convention Centre, Shah Alam (IDCC)
For non-Malaysians, you may only walk-in to Stadium Nasional Bukit Jalil.
Each PPV will have limited daily walk-in slots. If you couldn't get vaccinated today, you will be prioritised for the next day.
What is required?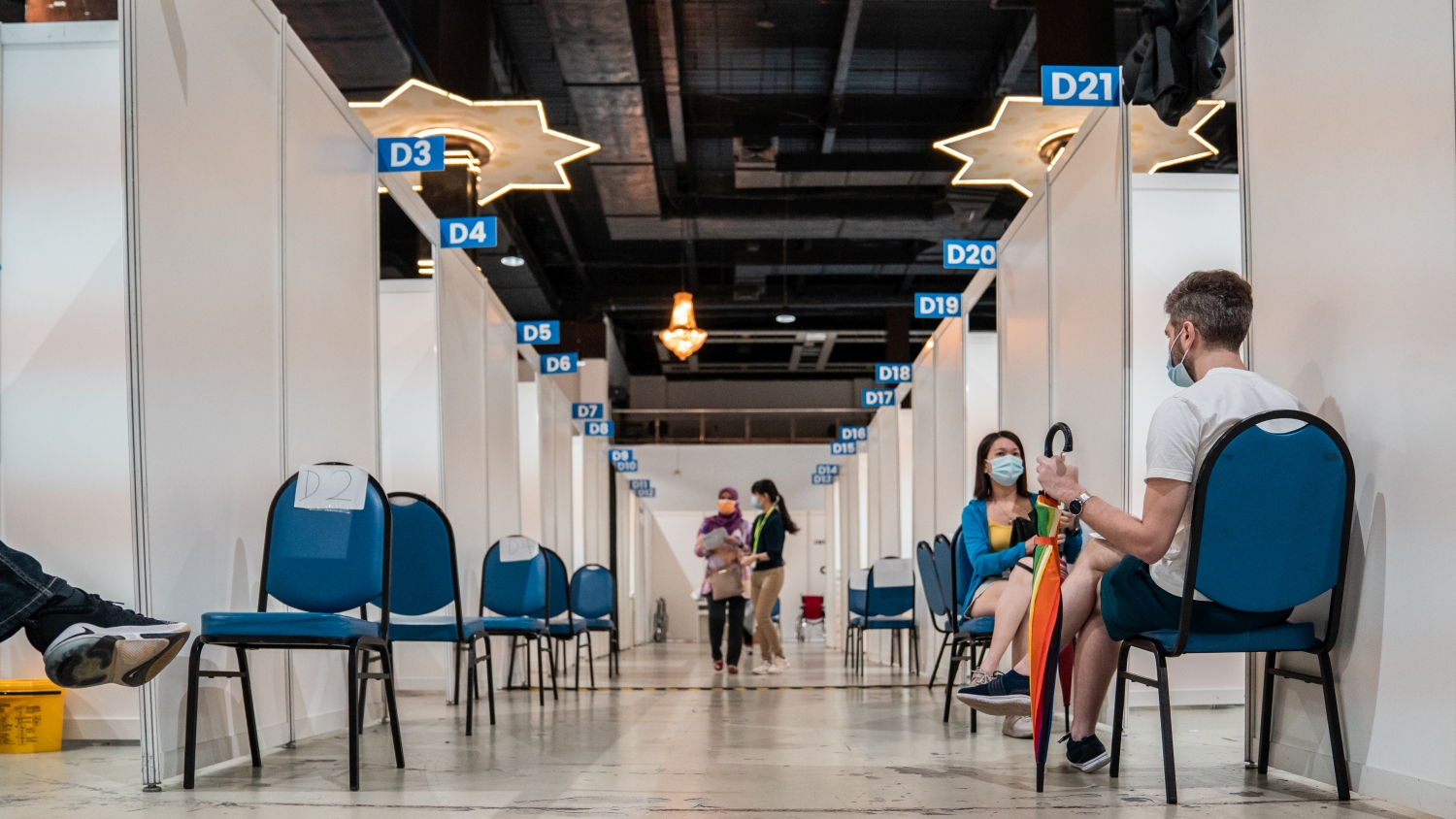 Walk-in vaccinations are open to all residents in the Klang Valley who have not gotten a vaccine appointment or have not yet registered for the COVID-19 immunisation programme. If you've already gotten your first dose or have received an appointment, you have to stick to the assigned time, date and location.
All individuals must bring proof of address in the Klang Valley. This may include your identification card, driving licence, utility or credit card bills, employment or student card.
For individuals with comorbidities, you are urged to bring a doctor's letter or any relevant document that states your health condition or history.
Before going to the PPV, make sure you bring along your identification card or passport (non-photocopy). You are also encouraged to bring a pen to fill up the consent form.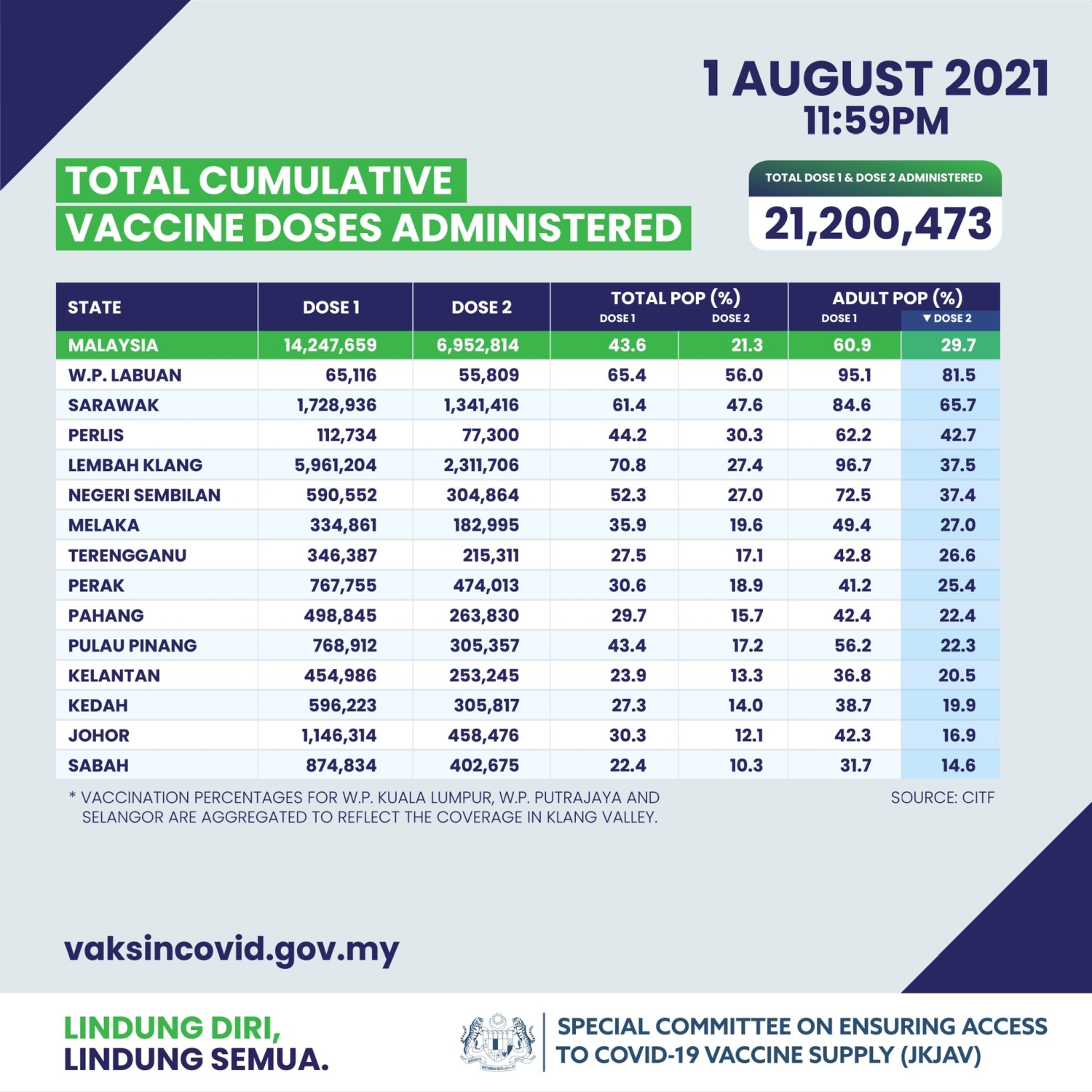 As of 1st August 2021, a total of 5,961,204 individuals in the Klang Valley have received at least one vaccine dose, which is 96.7% of its targetted 6.1 million adult population.
Nationwide, over 21.2 million doses have been administered and a total of 14.2 million people in the country or 60.9% of the total adult population have gotten one dose. Over 6.9 million people or 29.7% of total adults have completed their vaccinations with two doses.
Malaysia aims to fully vaccinate 50% of its adult population by 31st August 2021. With the current high vaccination rate that has been doing more than 500,000 doses per day, Prime Minister Muhyiddin Yassin aims to fully vaccinate all adults by the end of October 2021.
[ SOURCE, IMAGE SOURCE ]