Vaccine coordination minister Khairy Jamaluddin said that the government is confident of vaccinating 50% of Malaysia's adult population by 31st August 2021. He said this was in view of the current high vaccination rate which recently hit more than 500,000 doses administered daily.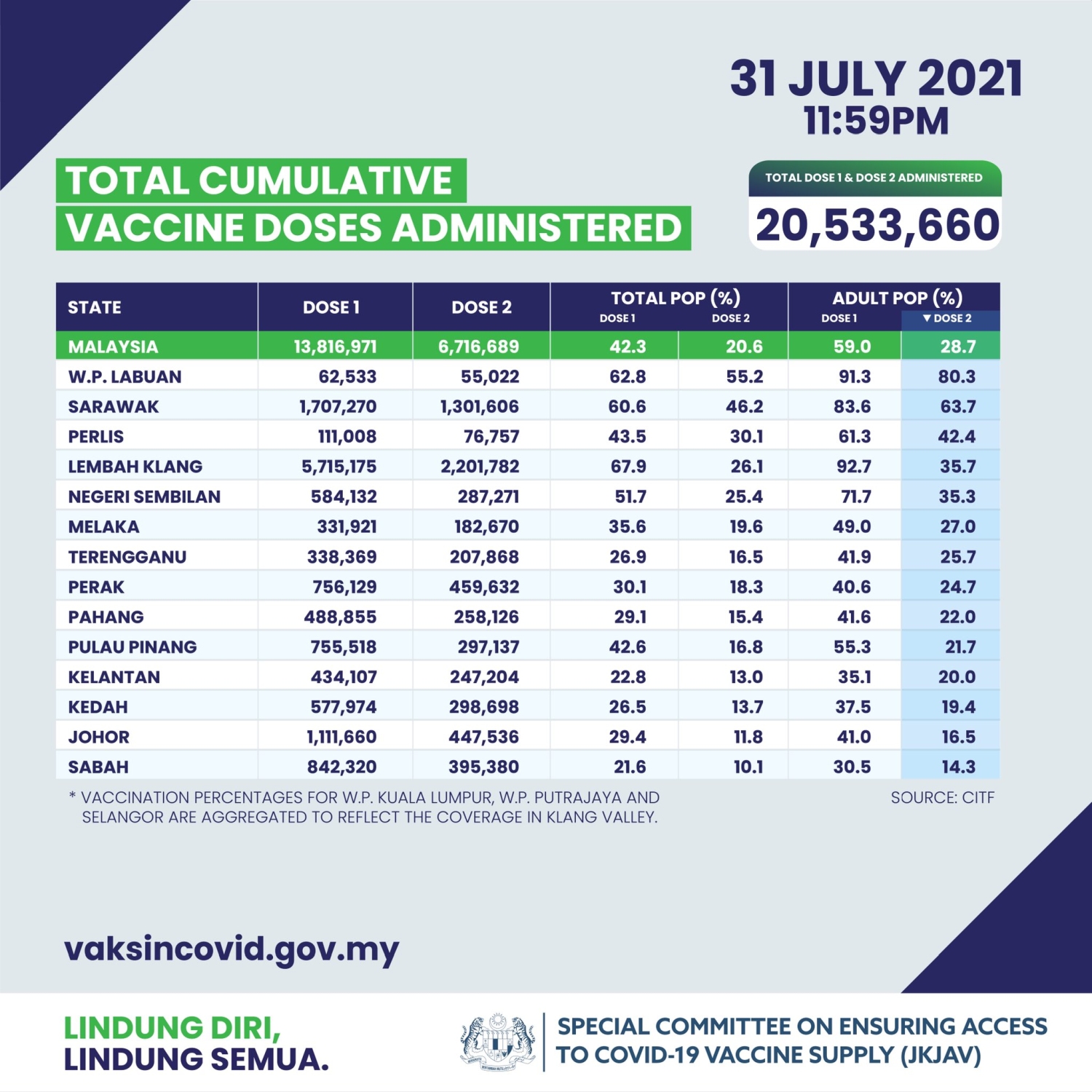 As of 31st July 2021, Malaysia has already administered over 20.5 million doses nationwide. 13,816,971 individuals or 42.3% of the total population have received at least one dose. Meanwhile, 6,716,689 individuals, or 20.6% of the total population have completed their vaccination with two doses.
Based on JKJAV's current figures, the estimated adult population is 23.4 million. At the moment, 59% of adults have been vaccinated with one dose and 28.7% have completed their vaccination with two doses.
To hit the target by Merdeka Day, Malaysia would need to fully vaccinate 11.7 million people in total. Since 6.7 million adults have been fully vaccinated, what's required is to have 5 million more individuals get their second dose this month. This is achievable if Malaysia continues to maintain its vaccination momentum.
Individuals that have gotten Pfizer and Sinovac vaccine would have to follow a 3-week interval, while AstraZeneca has a longer interval of 9-weeks.
In July alone, Malaysia has administered a total of 12,469,975 doses, which is a 145% increase over the previous month. To speed up vaccinations especially in the Klang Valley, walk-in vaccinations will begin starting tomorrow, 2nd August for Malaysians aged 40 years old and above, or adults with comorbidities.
Prime Minister Muhyiddin Yassin has said recently that the government aims to fully vaccinate all adults in the country by the end of October 2021. He also shared that the government intends to loosen restrictions such as dine-in and interdistrict travel for fully vaccinated individuals. The decision was supposed to be made last week, however, the Prime Minister has yet to make an official announcement.
[ SOURCE , IMAGE SOURCE ]