The National Immunisation Programme (NIP) has hit a new record high of administering a total of 553,871 COVID-19 vaccine doses on 27th July. A total of 356,112 individuals have received their first dose while 197,759 people have received their second dose yesterday.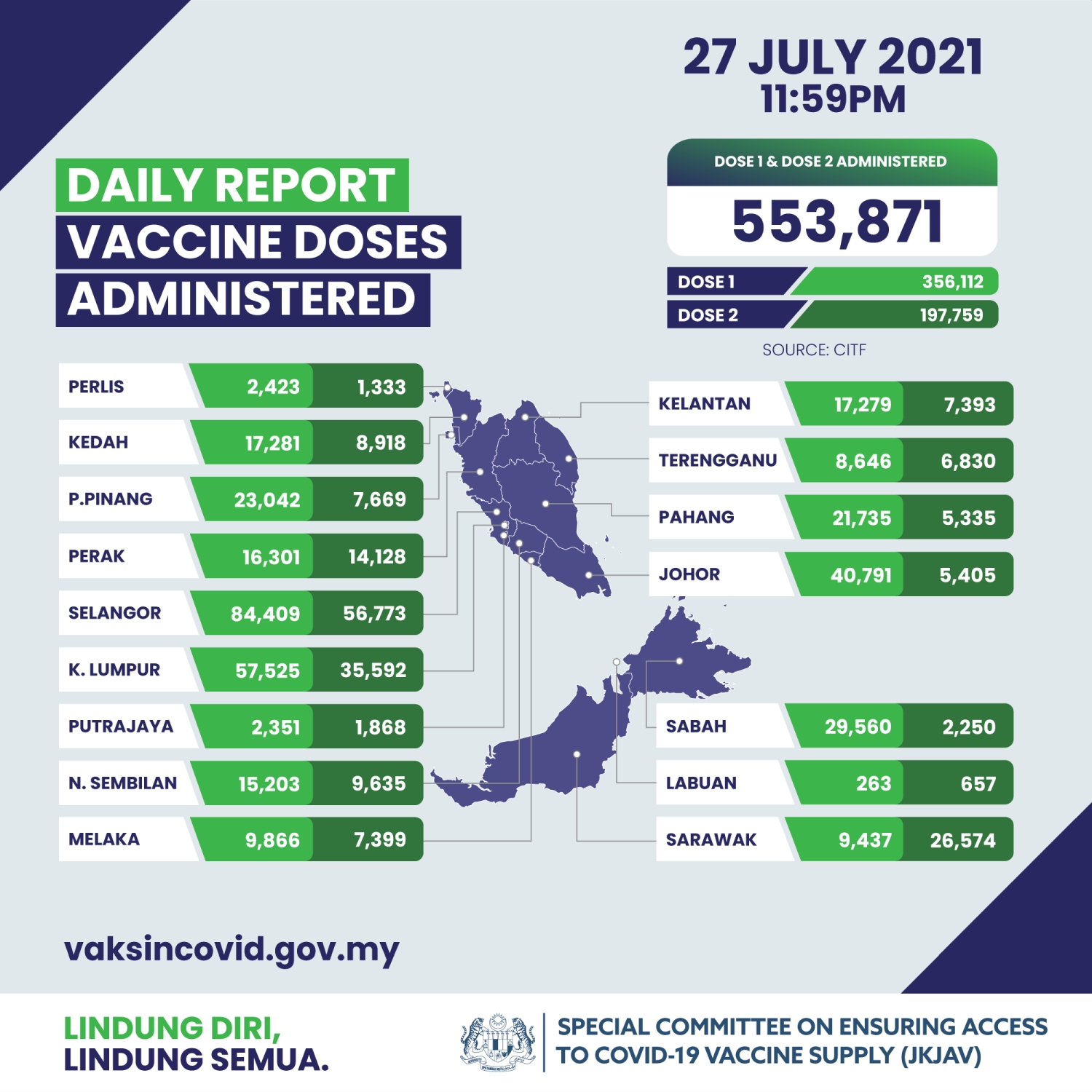 The state of Selangor administered the most in the country with 141,182 doses yesterday, followed by Kuala Lumpur with 93,117 doses and Johor with 46,196 doses.
Under Operation Surge Capacity, the COVID-19 Immunisation Task Force aims to vaccinate all 6.1 million adults in the Klang Valley with at least one dose by 1st August 2021. On 27th July, 238,518 doses have been administered in the Klang Valley and 82.9% of its adult population have received at least their first dose.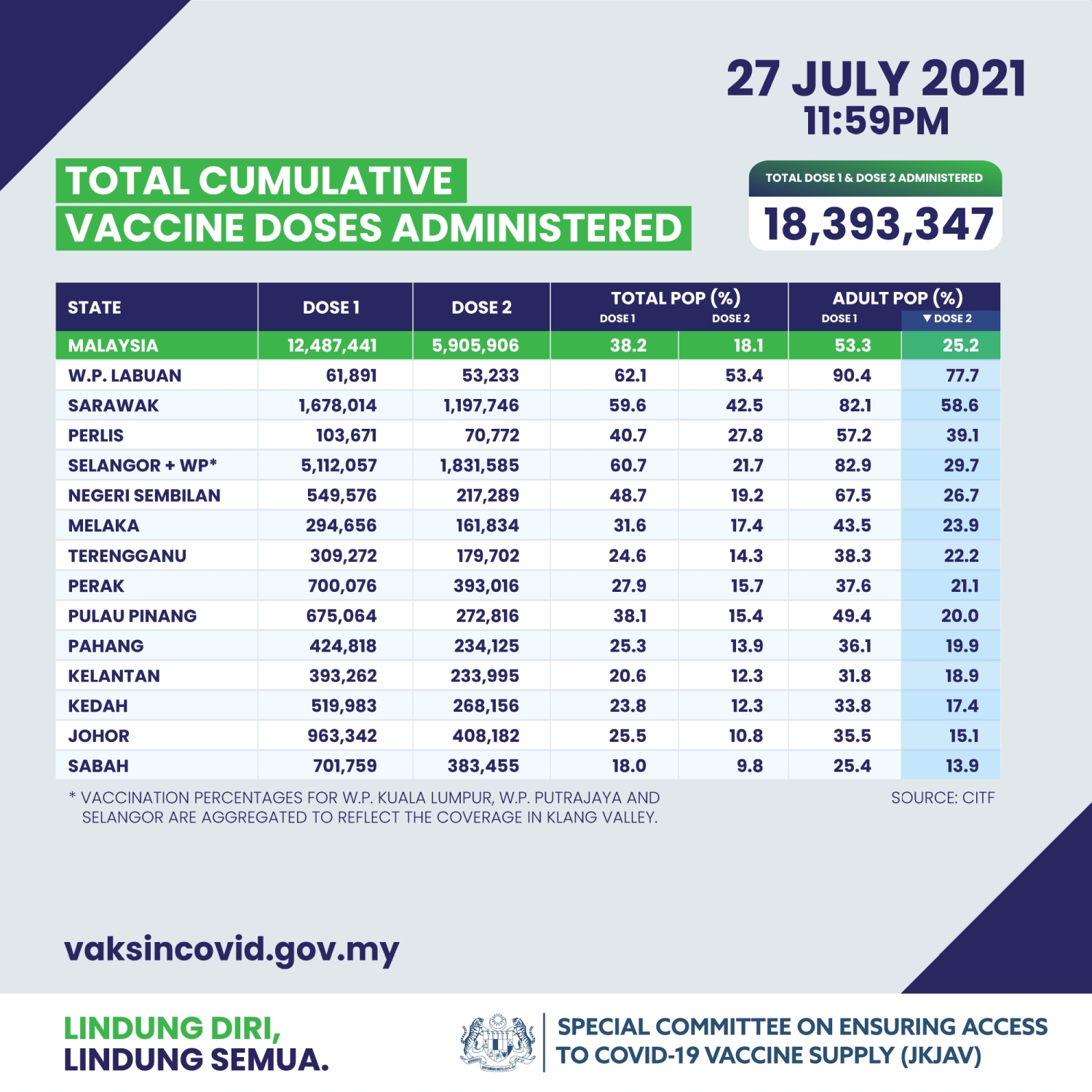 Malaysia has already administered 18,393,347 vaccine doses in total which consists of 12,487,441 first dose and 5,905,906 second dose. In July so far, the NIP has administered 10,223,848 doses, which is more than double the 8,169,499 doses administered between 24th February to 30th June 2021.
Over 50% of Malaysia's adult population have received at least one dose and 25.2% of adults have completed their vaccination with two doses.
Labuan currently has the highest vaccination rate with 90.4% of its adult population having vaccinated with one dose and 77.7% have gotten two doses. This is followed by Sarawak with 82.1% of its adult population having one dose and 58.6% having two doses.
Peratusan penduduk Malaysia telah menerima sekurang-kurangnya 1 dos telah mengatasi beberapa negara seperti Jepun, Korea Selatan dan New Zealand.#SisiTVParlimen #DewanRakyat #AWANInews pic.twitter.com/qLXxQrsLOU

— 🇲🇾Astro AWANI🇲🇾 (@501Awani) July 28, 2021
As shared by vaccine coordination minister Khairy Jamaluddin in Parliament, 2.89 million senior citizens or 93% of people aged 60 years old and above have received at least one dose as of 25th July 2021. He added that Malaysia is ahead of Australia, New Zealand, Japan and South Korea when it comes to vaccination rate of single dose by population.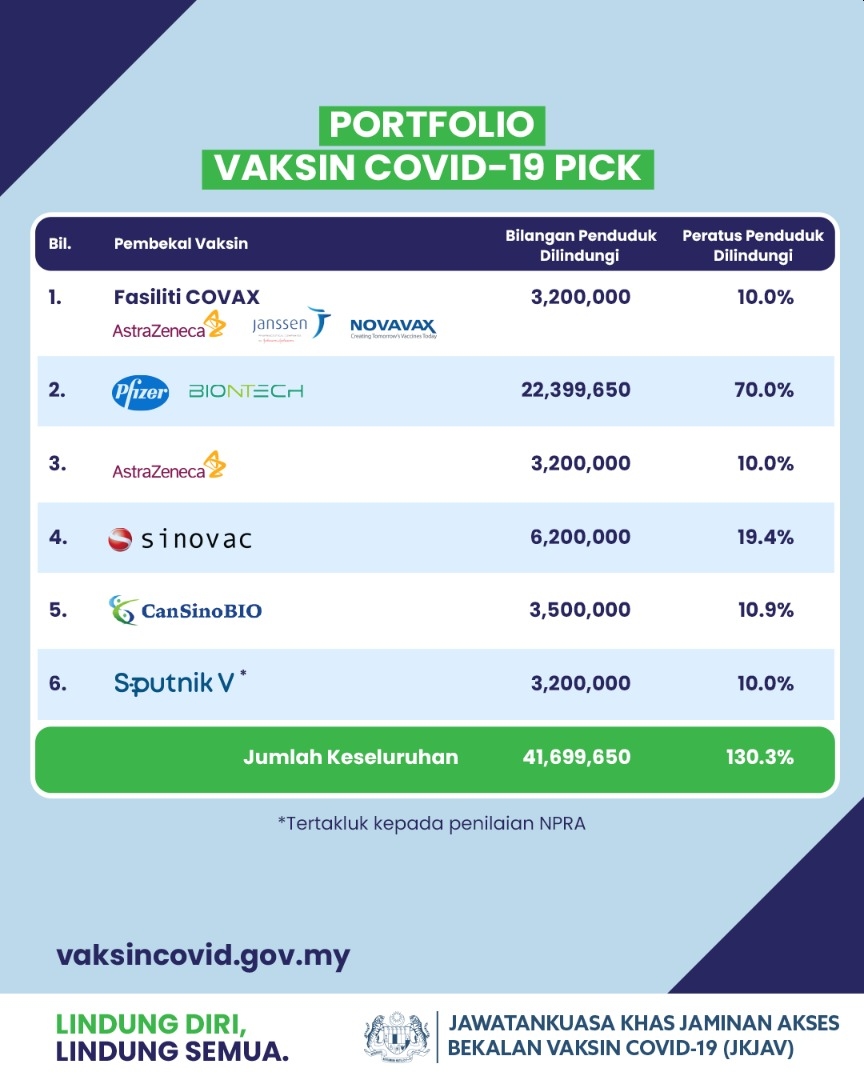 Malaysia has procured more than enough vaccines to vaccinate 130% of its total population. As shared by the special committee on ensuring access to COVID-19 vaccines (JKJAV), there are more than 70 million doses that can vaccinate 41 million people. 70% of vaccines procured are Pfizer which is enough to cover almost 22.4 million people, followed by Sinovac which can vaccinate over 6 million people.
Novavax (via COVAX) and Sputnik V vaccines are also included in the vaccine portfolio, however, both have yet to received approval from the National Pharmaceutical Regulatory Agency.
With the high vaccination rates, Malaysia now aims to fully vaccinate all adults by October 2021. Vaccine registration for children aged 12-17 is now open but vaccinations have not yet started.