As reported last month, TM was still offering an entry-level RM38/month Broadband Lite plan that comes with 1Mbps connectivity and an abysmal 1GB quota. After the plan was heavily criticised, it appears that TM has increased the plan's quota by 50 times in order to keep up with the times.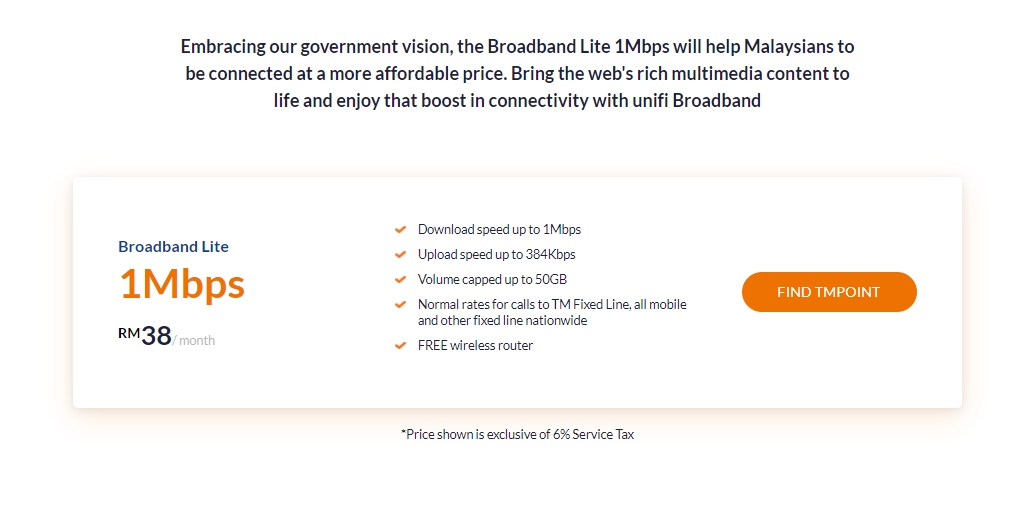 As shown on the product page, Broadband Lite which offers 1Mbps download and 384kbps upload on ADSL (Streamyx) now comes with a volume cap of 50GB. As usual, the plan comes with a free wireless router on a 12-month contract but you don't get any bundled voice calls.
According to the FAQ, the internet speed will be throttled to 128kbps upon reaching the 50GB monthly data cap. It stated that 50GB of data can provide internet surfing for 2,000 hours, video content viewing for 200 hours, and Facebook usage for 2,500 hours excluding videos.
Since this isn't an unlimited plan, the FAQ recommends users to switch off their modem when they are not using it. For those who want to make lots of voice calls, they can add a RM10 call plan which provides free calls to local fixed lines.
The 1Mbps Broadband Lite plan with 50GB quota is only offered to users who are residing in areas without fibre network availability. For those who need faster speeds with unlimited quota, the Unifi Lite plan is currently offered for RM89/month. Depending on your location, Unifi Lite offers download speeds up to 8Mbps and uploads up to 512kbps.
As mentioned before, there are several faster internet options with unlimited quota that costs less than RM80/month. TM's Unifi Mobile Bebas prepaid offers unlimited data with unlimited LTE hotspot usage for only RM35/month. Alternatively, users can consider getting Unifi Air wireless broadband which offers speeds up to 20Mbps and unlimited quota for RM79/month.
Related reading