During WWDC21, Apple announced iOS 15 and released a public beta. It featured redesigns, Notification Summary, Focus, Live Text, and more. The compatibility list is the same as the previous one, meaning if you have iOS 14, your phone can handle the new iOS 15.
Because the iPhone XS and newer phones have at least a A12 Bionic chipset, they have access to a lot of features that iPhone 6s, iPhone 7, iPhone 8, and iPhone X will not get.
The exclusive features
The new Wallet app features: home, office, hotel, car keys, and remote keyless entry controls
Spatial audio in FaceTime
Portrait mode in FaceTime
Live Text and object recognition
Faster on-device speech processing, including Siri
Interactive 3D globe in Maps
Augmented reality walking directions
Detailed cities in Maps
New animated backgrounds in Weather
Zoom in QuickTake video
Since the iPhone 6s and iPhone 7 don't have the proper sensors for it, iOS 15's Walking Steadiness feature won't be available for them. This feature uses motion sensors to assess your balance and stability. Furthermore, the iPhone 6s and 6s Plus models won't dynamically track your head while you use your AirPods.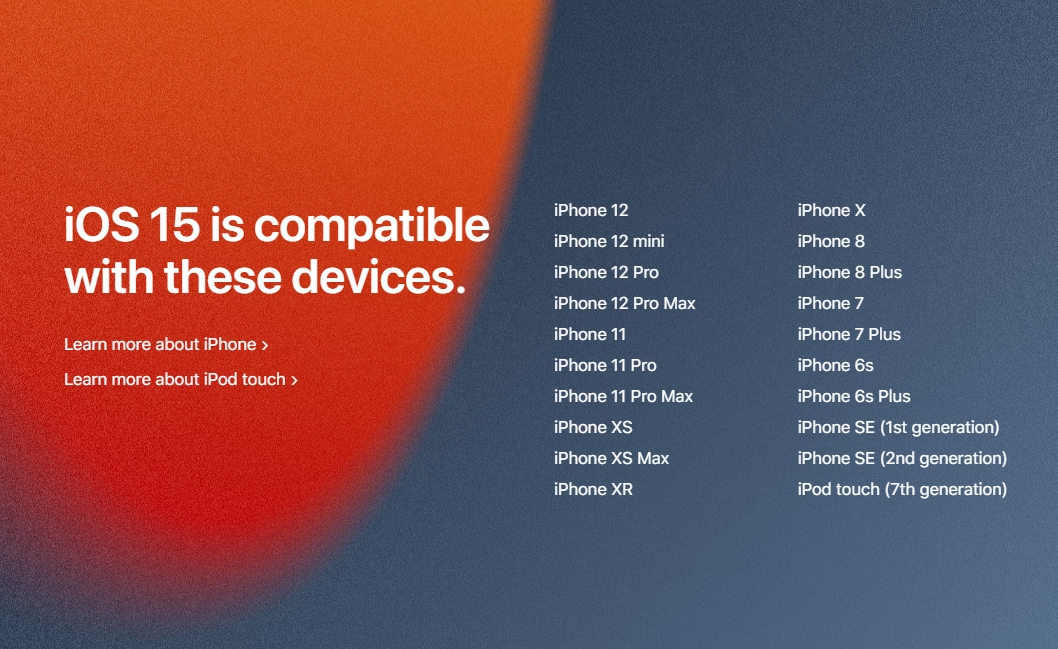 List of fully iOS 15 compatible iPhones
These phones all have at least an A12 Bionic chipset and will get nearly all of the iOS 15 features.
iPhone 12
iPhone 12 mini
iPhone 12 Pro
iPhone 12 Pro Max
iPhone SE (2nd generation)
iPhone 11
iPhone 11 Pro
iPhone 11 Pro Max
iPhone XS
iPhone XS Max
iPhone XR
The only exception would be for enhanced 5G connectivity, which will only be available for the iPhone 12 series. This feature will use 5G to speed up your iCloud backups, your Photos syncs, and other miscellaneous video streaming services.
[ SOURCE ]
Related reading