The Selangor state government has teamed up with TM to provide subsidised internet plans for M40 groups. Dubbed as SISM40 (Skim Internet Selangor Kategori M40), the scheme offers a monthly subsidy between RM10-30 for fibre broadband subscriptions for 12 months. This would provide M40 households savings of up to RM360 in a year.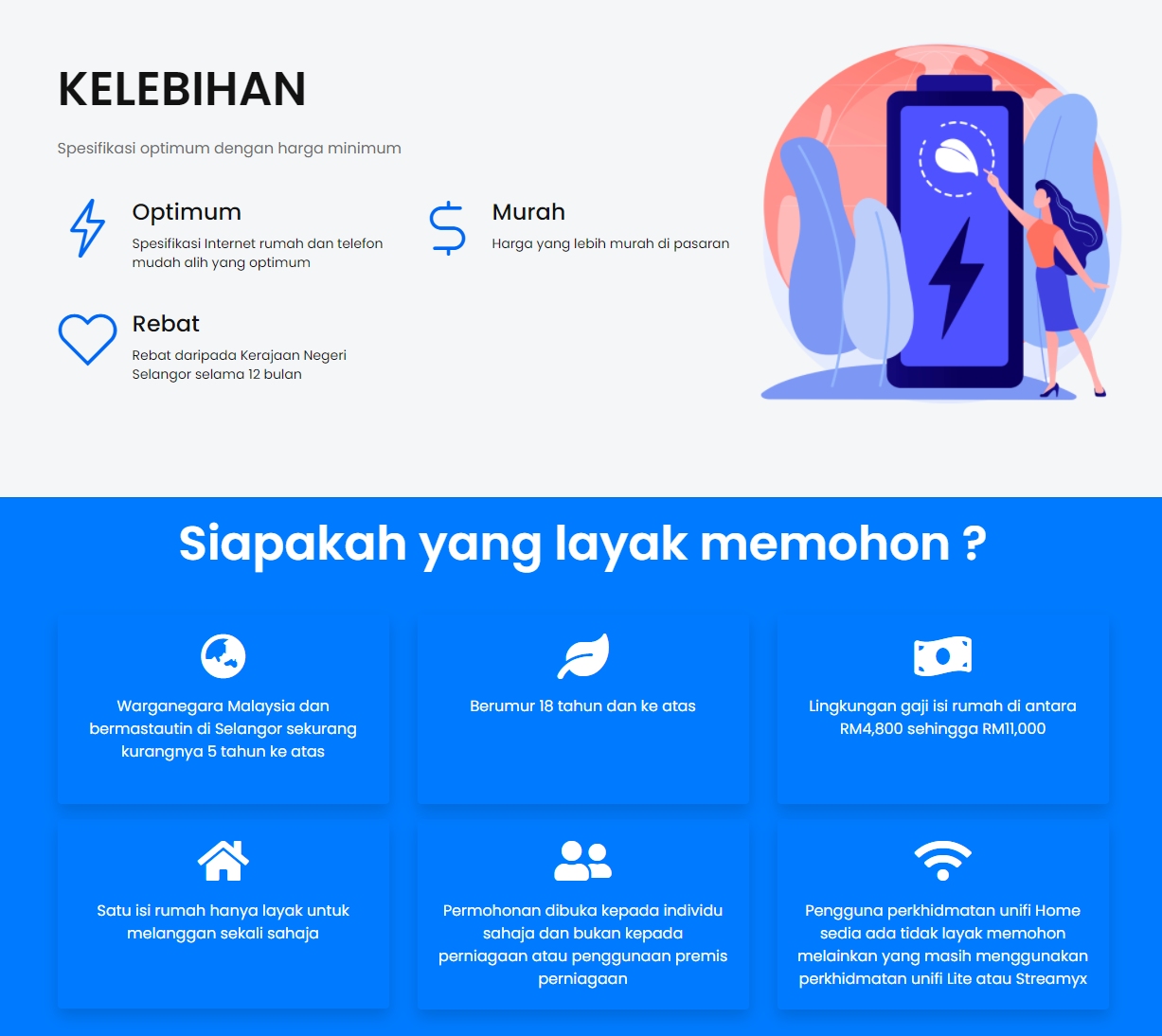 To be eligible for the SISM40 scheme, you'll need to be a Malaysian citizen residing in Selangor for at least 5 years. It is open to individuals aged 18 years and above with a household income between RM4,800 to RM11,000. Each household is entitled to sign up for a single subscription.
If you're an existing Unifi Home broadband subscriber, you are not eligible to apply unless you're still on Unifi Lite or Streamyx. Registration for the SISM40 scheme will be available from 1st July until 31st December 2021 via their official portal.
There are 3 categories available – Home, Single and Family. Both Single and Family options offer Unifi Fibre Broadband with Unifi Mobile bundle, while Home only offers Unifi Broadband standalone. All plans come with 24 months contract but the subsidy for most of the plans is only for the first 12 months.
Under the SISM40 scheme, you can get 100Mbps Unifi Home from RM119/month (with subsidy). There's also a 30Mbps Unifi Home and Unifi Mobile 99 postpaid SIM combo for RM138/month (with subsidy). If you need two postpaid lines, the cheapest family option is 30Mbps Fibre Broadband bundled with Unifi Mobile 99 and Unifi Mobile 39 plans for RM177/month (with subsidy).
Despite the initial statement of offering just 12 months of subsidy, the SISM40 website has listed a longer 24 months of RM30/month subsidy for the SISM40 SINGLE 300 and SISM40 FAMILY 300 bundles. According to the FAQ, an upfront payment of RM100 is required for all plans.
To apply, you'll need to sign up on their website and you will be notified on your eligibility by email within 14 days. If you cancel within the 24-month contract period, you will be charged a penalty fee. However, if you're moving to a location without Unifi Fibre coverage, the penalty can be waived.
For more info, you can check out the SISM40 website.
Related reading