With the rapid growth in eCommerce, courier services are a crucial component especially during the new normal. However, the quality of service in Malaysia leaves much to be desired and there's an urgent need to turn it around. To fix the situation, the Malaysian Communications and Multimedia Commission (MCMC) has introduced PAKEJ (National Courier Accelerator Plan), an action plan to improve courier and postal services in Malaysia.
According to the MCMC, they have seen a significant decline in quality of service with delivery times increased from 2.1 to 4.6 days during the MCO period. On top of that, they have received more complaints and most of them are on poor service, late delivery, and missing or damaged parcels.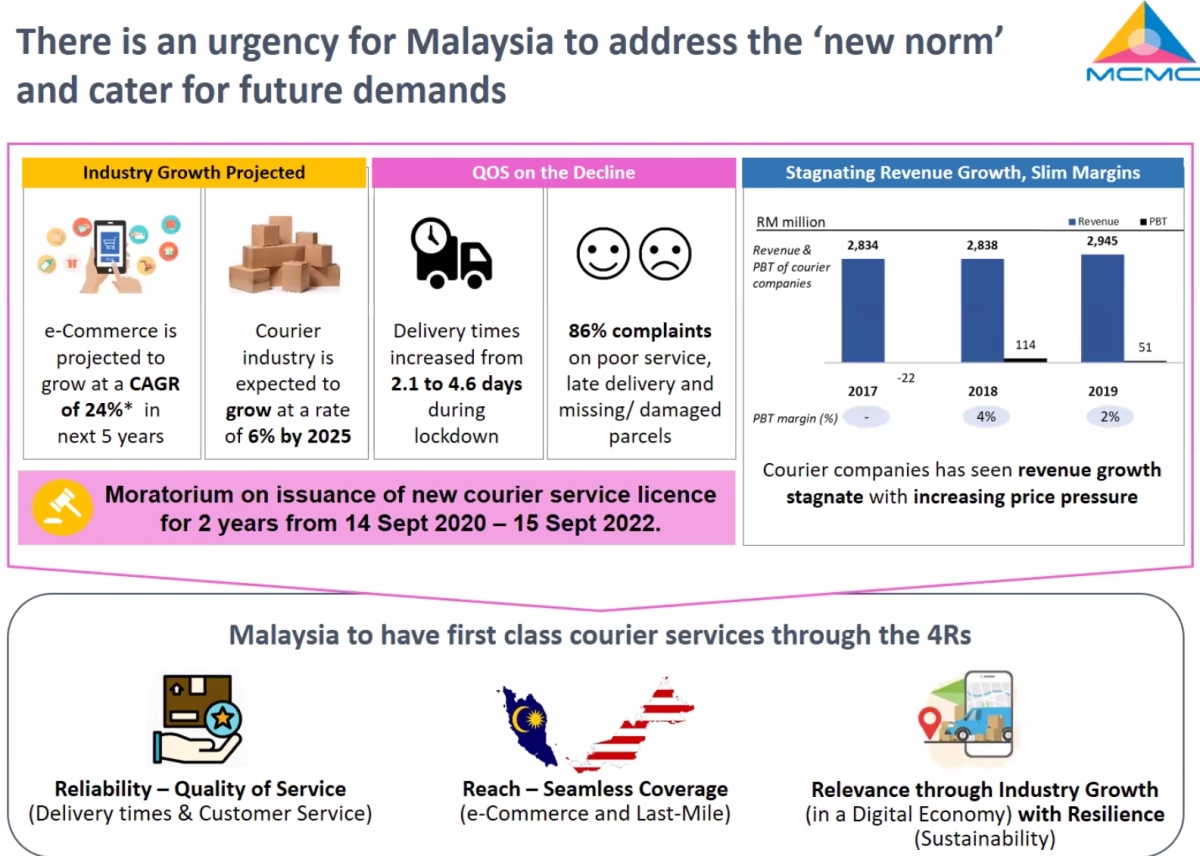 Despite the increase in deliveries, courier companies have seen stagnant growth in revenue and they have to endure slim margins due to increasing price pressure. MCMC Chairman Dr Fadhlullah Suhaimi said there are more than 110 courier licensees in the country. The market is too fragmented and the pie is too small for the industry to grow. Late last year, the MCMC had announced a moratorium for two years on the issuance of new courier service licences.
The government and key industry players through the National Postal Courier Industry Lab (NPCIL) have compiled an action plan (PAKEJ) to deliver a first class courier service in Malaysia in terms of Reliability, Reach, Relevance and Resilience.
Somewhat similar to the JENDELA plan for the telecommunications industry, the PAKEJ initiatives encourage sharing of assets and infrastructure to increase efficiency and cost of operations. The initiatives aim to deliver a quality of service that can support a projected eCommerce growth from 14 parcels per capita to 30 parcels per capita by 2025.
Equal access to Pickup and Drop off points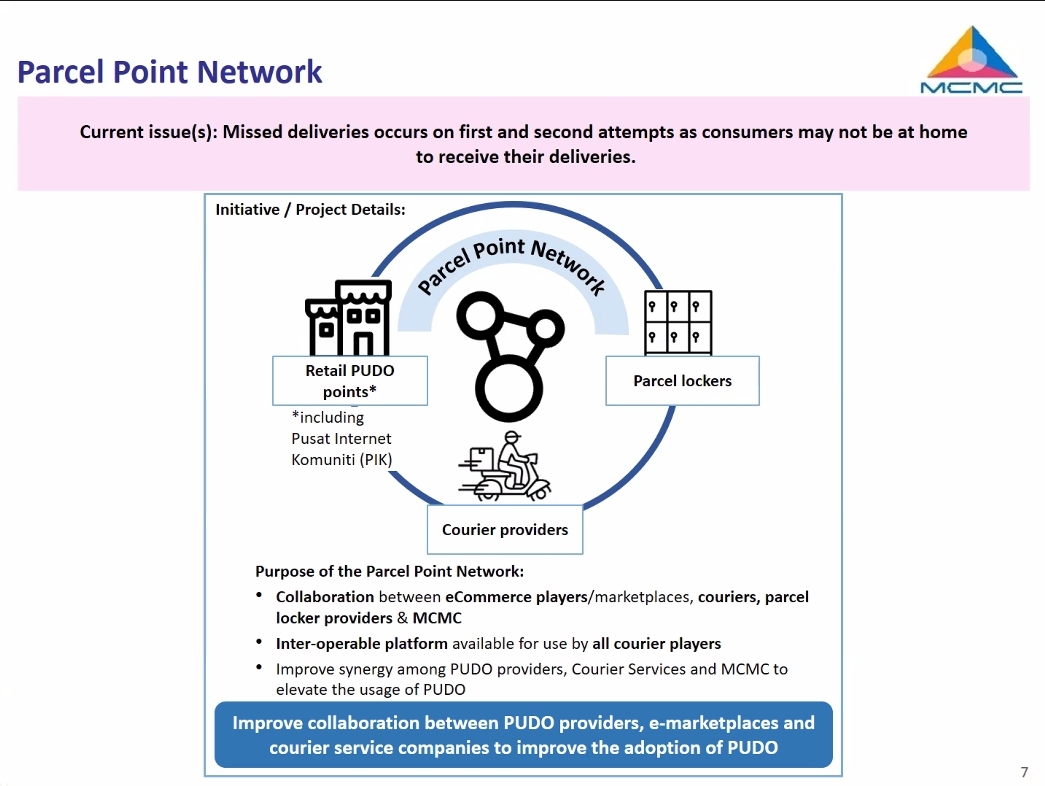 Pickup and Drop off points (PUDO) are seen as a complementary network to support the existing delivery system. It provides convenience for customers who are not at home to receive their parcels and they are mostly located in strategic locations.
PAKEJ proposes a collaboration of eCommerce players, marketplace, couriers and parcel locker providers to offer inter-operable platforms by opening up access to PUDO to all courier players.
This means if there's a Pos Laju Ezibox near your home, it can also be utilised by other private courier companies. The move will allow all courier companies to provide greater convenience without bearing the extra cost of setting up their own PUDOs.
At the moment, there are about 10,000 PUDOs in Malaysia and the MCMC aims to increase the number to 30,000 by 2025.
Universal Service Obligation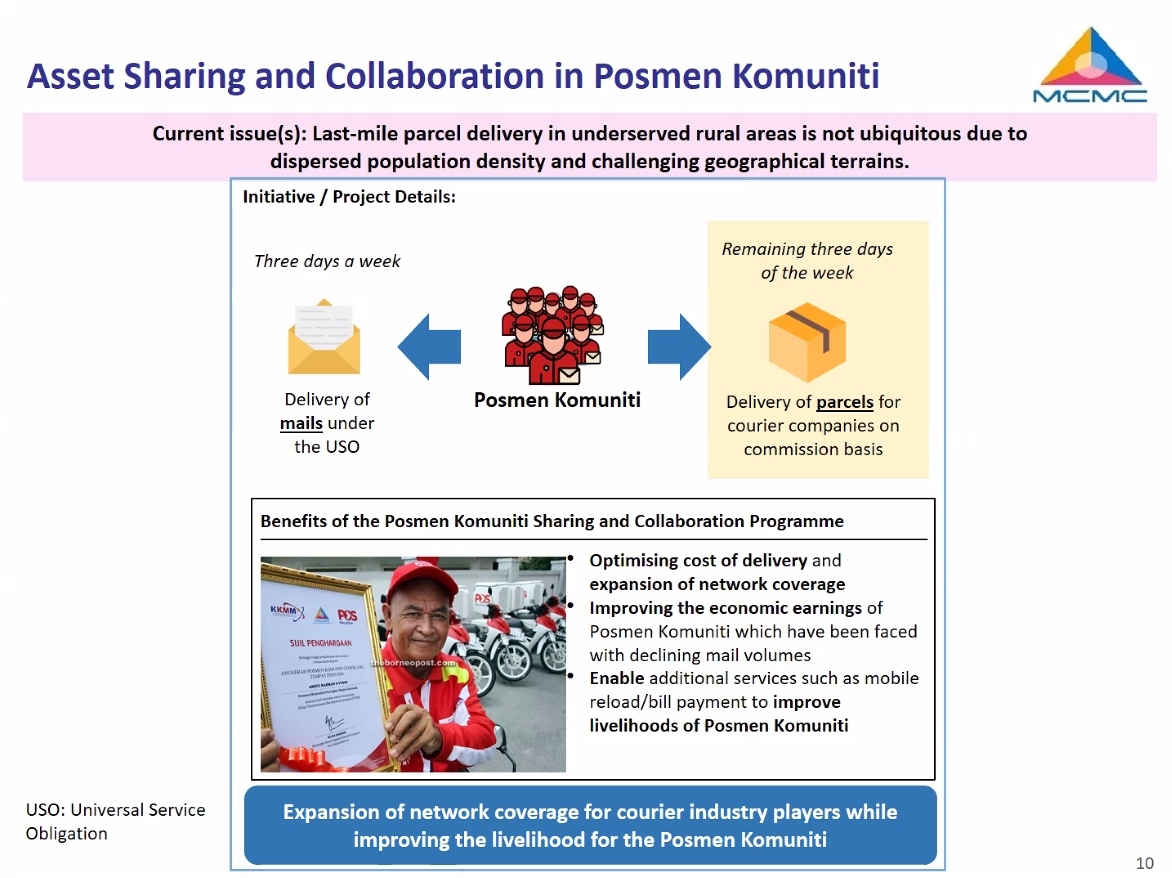 The industry-wide collaboration is also extended to the delivery personnel to optimise delivery operations. To improve delivery especially to the last mile, PAKEJ proposes a Universal Service Obligation (USO) where the delivery guys can deliver packages on behalf of other companies that have no access to certain areas. The arrangement will also enable the delivery person to earn additional income for taking additional jobs to deliver parcels on behalf of other companies.
Electric Three-Wheeler vehicles for delivery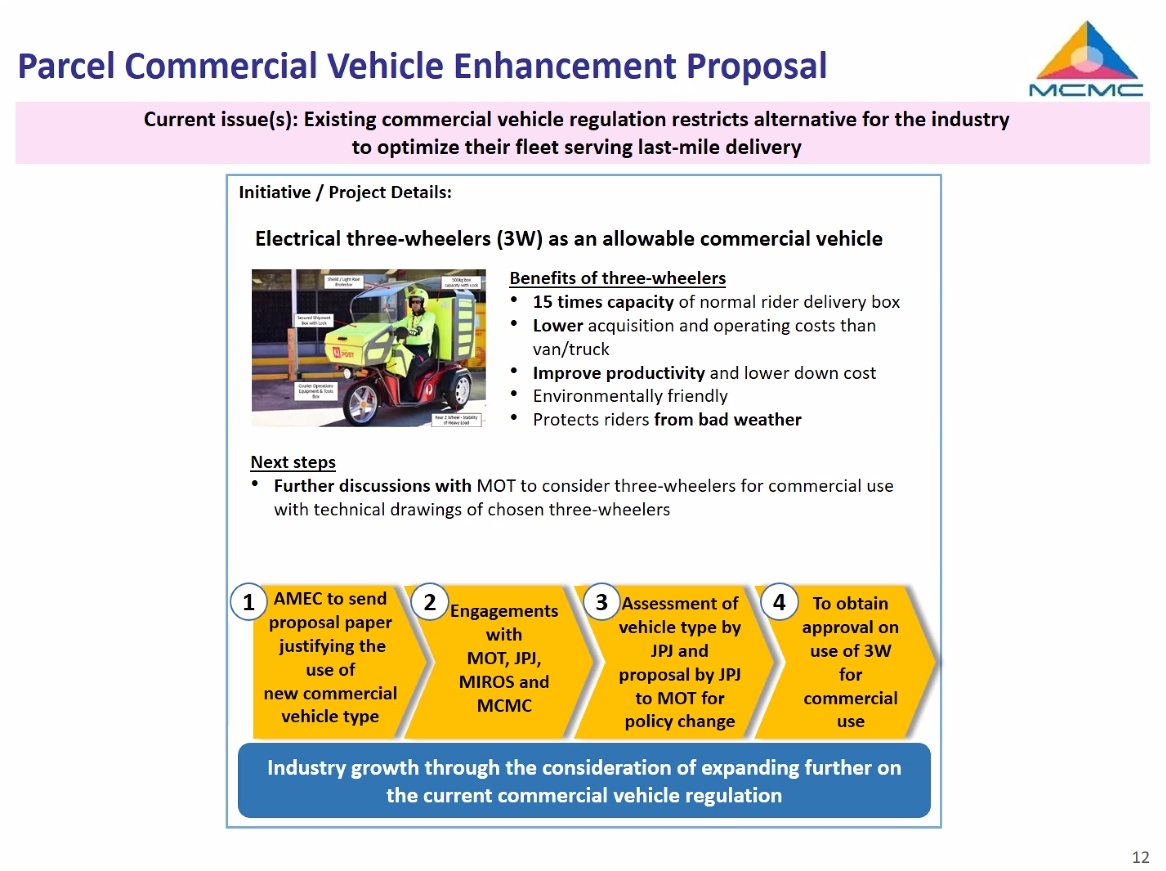 In addition to motorbikes, vans and trucks, PAKEJ is also looking into introducing electric-powered three-wheelers that come with a roof. Not only it offers 15x capacity of a regular rider delivery box, it offers lower operating cost than a van and it's also environmentally friendly.
However, the three-wheelers would require approval from the Ministry of Transport before it is allowed for commercial use.
Other initiatives to improve the courier service include digitalisation, improving Quality of Service standards and Insurance Policy, and reviewing the current licensing framework. If a courier company fails to meet the required Service Level Agreement (SLA), it will be required to provide compensation to the consumer.
In addition, there's also a need to relook into the courier infrastructure network map as well as the National Address System to improve the deliveries. According to Dr Fadhlullah, the National Address System will facilitate better and accurate identification of location for parcel delivery.
Overall, the PAKEJ initiative is a good move to increase efficiency and quality of courier services through infrastructure sharing. Besides optimising operating costs for courier companies, it can potentially reduce delivery time especially during major eCommerce sales like 11.11. However, the MCMC has not provided definitive targets and timelines for each initiative just yet.
Related reading