The National COVID-19 immunisation program is about to hit 200,000 doses per day ahead of its July target. Yesterday (14th June), a total of 197,963 vaccine doses have been administered on a single day which is a new record-high.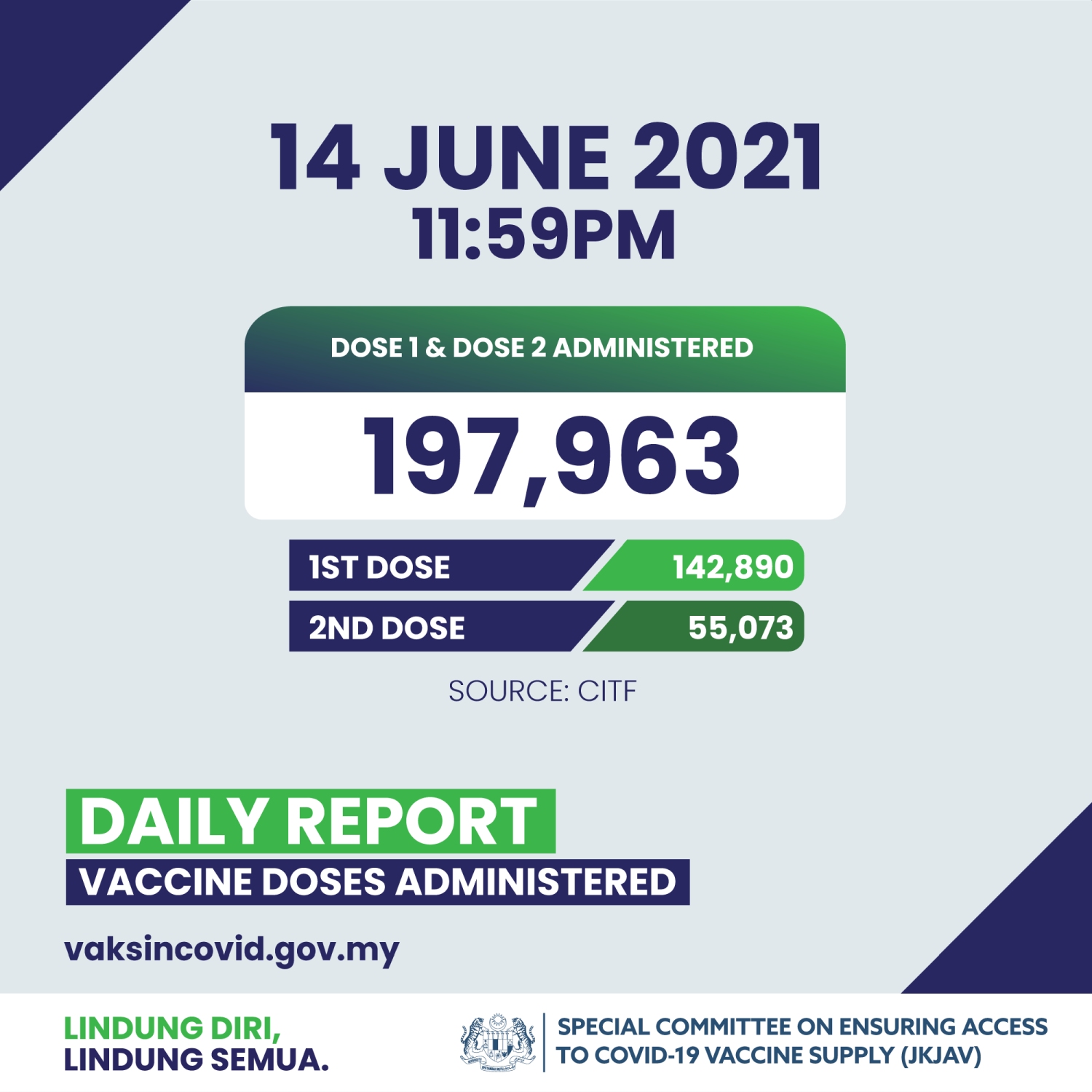 According to yesterday's breakdown, 142,890 individuals have received their first jab. Meanwhile, 55,073 individuals have received their second dose, completing their vaccination.
In total, Malaysia has administered 4,688,233 doses. A total of 3,275,194 individuals have received at least one dose which is 10% of Malaysia's population and out of this figure, 1,413,039 have received two doses.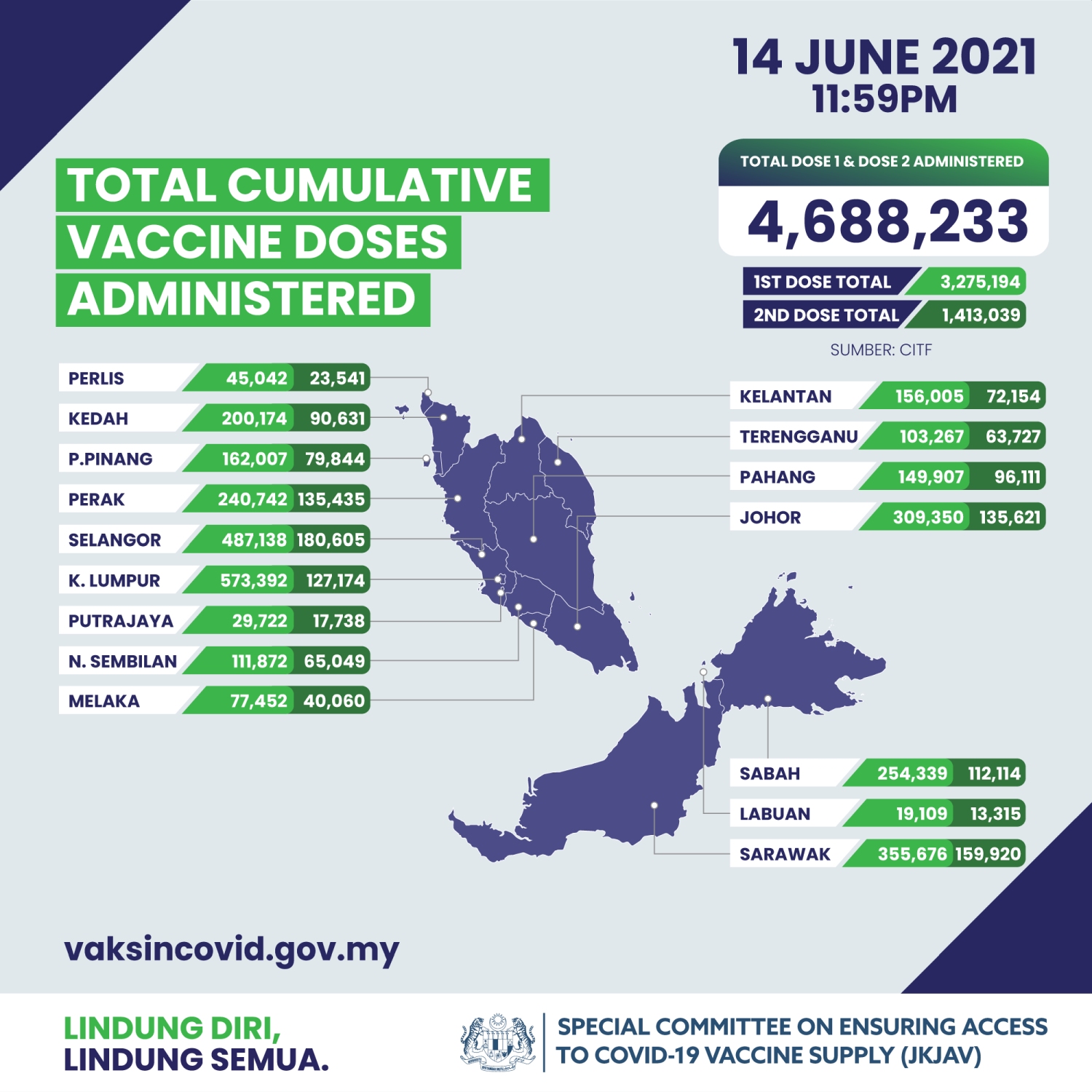 Kuala Lumpur has the most number of people that have received at least a jab with 573,392 individuals. In terms of completed vaccinations with two doses, Selangor currently leads with 180,605 individuals, followed by Sarawak with 159,920 individuals and Johor with 135,621 individuals.
MINES International Exhibition & Convention Centre PPV begins its operation today (14 Jun) with around 5,000 appointments scheduled here today. This PPV can vaccinate up to 10,000 per day. pic.twitter.com/XL7qCtyn4Z

— Vaksin COVID-19 🇲🇾 (@JKJAVMY) June 14, 2021
Vaccinations are expected to increase with the opening of more mass vaccination centres (Mega PPV) throughout the country. CITF has recently activated the Mines international exhibition and convention centre which can vaccinate up to 10,000 people per day.
In addition, there are also ongoing outreach efforts including mobile clinics to vaccinate people in rural and hard-to-reach areas. In Sarawak, they are allowing walk-in vaccinations only for rural towns and villages.
While it is good to see that Malaysia is ramping up its daily vaccinations, the capacity is not consistent throughout the week. After hitting more than 150,000 vaccinations per day from 8th to 10th June, vaccinations have dipped to 124,000-133,000 doses per day from 11th to 13th June.

This is due to fewer booking slots as several PPVs are not open during the weekend. During yesterday's NIP update, Minister of Science, Technology and Innovation Khairy Jamaluddin said these PPVs should be operating seven days a week soon. In the last 7 days, Malaysia has administered 1,049,421 doses which is an average of 149,917 per day.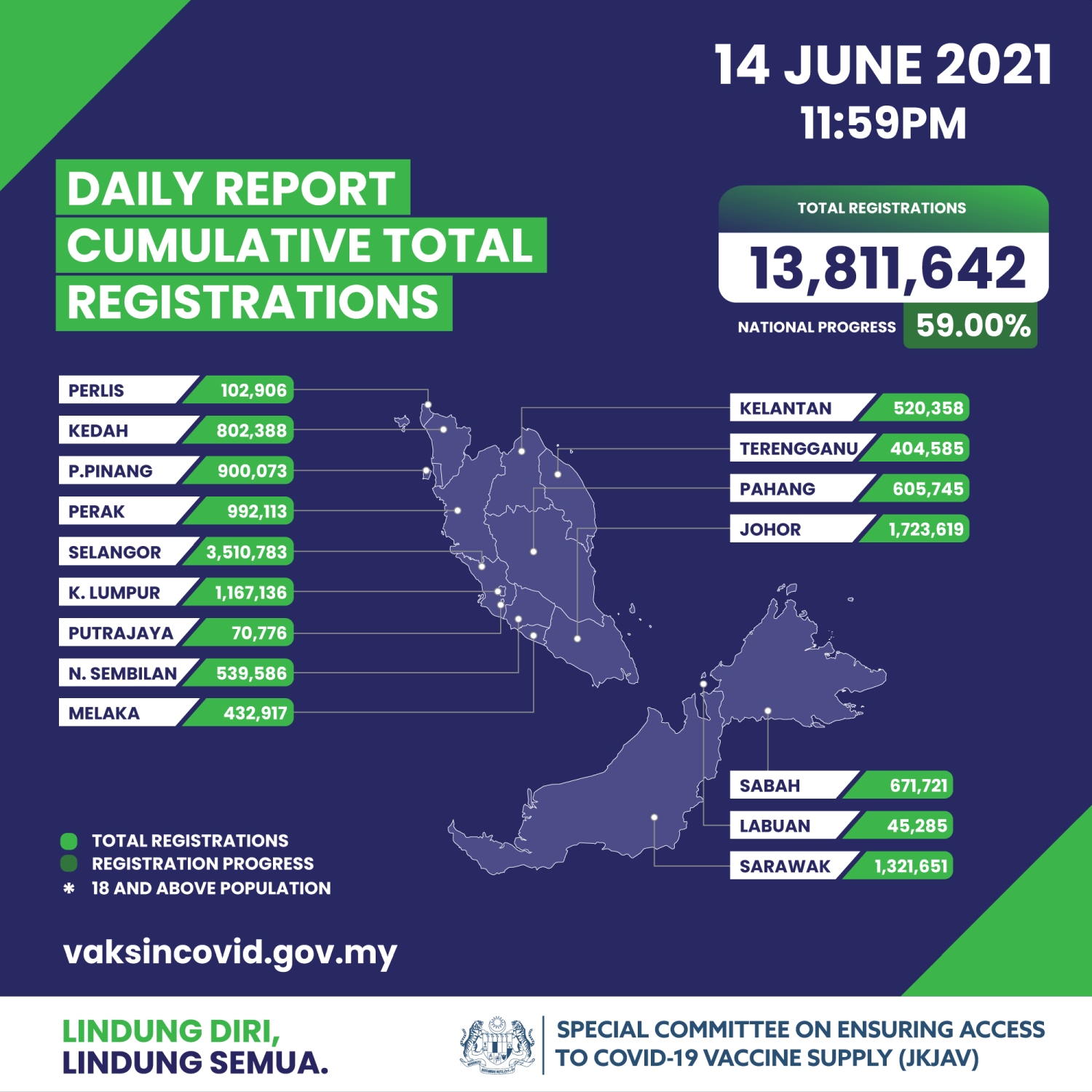 In terms of registrations, a total of 13,811,642 individuals have registered so far which is 59% of the targetted population. Malaysia aims to vaccinate 80% of its population by the end of this year. The CITF aims to increase vaccinations to 300,000 per day in August.
Related reading