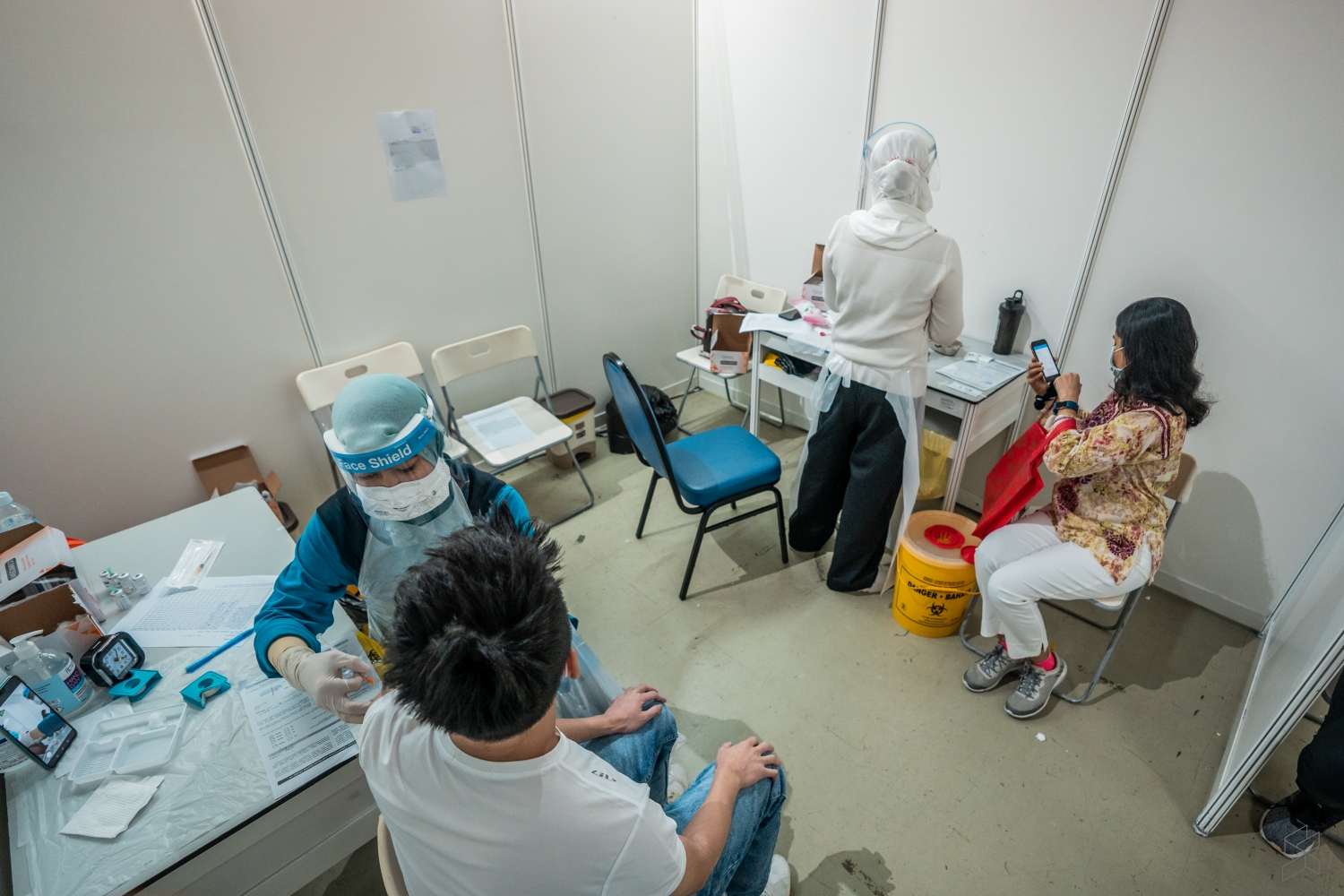 As Malaysia is going through a challenging phase with over 6,000 new COVID-19 cases daily and over 1,200 COVID-19 deaths recorded in May alone, there's an urgent need to ramp up vaccinations. Khairy Jamaluddin who is also the coordinating minister in the vaccination efforts has provided an update on the next steps to increase vaccinations.
According to Khairy, Malaysia is currently hitting 100,000 vaccinations per day and it aims to double this figure in July. With the arrival of larger vaccine doses, Malaysia is expected to hit its target of 150,000 vaccinations per day in June.
We are now facing the most critical phase of our fight against COVID-19. We will continue to accelerate our vaccination rate to protect as many people as possible and as quickly as possible. #LindungDiriLindungSemua pic.twitter.com/Wp5DRVjmD9

— Vaksin COVID-19 🇲🇾 (@JKJAVMY) June 1, 2021
Although the original target is to vaccinate 80% of the population by end of this year, he was instructed by Prime Minister Muhyiddin Yassin to achieve the target earlier ahead of schedule. He said Malaysia has renegotiated its vaccine delivery schedule to expedite the delivery.
Khairy said Malaysia will receive the entire 12 million doses of Sinovac vaccine order by the end of July. Meanwhile, 25 million doses of Pfizer vaccines will be received in the third quarter of this year.
The single-dose CanSino Bio vaccine from China is still being evaluated by health regulators. So far there's no word on the Sputnik V vaccines.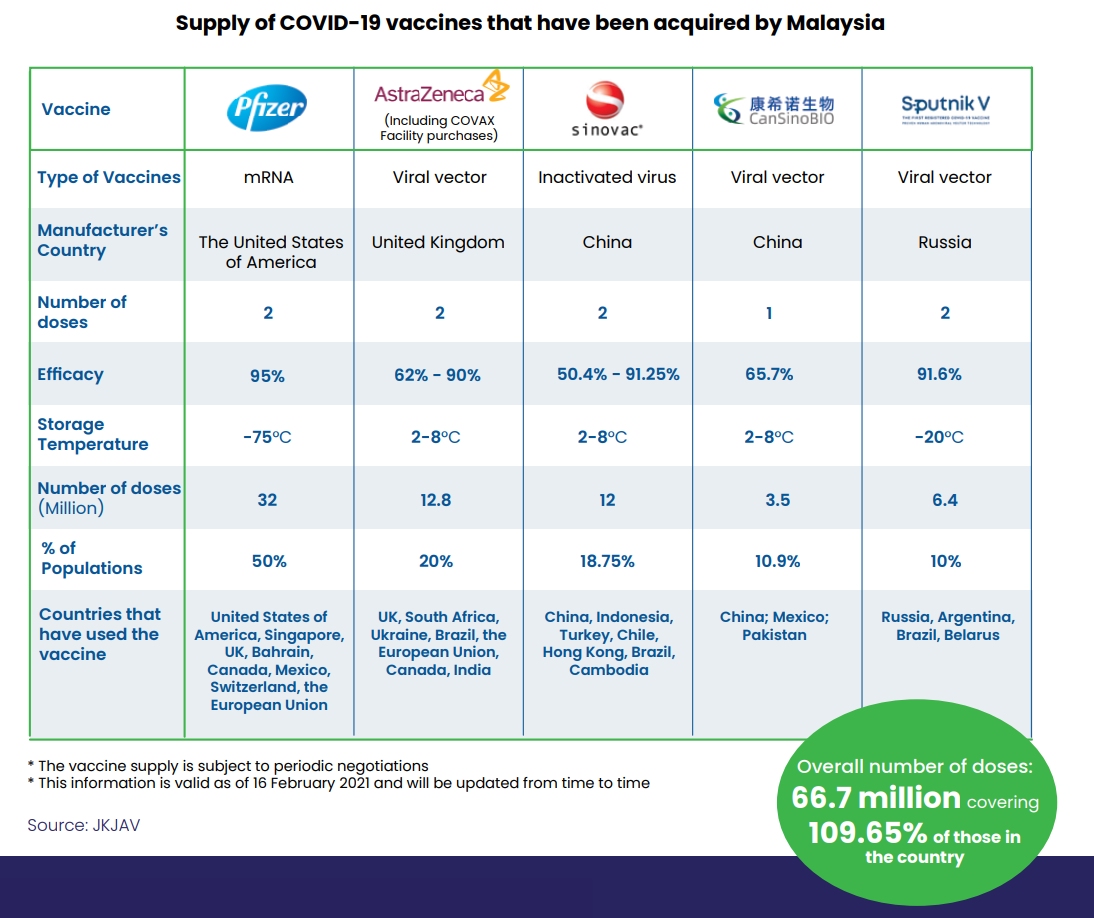 More mobile vaccination centres to increase vaccine access
Besides opening up mega vaccination centres that can do 5,000 to 10,000 vaccinations per day, the government is also increasing the number of GP clinics that can administer the COVID-19 vaccine. At the moment, over 2,500 private clinics have registered as well as 116 private hospitals.
According to Khairy, 1,000 private clinics will be doing COVID-19 vaccinations by the end of June and this will increase access to the vaccines. More private medical practitioners are encouraged to sign up to offer free vaccines under the national immunisation programme.
As mentioned previously, drive-thru vaccination centres will be introduced as well as mobile outreach teams at the state level. He said these mobile teams will be mobilised to care homes for the elderly and the disabled, as well as kampungs, homeless shelters, orang asli villages and difficult to reach areas.
Khairy also said there will be continued coordination between federal and state governments on accelerating the vaccine rollout. The COVID-19 immunisation task force will also empower states and districts to implement the vaccination programme in order to overcome their unique local challenges.
In addition, he also said Malaysia will start vaccinating industries and economic sectors that have to remain open during the MCO as people who are out and about working need to be vaccinated.
The Minister said he understands the frustrations of the people who are waiting to be vaccinated and the COVID-19 task force will continue to accelerate the rate of vaccination to ensure that we can protect as many people as possible, as quickly as possible.
As of 31st May 2021, over 3 million doses have been administered so far with 1,080,568 people completing their vaccinations with two doses. Selangor has the most completed vaccinations with 141,622, followed by Sarawak with 111,037 individuals and Kuala Lumpur with 96,834 individuals. When it comes to registration, 12,267,350 have registered so far which is 50.60% of the targetted population.
Responding to complaints of people getting vaccination appointments in other states, Khairy has urged everyone to update their address to ensure that their location is showing the right state and postcode. He said the issue was caused by wrong address selection from Google Maps API.
Related reading