For the first time in Malaysia, Astro is offering live sports broadcast in 4K HDR (High Dynamic Range) with support for Dolby Atmos. You can enjoy it during the upcoming UEFA EURO 2020 and Olympic Games Tokyo 2020.
According to Astro, the 4K HDR experience offers brighter and more accurate colours and better contrast. Meanwhile, Dolby Atmos adds more realism of being at the stadium right in your living. To enjoy the live matches in 4K HDR, you'll need to have an Astro Ultra Box as well as a 4K TV that supports HDR (HLG format).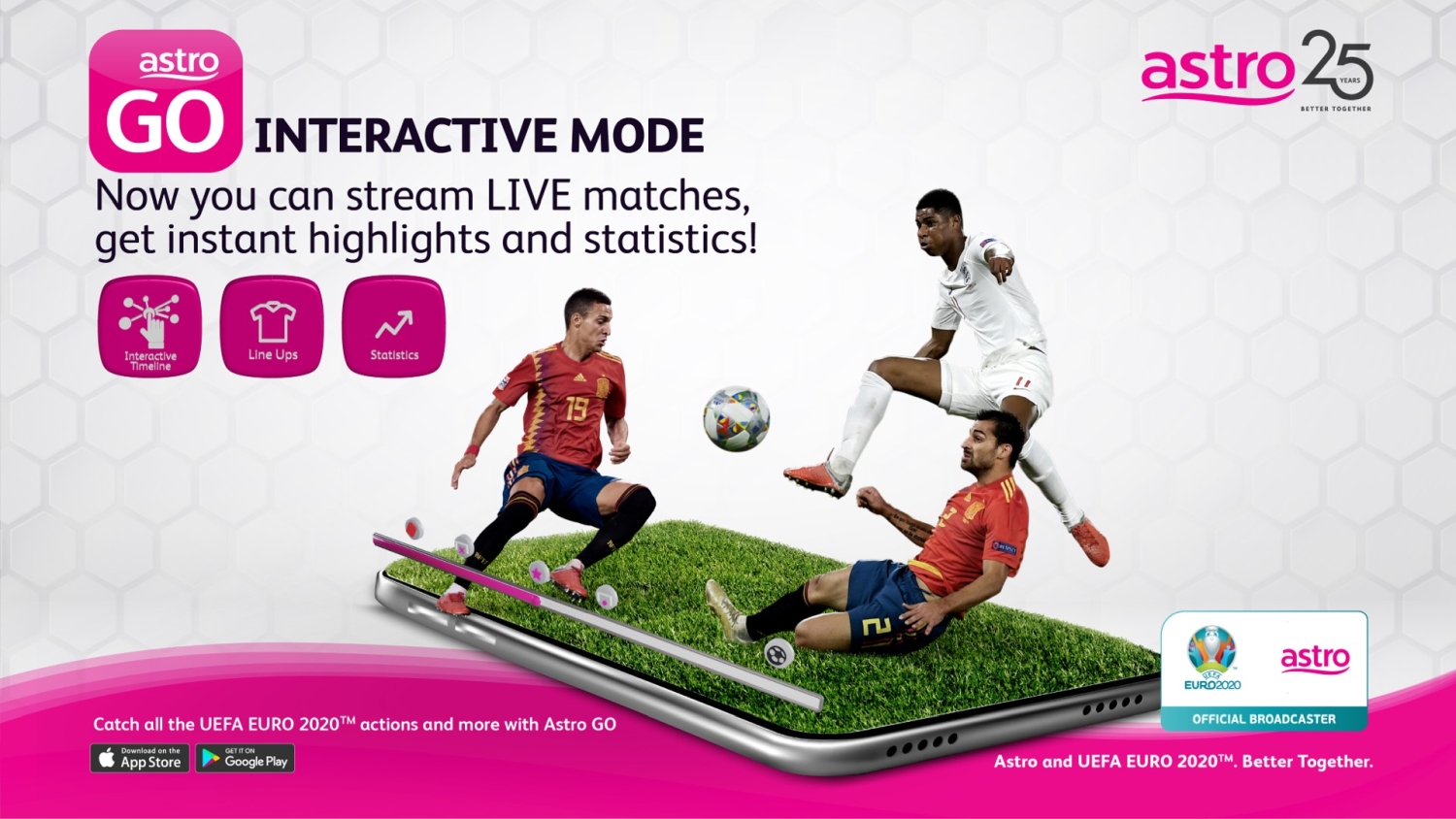 You can get additional content highlights and statistics via the Interactive Mode on the Astro Go app. As a viewer, you can replay key moments like goals, chances and highlights which are indicated by icons on the graphics timeline during the live matches. You can also access match and player statistics and match schedule. To enjoy these features, download the Astro Go app on Apple App Store or Google Play Store. Alternatively, you can also access it via their website.
EURO 2020 is kicking off on 12th June at 3am (Malaysian Time) with the opening match between Turkey and Italy. Ultra Box customers can get the best experience on two dedicated UHD channels – CH 781 and CH 782. The channels will show live matches and repeats in 4K HDR.
Astro Sports pack customers can also stream via Astro Go or watch via two dedicated HD channels – CH 810 and CH 809). The channels also provide a selection of qualifying matches, highlights, friendly matches and magazine shows.
The Olympic Games Tokyo 2020 will be broadcasted from 23rd July until 8th August 2021. Astro Sports Pack customers will get access to a total of 13 dedicated HD channels and Ultra Box users can watch selected events in 4K UHD.
Euan Smith, the Group COO and CEO of TV at Astro said: "As part of our new Astro experience, we are delighted to kick off our 4K HDR offering with this year's biggest sporting events – the UEFA EURO 2020 and Olympic Games Tokyo 2020. Fans can now watch all UEFA EURO 2020 matches in stunning colour and contrast, while Dolby Atmos will immerse our Sports Pack customers right in the middle of the games they love. Selected Tokyo 2020 events will also be in 4K HDR. These new innovations provide more value to our Sports Pack customers and the most premium big-screen viewing experience."
He also added that Astro Ultra Box users can look forward to more 4K HDR and Dolby Atmos content. Astro plans to introducing 4K HDR, Dolby Atmos and Interactive Mode to the football leagues that are currently being broadcasted on Astro.
Related reading