Among all of the major virtual assistants out there, Samsung's Bixby tends to get the short end of the stick, as almost everyone prefers using Google Assistant anyway. But suddenly, social media is raving over a Samsung virtual assistant, except it's not Bixby.
Meet Sam.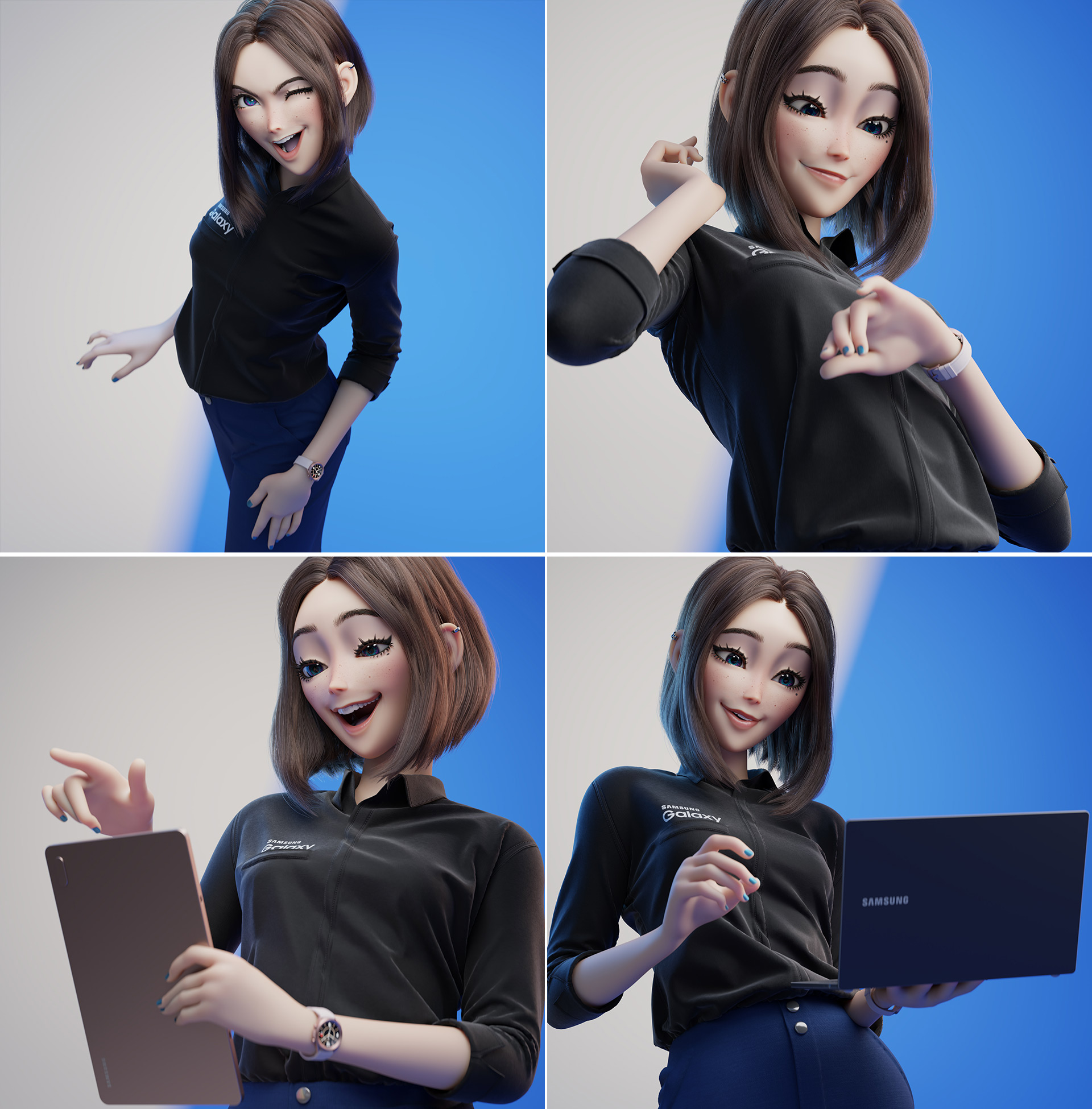 Sam appears to be the creation of the visual production firm Lightfarm, where a now-deleted page filed under 'Samsung Virtual Assistant' had several renders and photos of Sam published. While there is no official word just yet on Sam actually being Bixby's replacement, the story goes that Lightfarm made Sam following a partnership with Cheil Agency. And Cheil Agency just so happens to be a marketing company that operates under the Samsung group.
Further reports by Polygon point at Sam being created awhile back, but never being used by Samsung in any of their marketing campaigns. Lightfarm instead just sort of had them around on their website, until it was deleted recently.
Sam appears to be a bright-eyed girl with shoulder-length hair, and looks like she could belong in a Pixar film. Unsurprisingly, she also has a big love of Samsung products. Following the discovery of Sam, she has taken social media by storm, becoming a big trend on TikTok as well as Twitter where there's already plenty of fanart (even NSFW ones) on it.
Indeed, it appears as though she has become the internet's new fictional 'it-girl' to develop a parasocial interaction with, where people start forming a relationship with the fictional character, engaging them as though they are someone they know even though for the most part, it's a one-way interaction.
We've seen this happen before, such as when Riot Games turned one of their in-game League of Legends character, Seraphine into a 'social media influencer'. It was a big campaign, involving a wealth of social media content across multiple platforms, music and even a music video, all for the purposes of promoting her in-game skin. More recently, the Lady Dimitrescu character from Resident Evil: Village also had time it the spotlight as the internet's favourite fictional woman, although it seems as though Samsung's Sam may have taken its crown.
Going back to Sam though, at time of writing Samsung themselves have yet to confirm of Sam's existence, and there's also no word just yet if she's going to be their new mascot or indeed their new virtual assistant. We guess for now at least, Bixby lives to see another day.
[ SOURCE, VIA 2, IMAGE SOURCE ]