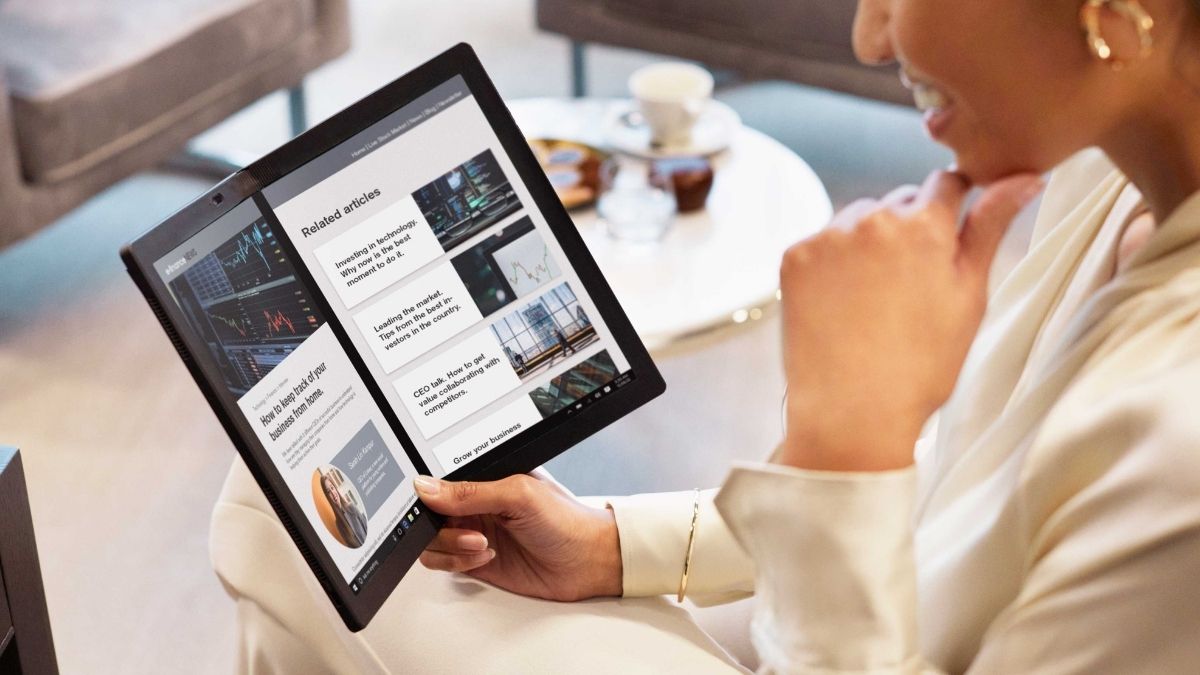 Lenovo has announced two new additions to the premium X1 lineup of ThinkPad laptops, including one that looks unlike any laptop from the company before this. The ThinkPad X1 Nano is the lightest ThinkPad ever, while the ThinkPad X1 Fold is the "world's first foldable PC".
Even before discussing specs, these are certainly two of the more interesting models to be released under the ThinkPad brand in recent times. In any case, we now have official word from Lenovo on specs, pricing, and other relevant details.
Ready? Here's what you need to know.
Price and availability
The ThinkPad X1 Nano is expected to be available during Q4 2020, although an exact date hasn't been confirmed by Lenovo just yet. However, the Thinkpad X1 Fold is now available for pre-order in select markets.
Official pricing starts at:
ThinkPad X1 Fold – USD 2,499 (~RM10,381)
ThinkPad X1 Nano – USD 1,399 (~RM5,812) *expected price
We don't have information on pricing/availability in Malaysia just yet, but we do expect to receive word soon.
ThinkPad X1 Fold specs
Where do we start? Lenovo calls this the world's first folding PC, with a folding 13.3″ OLED display pushing a resolution of 2048×1536 pixels. When folded at an angle, you get two 9.6″ screens—use it as a laptop, a tablet, a book, or a display, Lenovo says.
Unlike foldable smartphones such as the recent Galaxy Z Fold 2, you won't be getting a secondary, smaller display on the back/front of the device, and the foldable form-factor is essentially away to improve the compactness of the device.
Unless you're comfortable typing on a touchscreen keyboard, there are also optional accessories including the Bluetooth Mini Fold Keyboard which can be stored and wirelessly charged with the ThinkPad X1 Fold. Additionally, there's also a Lenovo Mod Pen and an Easel Stand that is available separately.
Even though this is a "PC", the X1 Fold also features 5G connectivity, although this is optional. As for the rest of the internals, the foldable PC is powered by Intel Core processors, mated to 8GB of LPDDR4X RAM. Up to 1TB of PCIe NVMe SSD storage is available for memory configurations.
The 50Wh battery can also give you up to 11 hours of usage, although Lenovo doesn't clarify if this includes the 5G-compatible model. For charging, you get the market standard for portable laptops: 65W via USB-C. As for the rest of the ports, you're looking at double USB-C ports, along with a sim card slot if you go with the 5G model.
Lenovo ThinkPad X1 Nano specs
Next up, the lightest ThinkPad ever. The ThinkPad Nano weighs in at just 962g, while also offering WiFi 6 and 5G connectivity. Despite its lightweight nature, Lenovo promises that the X1 Nano will still feature ThinkShield security solutions, along with AI and biometric security.
Up front, you're looking at a 13″ display pushing a 2K resolution of 2160×1350 pixels, and you get a choice between touch and non-touch screens. There's an IR camera with the now-traditional ThinkShutter for privacy (when you aren't using your webcam), along with a dTPM 2.0 chip.
Ports-wise, there is a single 3.5mm headphone jack, along with two Thunderbolt 4 ports. However, it's the battery life of the X1 Nano that really shines—up to 17.3 hours on a single charge with a 48Wh battery.
Finally, the ThinkPad X1 Nano sports 11th Gen Intel Core processors (up to i7), along with Intel Iris X Graphics. 16GB of LPDDR4x RAM is available, with configurations going up to 1TB of PCIe SSD storage. On a side note, Lenovo has also equipped the ThinkPad X1 Nano with a Dolby Atmos speaker system and four 360-degree microphones, so it does appear that the Nano will be well-suited to video calls—a norm in today's age.
Related reading