Looks like TuneTalk is not done with its upgrade exercise. After bumping up its topup data bonus and datata plans, the red MVNO has also upgraded its +VIBE plans with more calls and even more data.
To refresh your memory, +VIBE is a hybrid plan offering from TuneTalk. Unlike typical prepaid plans where you top up credit and then activate a data plan, +VIBE is an upfront subscription service and you can only subscribe to the service on their website via credit/debit card. There's no need to top up manually as the plan will be renewed automatically with your registered card details. In short, it is like having a prepaid plan with auto debit.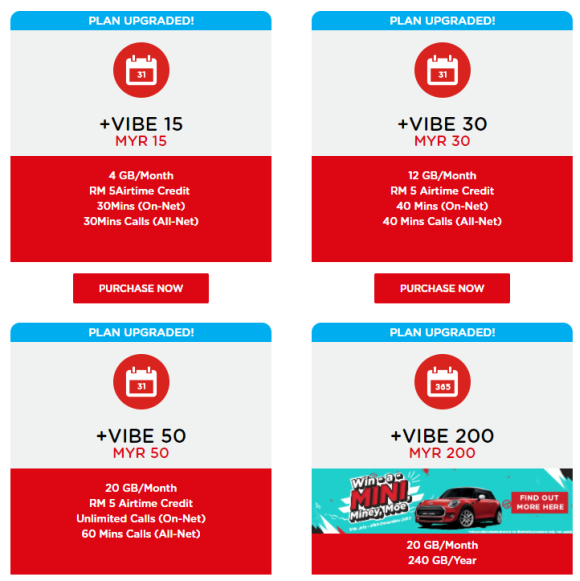 With this latest upgrade, you can get 4GB of data, 30 minutes of call (within TuneTalk), 30 minutes of calls (to all networks) and RM5 airtime for RM15/month. This comes with a 30 days airtime validity so it's great for those who don't want to spend RM30 each month just to stay active.
For RM30/month, +VIBE 30 gives you 12GB of data, 40 minutes (on-net) + 40 minutes (all-net) calls and RM5 airtime, while +VIBE 50 gives you 20GB of data, unlimited (on-net) + 60 minutes (on-net) of calls and RM5 airtime.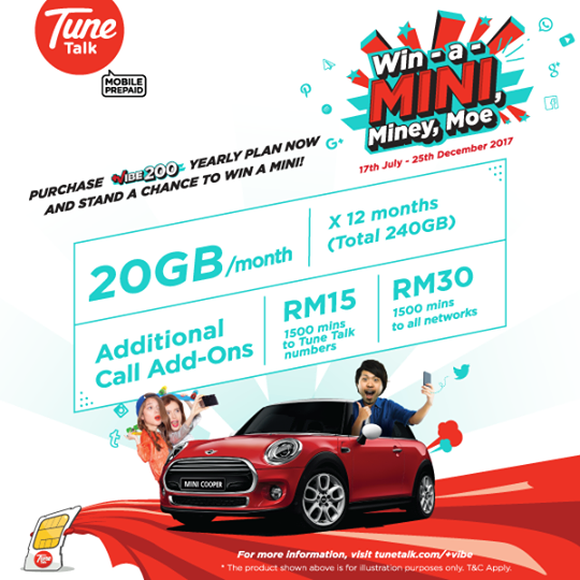 For the best value, the annual +VIBE 200 option is now upgraded from 72GB to a whopping 240GB of data. This would only cost you RM200/year with an allocation of 20GB/month for a full year. Basically, you're paying only RM16.67/month to enjoy 20GB of high-speed data. Since it comes with 1-year airtime validity, you can just activate once and you don't have to worry for the next 12 months.
If you do need to make phone calls, they have two monthly voice call packs. You can get 1,500 minutes of calls within TuneTalk's network at RM15/month or 1,500 minutes of calls to all networks at RM30/month. For moments when you need more than 20GB each month, you can opt for its 2GB add-on which costs RM15 and this is valid throughout the remainder of the monthly cycle.
For more info, visit TuneTalk's +VIBE page. In case you didn't know, TuneTalk is riding on Celcom's 4G network.