Astro has just announced that they have exclusive rights to showcase the Premier League (EPL) in Malaysia for three more seasons—up until 2025. They also emphasise their stance on piracy, saying that it "deeply hurts" their ability "to keep serving Residential customers and Commercial Enterprises".
"We are working closely with the authorities, industry players, and content partners in combating piracy and strongly encourage all Malaysians and Commercial Enterprises to say no to piracy, and only watch live sports on legal, high-quality platforms. We welcome the Copyright (Amendment) Act 2022 that now recognises streaming technology as an avenue to infringe copyright," said Euan Smith, Group COO and CEO, TV of Astro.
The EPL is one of the world's most-watched football leagues. So, Astro striking this new deal means that sports fans will likely have to get or keep Astro as part of their home entertainment if they want to watch the matches. Watching it on other streaming boxes or platforms is now considered illegal and can potentially mean that you'd get a large fine—or even go to prison.
"The amended Act sees the introduction of new streaming and linking-related offences including a law against those providing or sharing access to an online location containing pirated works. It provides an avenue for the authorities to go after those who facilitate copyright infringement by manufacturing, importing, selling, or hiring any streaming technology, as well as commit piracy and technology offences, with a hefty fine of up to RM200,000 or imprisonment of up to 20 years, or both," added Smith.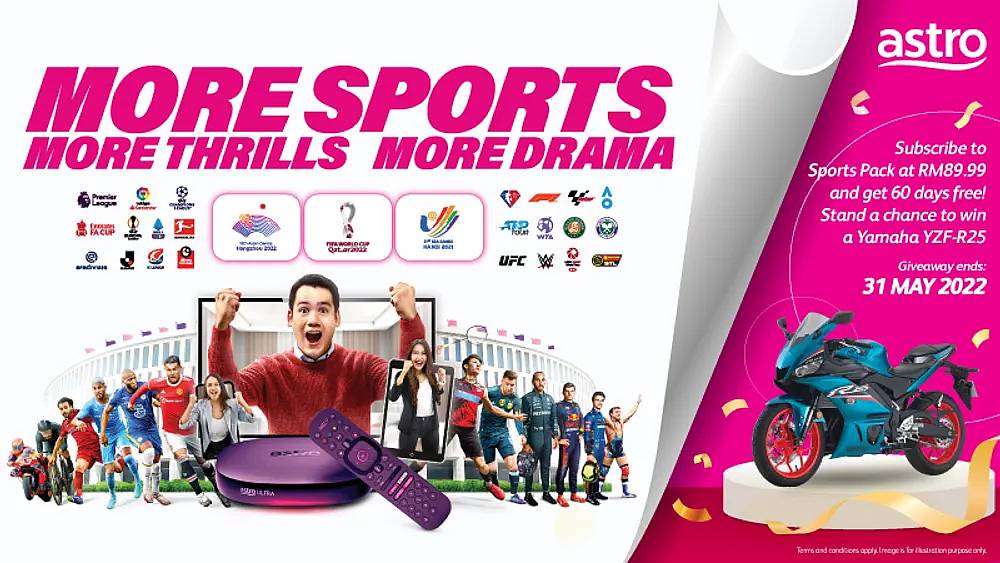 If you're a football fan, and haven't gotten yourself the Astro Sports Pack yet to watch the League, Astro is offering a "limited promotion". New-to-Astro customers who sign up for Astro Sports Pack for RM89.99 monthly by 31 May 2022 get a limited-time promotion of 60 days free and stand to win a Yamaha YZF-R25 Sports bike. Customers also stand a chance to win exclusive signed jerseys—as well as other rewards like golf staycations, exclusive sports tickets to events in Malaysia and the region, and exclusive invitations to meet & greet sessions.
[ SOURCE ]