According to the Malaysian Space Agency (MySA), seven out of the nine satellites launched by Malaysia are now inactive and are in the end-of-life phase. Some of these satellites are pretty old, so it's not surprising to hear, especially since satellites usually only have a useful lifespan of between 5 and 15 years.
Below is a list of the Malaysian satellites with all their names and dates of launch.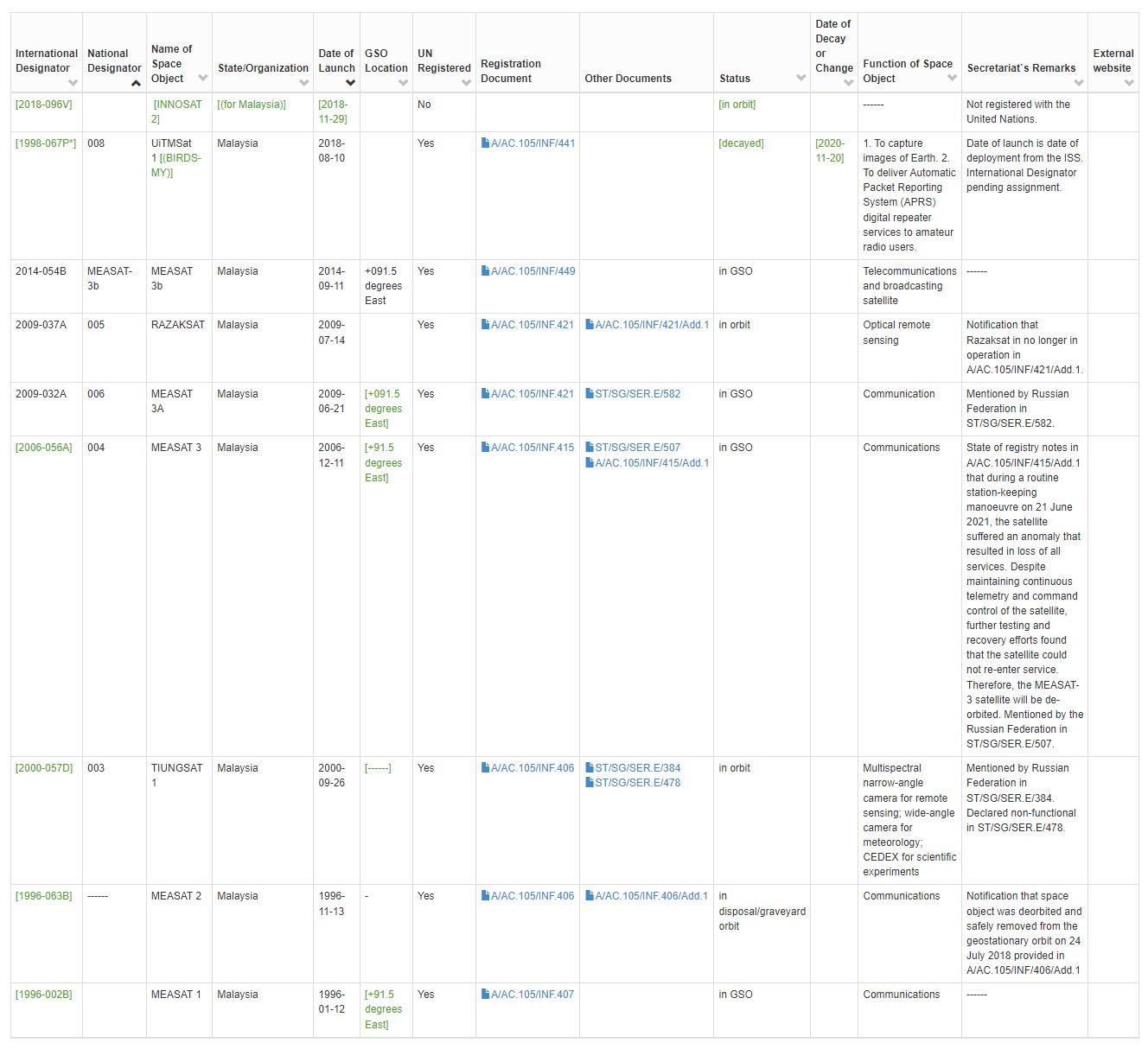 MEASAT 1 – 12 January 1996
MEASAT 2 – 13 November 1996
TIUNGSAT 1 – 26 September 2000
MEASAT 3 – 11 December 2006
MEASAT 3a – 21 June 2009
RAZAKSAT – 14 July 2009
MEASAT 3b – 11 September 2014
UiTMSat 1 – 10 August 2018
Innosat 2 – 29 November 2018
RazakSAT actually has an interesting story. It was launched by SpaceX in 2009. The satellite had an observation camera, but because of an error, all the images acquired were rendered unusable, so they gave up in 2010.
The oldest Malaysian microsatellite was TiungSAT, but the first Malaysian satellite was MEASAT 1, short for Malaysia East Asia Satellite. The first two MEASAT satellites were designed to provide 12 years of television service to Malaysia and communications services to Southeast Asia. In fact, most of the satellites were launched for communications purposes.
The MEASAT 3 was launched in 2006 and served to provide Astro services to Malaysians around the country, but it sadly died last year after 15 years. It drifted out of orbit and is now heading for a "graveyard orbit". This means it's just going to drift in space and thankfully not smash right into Earth.
This is a very common thing and space debris is a real issue. MySA is currently working on ways to solve this, including launching a mission to retrieve satellites and even implementing refuelling rockets for the inactive satellites.
But why do satellites die? Sometimes anomalies happen like to the MEASAT 3 and they just go out of orbit. Other times something in the satellite malfunctions, perhaps because of harsh radiation, and so it no longer becomes usable. However, most of the time it's because the satellite runs out of fuel.
MEASAT is planning to launch a new satellite called MEASAT 3d soon. The satellite will be built by Airbus Defence and Space and is scheduled to launch in early 2022. It will also enable 100Mbps satellite broadband in Malaysia. To give some perspective, the current MEASAT network only offers download speeds of up to 30Mbps and upload speeds of up to 5Mbps. They hope to increase their service range to cover 300,000 users with this satellite.
Malaysia Space-X 2030
To guide Malaysia's future space endeavours, MOSTI (Ministry of Science, Technology and Innovation) has launched a 10-year plan called Malaysia Space-X 2030. This will serve as a blueprint to drive the space sector, build infrastructure, and hopefully create more jobs in the country.
Before you say anything, no, this has nothing to do with Elon Musk's company SpaceX. The X is short for Exploration and the government-backed program is meant to grow and create a sustainable national space sector. One of their biggest focuses for right now is satellites.
MOSTI Minister Dr. Adham Baba stated that the space sector will contribute RM3.2 billion or 0.3% to the country's GDP by 2030 and also create around 5,000 jobs.
Editor's Note: MEASAT, not Astro, is launching MEASAT-3d. The error has been corrected.
[ SOURCE, IMAGE SOURCE ]