Almost a month since MEASAT-3 started having issues, it appears that MEASAT is still struggling to restore services on the aging satellite. According to MEASAT Global Berhad, an in-depth investigation is still being conducted with Boeing Satellite Systems (BSS) to determine the root cause of the anomaly.
To ensure that services are not interrupted, MEASAT said all of its customer services on MEASAT-3 have been restored onto backup satellite capacity on other MEASAT and third-party satellites serving the region. The satellite operator has deployed 3 satellites on the 91.5°E orbital slot which include MEASAT-3, MEASAT-3a and MEASAT-3b.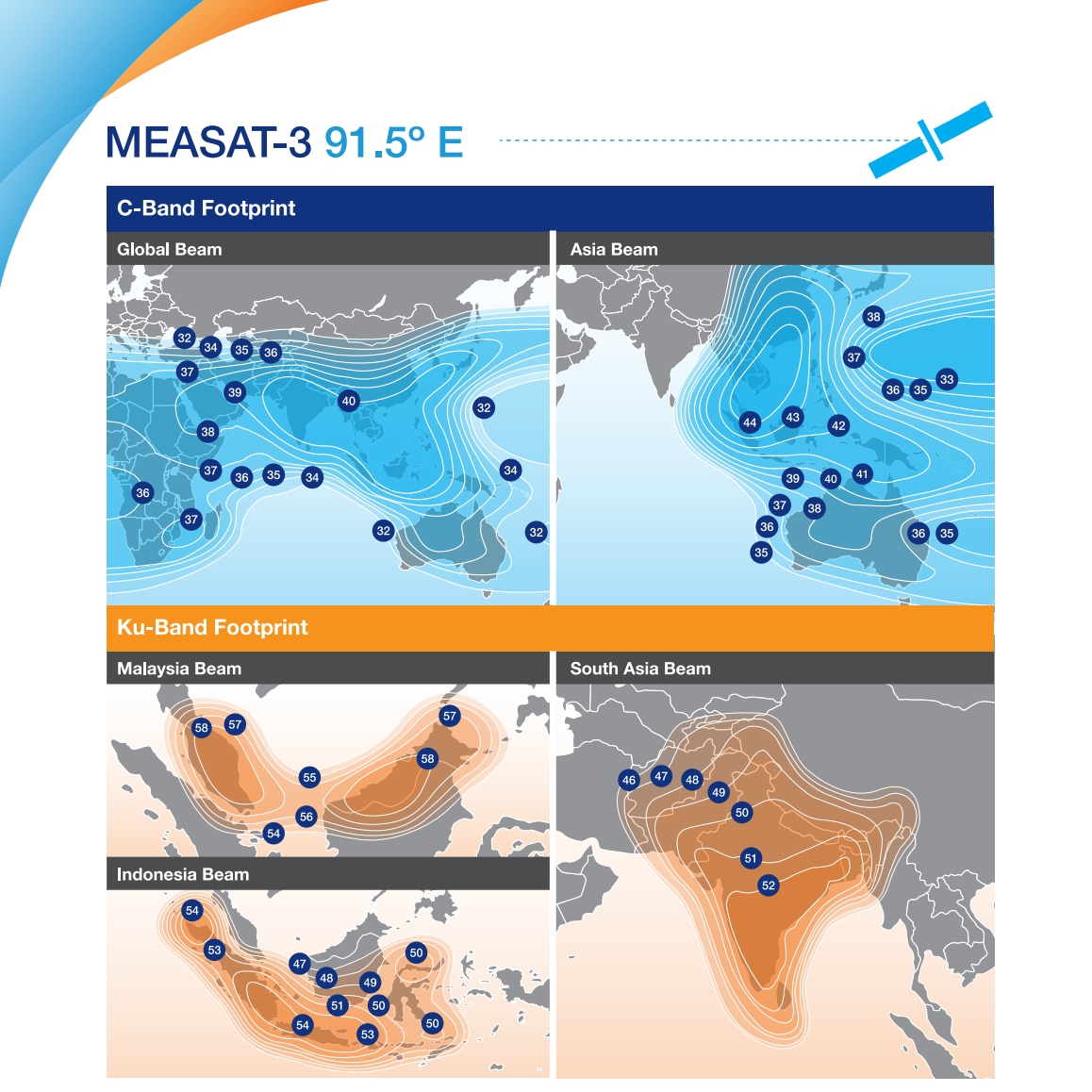 After migration of services to other satellites, all MEASAT-3 transponders have been deactivated to prevent interference with other satellites. According to the statement, MEASAT has informed Combined Space Operations Centre (CSpOC) via Space-Track to track the MEASAT-3 satellite and notify other operators of the satellite's orbital location, while the full investigation is being conducted by MEASAT and BSS. MEASAT-3 is a Boeing BSS-601 satellite and it was launched in 2006.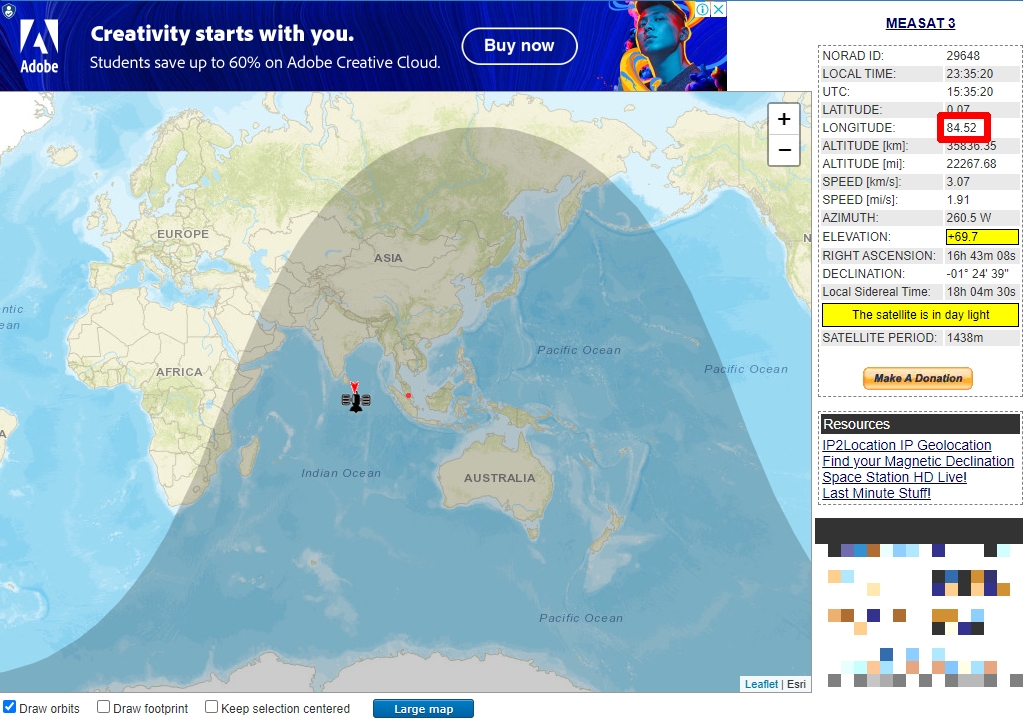 According to SpaceNews, space tracking company ExoAnalytic Solutions said the satellite has been drifting westward in geostationary orbit for nearly a month. ExoAnalytic Solutions' EVP of engineering Bill Therien told SpaceNews that it's rare to see one come back from this stage.
Satellite tracking website N2YO has indicated that MEASAT-3 is currently at longitude 84.52°, which is 7° west of its original position.
Both MEASAT-3a and MEASAT-3b satellites are still maintaining their longitude of 91.5°.
Last month, the MCMC revealed that the MEASAT-3 issue was due to a position issue and it is believed to be caused by a thruster failure. It is said that backup thrusters were used in an attempt to restore the satellite's services. The disruption had interrupted Astro's Direct-to-Home TV service, video broadband distribution, mobile and VSAT services.
To mitigate viewing problems, Astro had recently started to offer IPTV streaming to its existing Astro customers. Astro Ultra Box users are now able to switch to IP streaming when the satellite service is interrupted and it requires fibre broadband connectivity. The IP streaming feature will soon be rolled out to Ulti Box users.
Astro is also introducing its Astro Ultra Plug & Play Box, which allows users to subscribe to Astro without installing a satellite dish. All you'll need is fibre broadband internet of at least 30Mbps.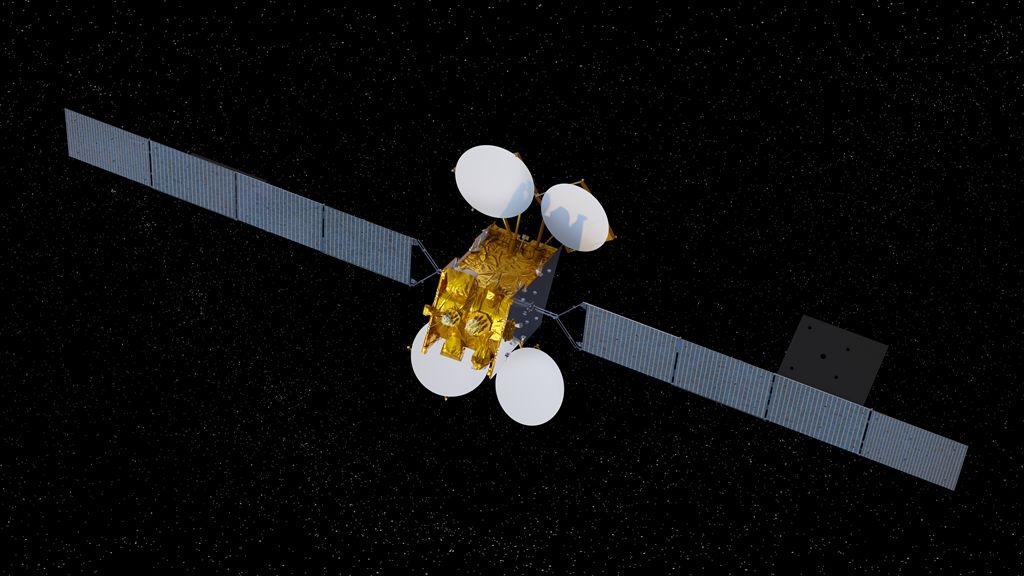 MEASAT-3d which was first announced in 2019 was originally planned to launch this year to replace both MEASAT-3 and MEASAT-3a, but the launch was pushed to 2022. MEASAT-3d uses an Airbus Eurostar E3000 satellite and it will be deployed on the 91.5°E orbital slot. The new satellite will offer satellite broadband connectivity up to 100Mbps and deliver 4K and 8K video content distribution.