If you've been lamenting the ridiculous prices for graphics cards these days and just want to get something, anything to play your games with, then AMD has news for you. They've just made two members of its AMD Ryzen 5000 G-series CPUs available for general purchase in Malaysia.
The two CPUs that have been launched are the AMD Ryzen 5 5600G and the AMD Ryzen 7 5700G. The Ryzen 5 5600G will be priced at RM1,239, while it's more powerful sibling gets a retail price of RM1,639. According to AMD, you can get them from their website as well as retailers everywhere from today onwards.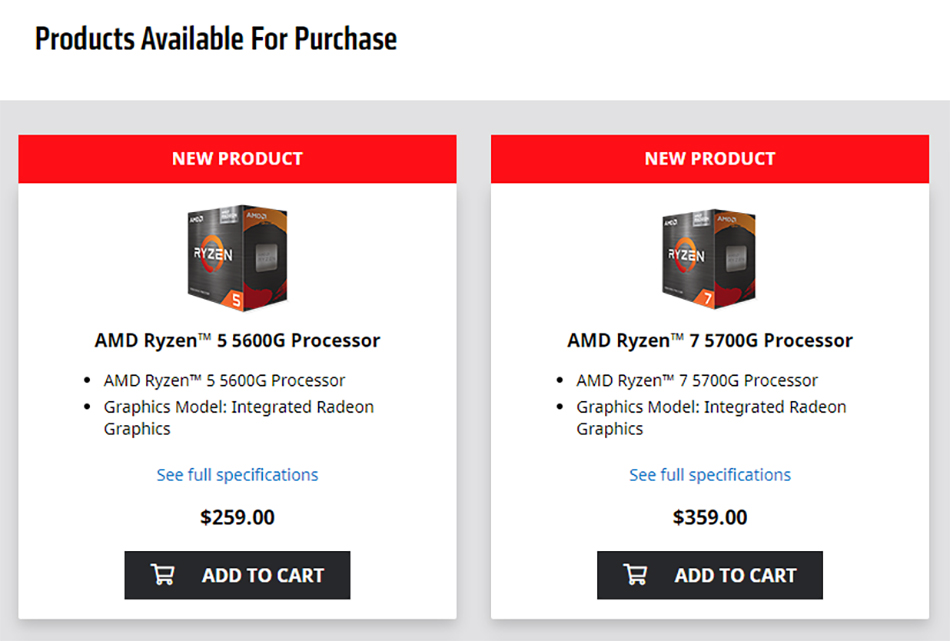 Specs-wise, the Ryzen 5 5600G has a 3.9GHz base clock and a up to 4.4GHz boost clock. It has 6 cores, 12 threads and has a TDP of 65W. The Ryzen 7 5700G meanwhile has 8 cores and 12 threads, with a base clock of 3.8GHz and a boost clock up to 4.6GHz. It too has a TDP of 65W and both come with the dependable Wraith Stealth CPU cooler in the box.
These CPUs have actually been available since April. However, they were only available in prebuilt systems by AMD's OEM partners. They're slightly worse at being a CPU compared to the AMD Ryzen 5000 X-series CPUs, but have the added benefit of coming with integrated graphics.
With that being said, it really should be pointed out though that the integrated graphics on these are nowhere near as powerful as modern day graphics cards. The integrated graphics on AMD's latest crop of CPUs are based on their aging Vega architecture, and is at best good for e-sports titles at medium settings. You could also use it as a stop gap before splurging again for a discrete graphics card, but at the price it's going for you could also get a Ryzen 3000 series CPU and motherboard bundle and tide yourself over with maybe your old GPU or a cheap second hand one.
Alternatively, if you don't want a discrete graphics card and want to go with an AMD CPU, then this is the best time to do so. The iGPU is decent enough for most daily tasks such as streaming content or mild creative work, and should do just fine if you're building a desktop for a loved one who doesn't game much or a secondary PC for streaming content on your TV and don't need a dedicated graphics card.
For more info on the the AMD Ryzen 5 5600G and Ryzen 7 5700G, you can visit their product pages on the AMD website.