Yesterday, a Forbes 30-Under-30 listee from the Philippines, Louise De Guzman Mabulo, issued a statement on Facebook regarding "rude and exploitative behaviour" displayed by founder of Nas Daily, Nuseir Yassin. Nas Daily then issued a response saying that she can't "share falsehoods on the Internet for free".
In Mabulo's statement, she described her experience working with Yassin in 2019. She first said that she was "a huge fan", and that a friend "had referred Nas Daily" to her after Mabulo's The Cacao Project was gaining some press exposure.
However, when her family took him and other content creators in "as welcome guests", she was "disappointed to learn" of his behaviour. She also claimed that he was only interested in making "clickable content" and that he "didn't care about making change or shedding light on real issues".
"I watched him imitate and mock the local accent and language, vocalising Tagalog-sounding syllabic phrases saying it sounded stupid. He repeatedly said that the people of my hometown 'poor', 'farmers are so poor!', 'why are Filipinos so poor?'" Mabulo wrote.
Whang-Od controversy
Mabulo's post came after Nas Academy, an online learning platform created by Yassin, was caught up in a controversy with a fellow Filipino—tattoo artist Whang-Od. Whang-Od's granddaughter, Grace Palicas, mentioned in the "Tattooed by Apo Whang-Od" public Facebook group that the Whang-Od Academy is a scam.
"Whang Od Academy is a scam. My grandmother did not sign any contract with Nas Daily to do any academy. Some people are taking advantage of our culture. Please help us stop this disrespect to the legacy of Apo Whang Od and the Butbot Tribe," she wrote.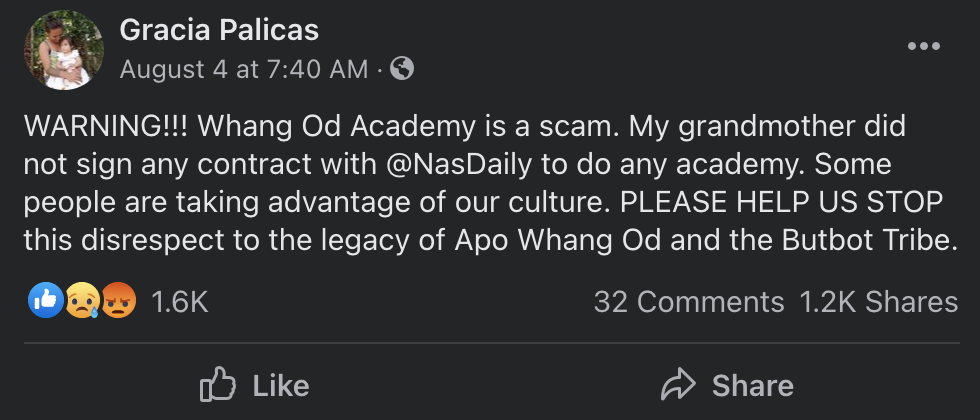 The accusation resulted in a response by Nas Daily, who posted a video of Whang-Od signing a contract with her thumbprint, saying that this is "the clearest evidence that it is not a scam and achieved the consent of her and her immediate family". They also claimed "40% of Nas Academy is made up of Filipinos" so they "care deeply about the Philippines".
"…He has overstepped and had the audacity to do the same to Whang-Od and the Butbot Tribe. Yet I still see Filipinos defending Nas despite the statements from Gracia, a fully able bodied representative of her tribe and of Apo Whang-Od, our most revered and iconic artist… And now, his response to the issue illustrates a video of Apo Whang-Od signing a dubious contract—the same strategy colonizers used to mislead indigenous people to sell off their land, happening now action in the 21st century, except instead of land, it's data and content and tradition being sold," said Mabulo regarding the Whang-Od controversy in her own statement.
Nas Daily's response
Nas Daily Tagalog responded with their own statement on Facebook, claiming that Mabulo's story "was not true". They said that they flew in from Singapore to the province in the Philippines "just to support" her and that they were "trying to tell the world" about her story.
"Once we arrived at your plantation, once we saw the village and talked to the farmers, we came to the conclusion that there is no story here… Our investigation has made it clear that your story in the media is false. And that there are no "200 farmers" that you work with, and there are no Cacao plantations that you don't personally profit from," continued Nas Daily.
They also gave Mabulo two pieces of "advice"—"be truthful about your work", and "do not share online falsehoods". They didn't state, however, any truth behind Mabulo's claim of Yassin's "rude behaviour". They did, however, state again that "40% of their company is Filipino".
"From making Nas Daily, I have learned that sometimes good intentions do go unnoticed. In fact, good intentions get punished sometimes," said Yassin.
According to Rappler, about 306,900 users have unfollowed Nas Daily's page. The bulk of unfollows came from 5 August at 275,200, and the page drops from 20.96 million followers to 20.68 million.