U Mobile's GoPayz, is now offering GoGold, a digital gold trading feature on its eWallet app. This was made possible in collaboration with Ace Capital Growth Sdn Bhd, a subsidiary of Ace Innovate Asia Berhad. With GoGold, GoPayz users can buy digital gold from as low as RM5.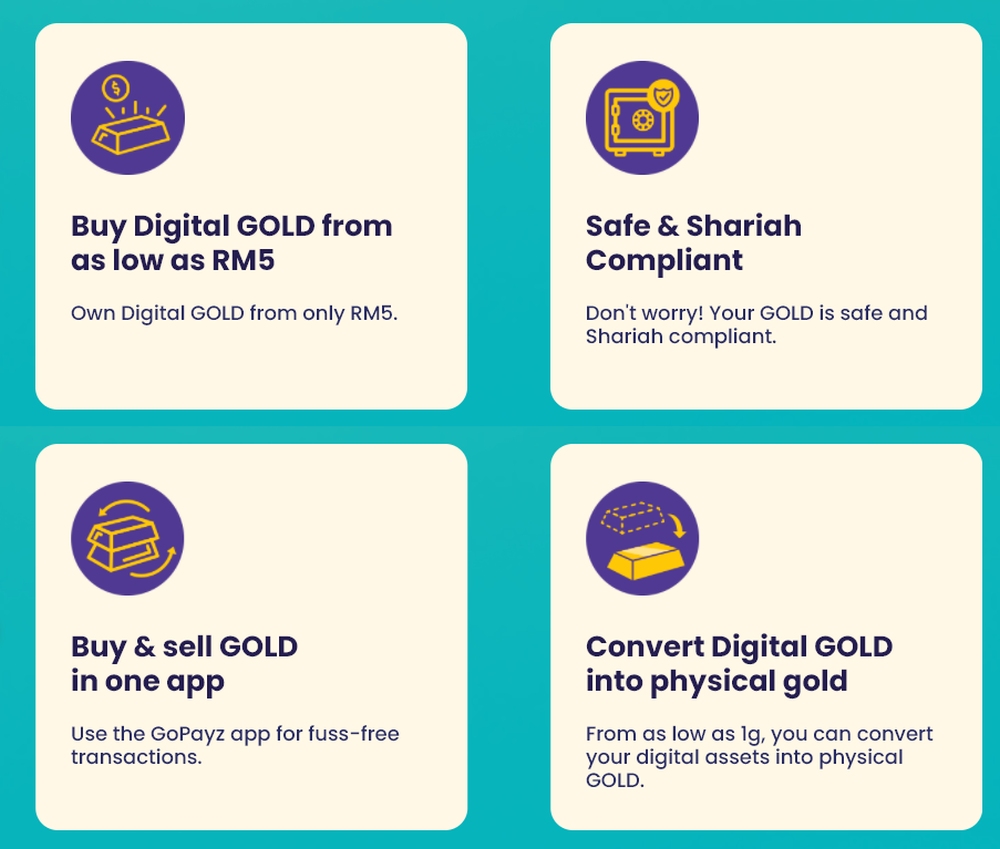 According to GoPayz, users can buy and sell gold in a single app without the need of installing a 3rd party application. It added that the platform is Shariah-complaint and offers one of the lowest gold prices spreads in the Malaysian market.
You can purchase digital gold using your GoPayz eWallet balance or directly from your online banking account via FPX. There's also the option to convert your digital gold to physical gold with 1 gram, 5 gram, 10 gram, 50 gram, 1 dinar and 5 dinar options.
As an introductory promo, GoPayz is offering free digital gold for early bird users. The first 5,000 users to sign up will get free digital gold worth RM5. Users who spend at least RM20 per transaction on GoGold will be in the running to win 1 gram of digital gold.
A total of 200 winners will be picked to receive 1 gram of digital gold in their GoGold account. Winners are picked from every 50th transaction. In total, there are up to RM75,000 worth of free digital gold up for grabs until 21st September 2021. The reward will be credited to the winner's GoGold account within 14 working days. You can check out the campaign T&C here.
To get started, just launch the GoPayz app which is available on Apple App Store, Google Play Store and Huawei App Gallery. You would need to verify your account to a Premium Wallet to be eligible to win free digital gold.
To access GoGold, tap on Financial Services > GoGold and proceed to register a GoGold account. Once you're registered, you can proceed to buy and sell digital gold.
At the time of writing, there isn't much detailed info about the digital gold feature. The FAQ link in the app doesn't seem to work and there's no info on how users can collect their physical gold after conversion. For more info, visit GoPayz' GoGold promo page.