In the "world's first physical versus NFT auction", an original document of Steve Jobs' 1973 job application sold for USD 343,000 (RM1.4 million). It beat its competing NFT version, which sold for 12 ETH, or about USD 27,497 (RM11,6257).
The auction first opened yesterday, and was targetted to end in 7 days. However, the auction has prematurely ended and I couldn't find an official reason as to why it did so quickly.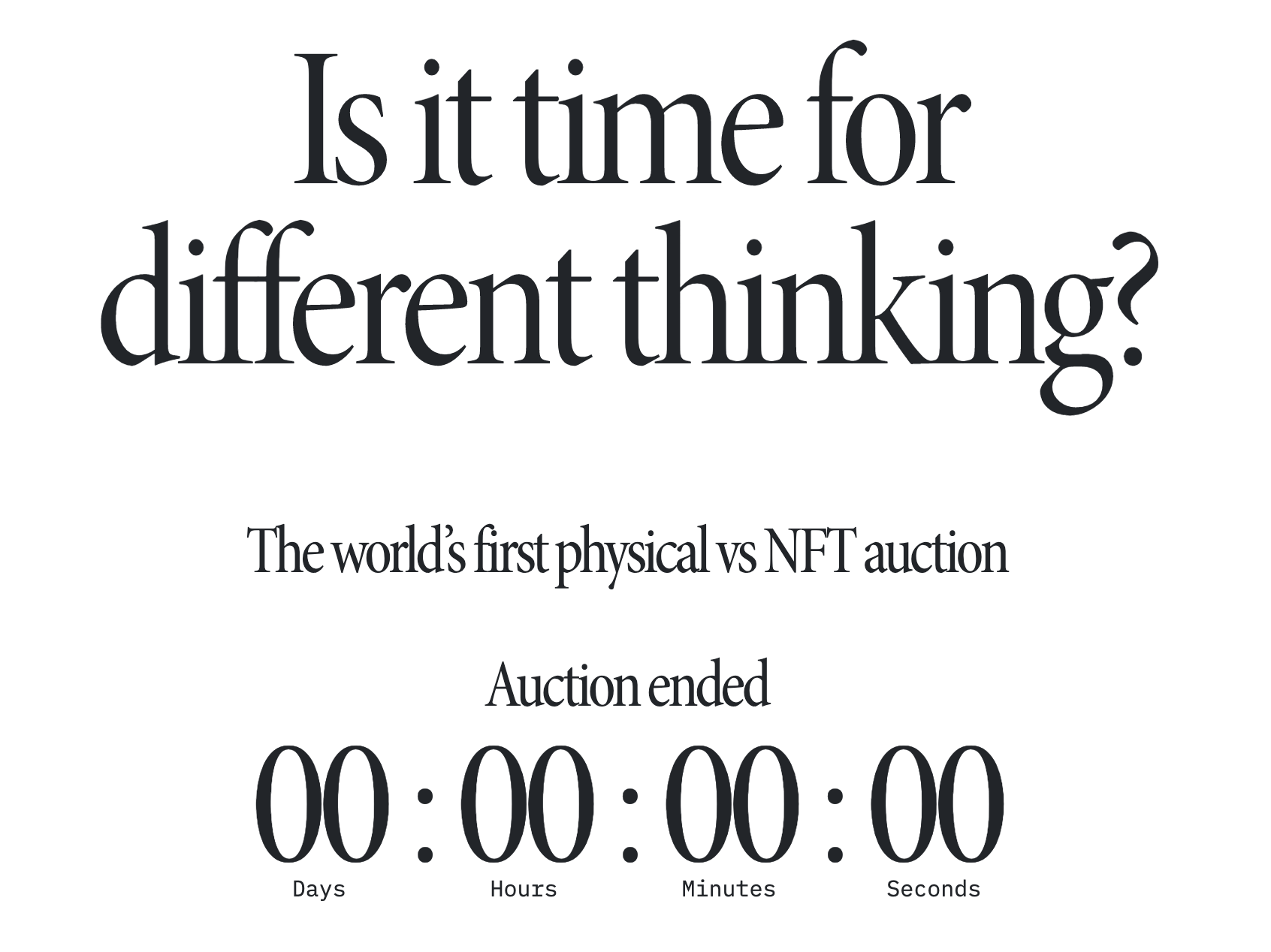 According to its website, the original document of Jobs' job application had 43 bids, while the NFT version of the document only revieved 9 bids. The site also introduced a simple poll for anyone to guess if they think the paper or digital documents would sell for more.
And just like how the results presented itself, many other people also thought that the paper document would sell for more than the digital version. It might be telling to how physical memorabilia is still in demand and that NFTs still have a long way to go.
"We wanted to use it as a vehicle to help understand and push the boundaries of the art/collectible and NFT world. How do the two worlds interact with each other? How much do they overlap and crossover? Do they actually complement each other?" wrote Winthorpe Ventures.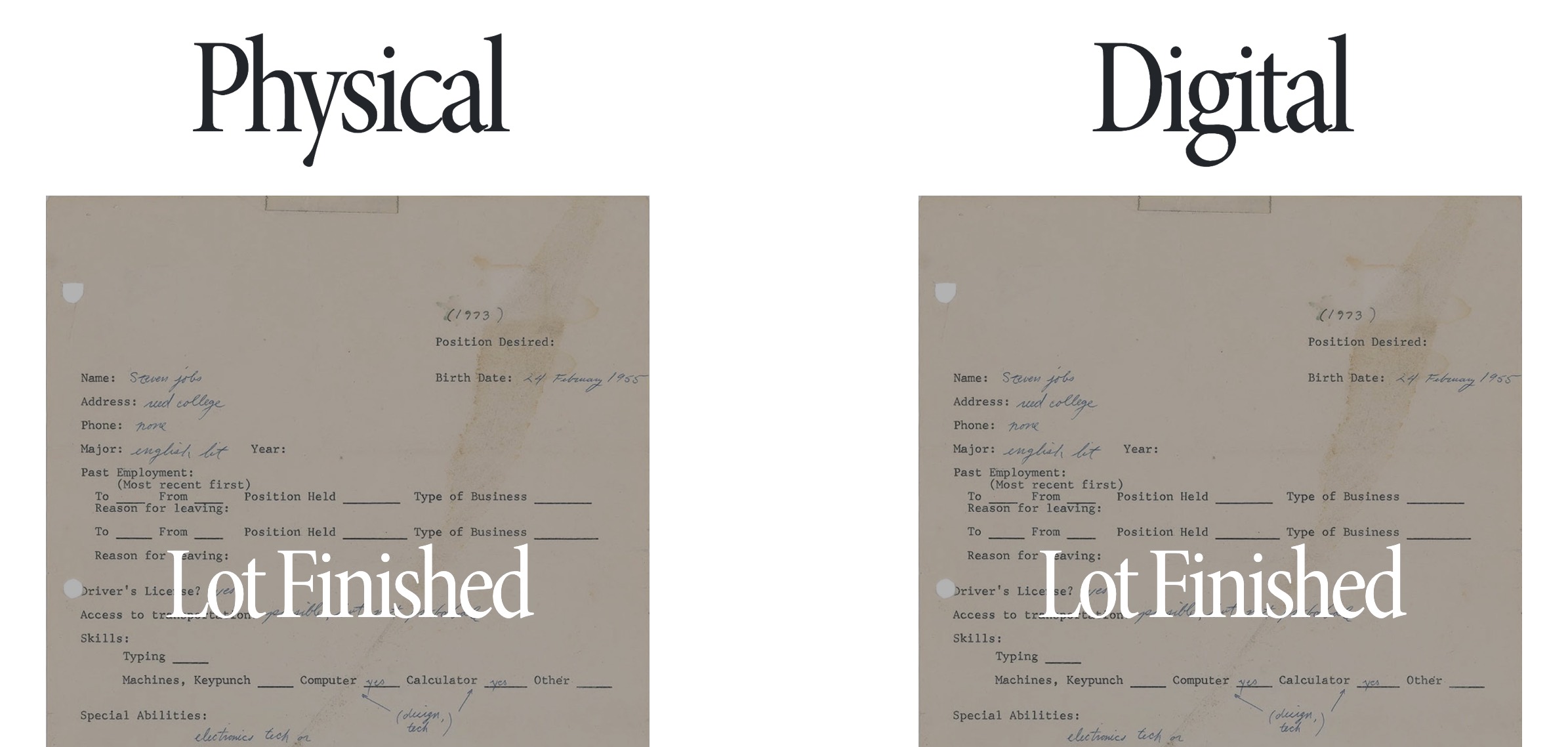 The Steve Jobs job application has been on sale multiple times, including the previous auction for USD 200,000 (RM845,600). A percentage of this recent auction's final profits will be donated to two charities—the Cancer Research Institute and One Laptop Per Child.
"Will this open a whole new market for decentralized collectibles? Will this cement the status-quo? Or could we see a stalemate with a fresh understanding that both can coexist and even complement one another as we traverse the next 50 years of innovation? Whatever the outcome, the worlds of finance and art will be watching with anticipation," wrote Winthorpe Ventures.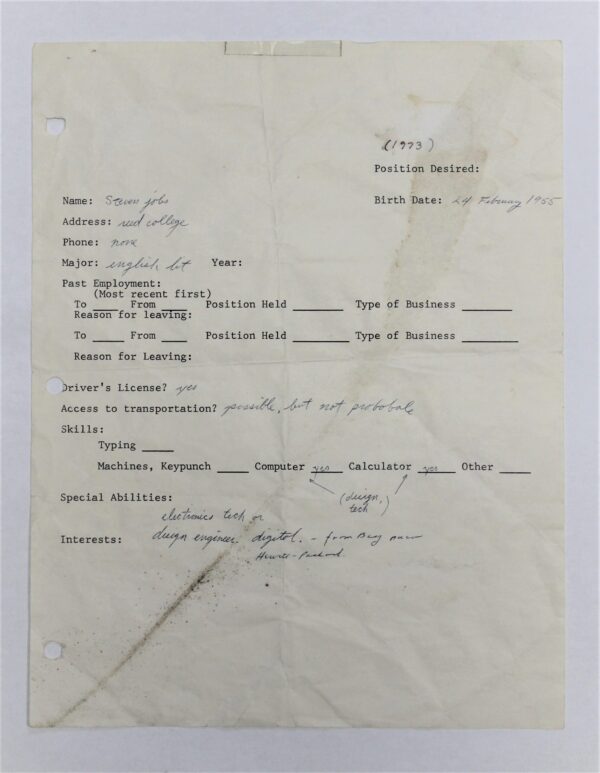 The auction for the Steve Jobs signed job application is powered Snoofa and the NFT version is powered by Rarible. You can look through for more information on the auction on their website.
Earlier this month, Malaysian artist Red Hong Yi sold her first-ever non-fungible token (NFT) for 36.3 ETH—which is more than RM325,000. The winner not only owns the NFT but also get the physical copper plate.
[ SOURCE, IMAGE SOURCE ]