Despite increased COVID-19 vaccination rates, Malaysia continues to record over 10,000 new COVID-19 cases daily in the past week with the majority of cases from the Klang Valley. For those who are wondering if vaccinations are actually working, the Ministry of Health (MOH) has published more data to give a clearer picture of the situation for today's cases.
Today, Malaysia has recorded a total of 14,516 new COVID-19 cases and a record high 207 deaths. As shared by MOH on Facebook, 97.9% of category 5 cases are not vaccinated and these are severe cases that require ventilators. 85.7% of category 4 cases were not vaccinated and 67.5% of category 3 cases were not vaccinated.
Category 5 is the most critical stage where ventilators are required while category 4 requires oxygen supply. Meanwhile, category 3 are cases with lung infections.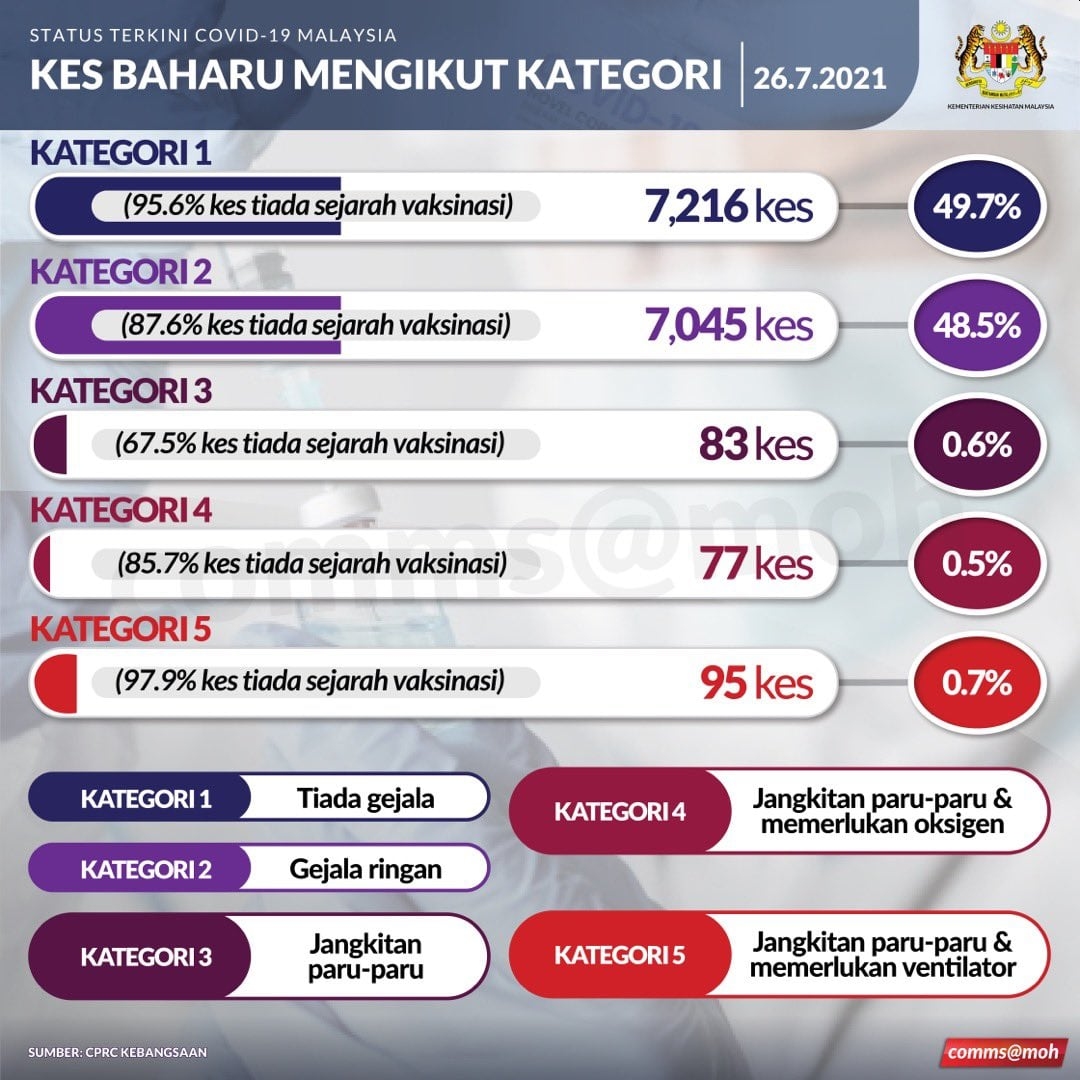 Moving down to Category 1 and 2 COVID-19 cases which have little or no symptoms, the percentage of people who are not vaccinated are 95.6% and 87.6% respectively.
In absolute numbers, 13,288 out of 14,516 cases reported today have no history of vaccination, which makes up 91.5% of total cases reported today. This is an indication that getting vaccinated lowers the risk of getting infected and being admitted to the hospital. In the Klang Valley, 4.8 million out of 6.1 million adults have received at least one vaccine dose, which is 57.4% of the total population in Selangor, Kuala Lumpur and Putrajaya.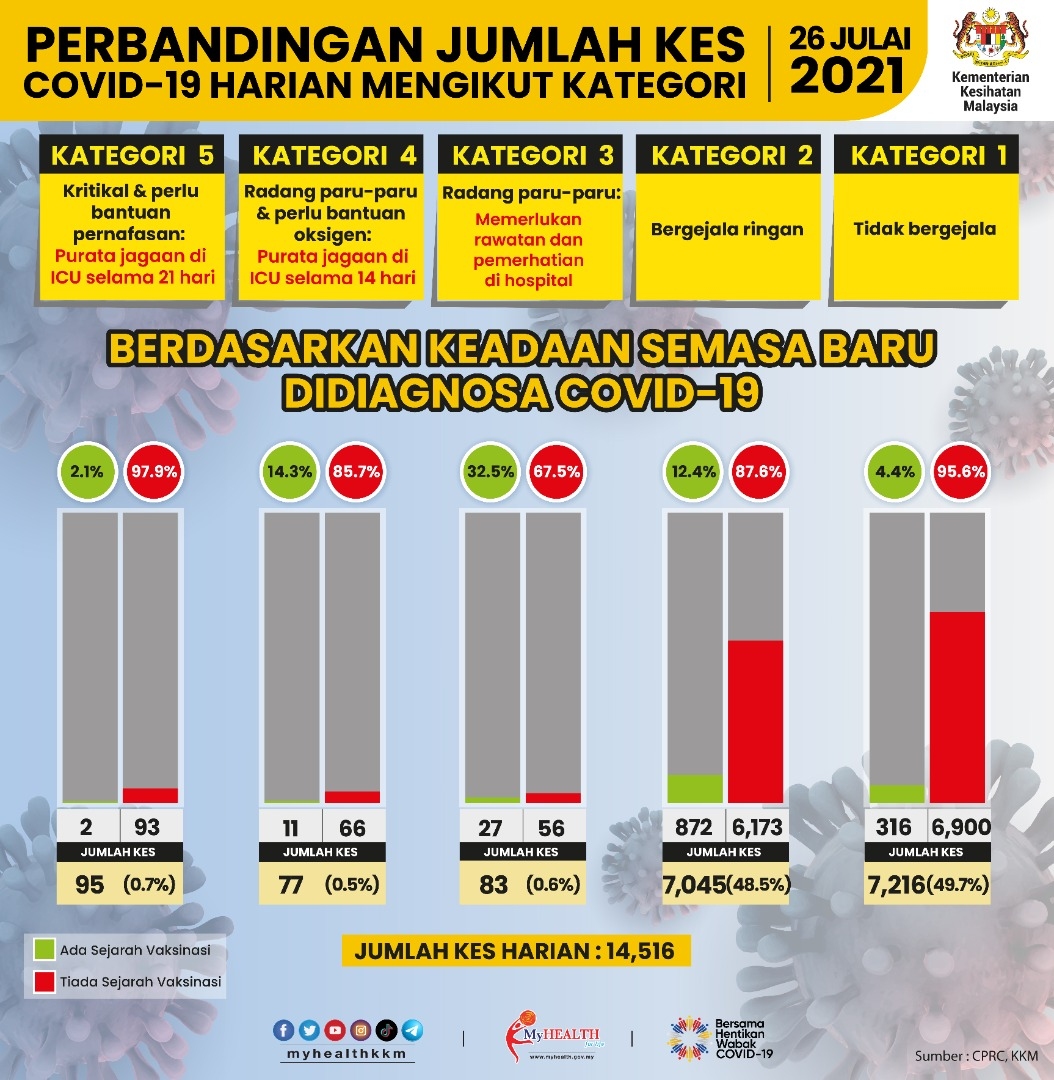 At the same time, the remaining 1,228 cases with a history of vaccination also serve as a reminder for everyone to continue to adhere to the SOP including wearing a face mask as there's still a risk of infection after getting the jab.
It is worth pointing out that the Ministry of Health didn't provide a further breakdown of the cases with vaccination. This means the remaining figures may also include people who have received just one dose or people who have gotten two doses but have not yet passed the 2-week window to gain optimal protection.
Seramai 2,779 warga KKM dijangkiti selepas lengkap dua dos vaksin, namun majoriti pesakit ialah kategori 1 dan 2 sementara tahap 3 & 4 masing-masing 3 orang saja. Tiada kes tahap 5

Mereka yang gejala ringan boleh diasingkan di rumah sekaligus mengurangkan kemasukan ke hospital

— Noor Hisham Abdullah (@DGHisham) July 13, 2021
As shared by Health Director-General Dr Noor Hisham Abdullah, a total of 2,779 healthcare workers under MOH were infected after completing their vaccination with two doses. He said the majority of them had Category 1 and 2 and there were only 3 cases each for Category 3 and 4. As of 13th July, there were no cases involving fully vaccinated healthcare worker that reached category 5.
Minister in charge of the COVID-19 vaccination effort, Khairy Jamaluddin, has recently said that the number of COVID-19 cases and hospitalisation are expected to decline starting in August once 40% of Malaysia's adult population have been fully vaccinated. He added that vaccines are able to prevent severe effects of COVID-19 and the hospital admission rate among the elderly had also shown a declining trend.
After most senior citizens were vaccinated under Phase 2 of the national immunisation programme, Sungai Hospital's data has shown a downward trend in hospital admission for Category 4 and 5 patients among the elderly.
As of yesterday, Malaysia has fully vaccinated over 5.5 million people which is 23.6% of the total adult population. Overall, there are close to 12 million people that have received at least one dose. Under Operation Surge Capacity, the COVID-19 Immunisation Task Force aims to vaccinate all 6.1 million adults in the Klang Valley with at least one dose by 1st August 2021.
[ SOURCE, IMAGE SOURCE ]