OnePlus hasn't had the best of times in the last couple of days. Following an in-depth investigation by AnandTech, it was shown that certain apps had notably worst performance than expected. The benchmarking tool Geekbench then delisted the OnePlus 9 and OnePlus 9 Pro from their performance charts for alleged 'cheating' in benchmarks.
For context, the folks over at AnandTech found in the OnePlus 9 Pro some very strange performance behaviour with the device. Essentially, it seems as though the smartphone wasn't allowing a number of popular apps to use the Snapdragon 888's main Cortex-X1 CPU core, instead relegating it to the weaker but more efficient Cortex-A55 core. This in turn let to some pretty bad performance, sometimes even as bad as a budget device from the early-2010s.
To prove it, AnandTech ran a custom app to test CPU performance, then ran it again but spoofed as one of the apps that the OnePlus 9 Pro was suspected of throttling. Lo and behold, the same app ended up with much lower performance once the system thought it was Twitter or Chrome. Similarly, Geekbench results dipped by up to 20% when it was spoofed as Twitter or Chrome too.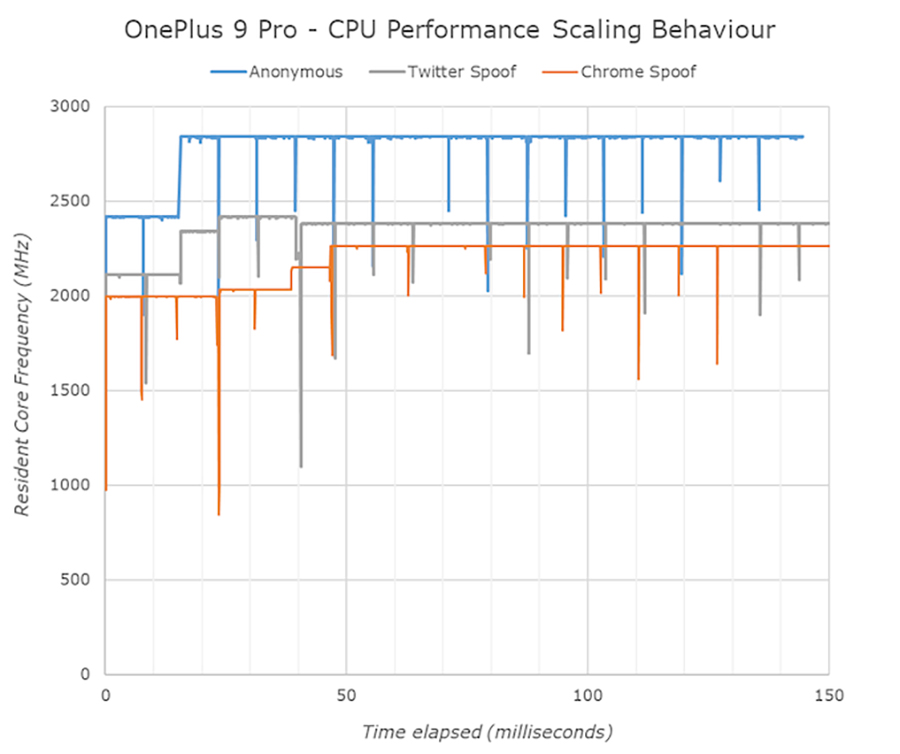 Incidentally, that last part is probably why Geekbench delisted the two OnePlus devices. Smartphone manufacturers directly manipulating benchmark scores by increasing performance once a benchmarking app is detected is heavily frowned upon.
While that typically involves boosting beyond regular spec, the OnePlus devices are actually doing the opposite. Regular apps were throttled, while others like benchmarking tools were allowed to use the the whole CPU. Nevertheless, Geekbench clearly thought this was enough to warrant delisting the phones from their charts.
In light of these events unfolding, OnePlus responded by stating that these changes were a result of user feedback. It seems as though when the OnePlus 9 and OnePlus 9 Pro were launched back in March, some users informed them that their devices' battery life and and heat management could be improved. OnePlus adds:
As a result of this feedback, our R&D team has been working over the past few months to optimize the devices' performance when using many of the most popular apps, including Chrome, by matching the app's processor requirements with the most appropriate power.

This has helped to provide a smooth experience while reducing power consumption. While this may impact the devices' performance in some benchmarking apps, our focus as always is to do what we can to improve the performance of the device for our users," – OnePlus
Basically, by relegating these apps to the weaker but more efficient CPU cores, the phone outputs less heat and has a longer battery life. However, while their statement makes it look as though the changes came as part of an update, it seems as though some reviewers had noted the strange performance behaviours even before they were officially launched.
It does seem odd that OnePlus decided against giving the user the choice of performance or battery life; a simple 'Battery Saving' mode found in most other phones could've been enough rather than doing it without making it known first. Alternatively, they could've also given the user an option to opt out of the heavy performance throttling on common apps. It's also perhaps noteworthy to remember that OnePlus did the same trick with the OnePlus 2, where weaker cores were preferred for certain apps, while others were allowed to use the whole chip.
At the end of the day, it's not a good look for OnePlus. It's not clear if OnePlus will be making changes to the OnePlus 9 and 9 Pro through future updates, but this should still be kept in mind when looking for your next smartphone.
Related reading