You've gotten yourself a brand new flagship phone with IP67 or IP68 rating, which means it'll probably be water-resistant for quite some time right? Well not exactly, as sometimes the water-resistance seals may degrade overtime. Here's where the Water Resistance Tester app comes in.

Available for free on the Google Play Store, Water Resistance Tester comes from developer Ray Wang. The app tests your smartphone's water resistance seals on your device by using the barometer that's on your phone. Via that barometer, it can get the average pressure and current pressure your phone is under, which tells you the integrity of the seals on the phone's chassis.
There's a few steps to it. Testing on a Samsung Galaxy S10+ with an IP68 rating, it first gets a baseline measurement of the pressure level inside your phone. It then tells you to push down on the screen. This should in turn change the pressure levels in the phone. However, if the barometer detects minimal or no changes, it indicates possible damage to your smartphone's water-resistance seals.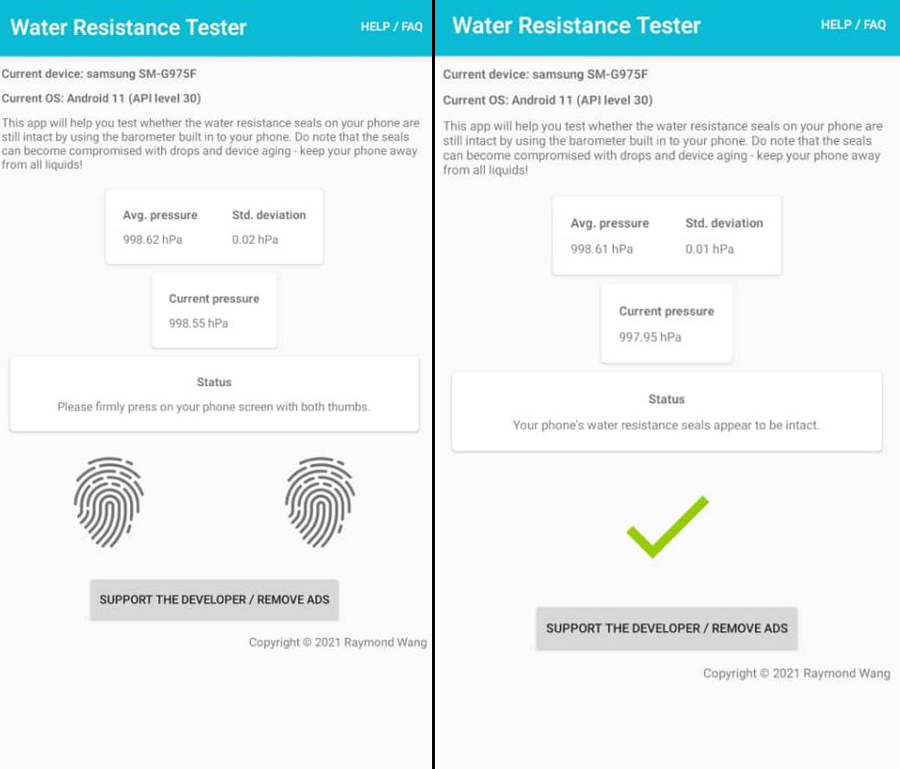 That being said, if your smartphone's water didn't come with an IP67 or IP68 water resistant rating from the manufacturer, you will see it report that your phone is not water-resistant. Instead, you'll still see the pressure being measured but with a red exclamation mark and the status saying your phone isn't water resistant. Similarly, if your device doesn't come with a barometer, it will also report that but this time without the pressure measurements either.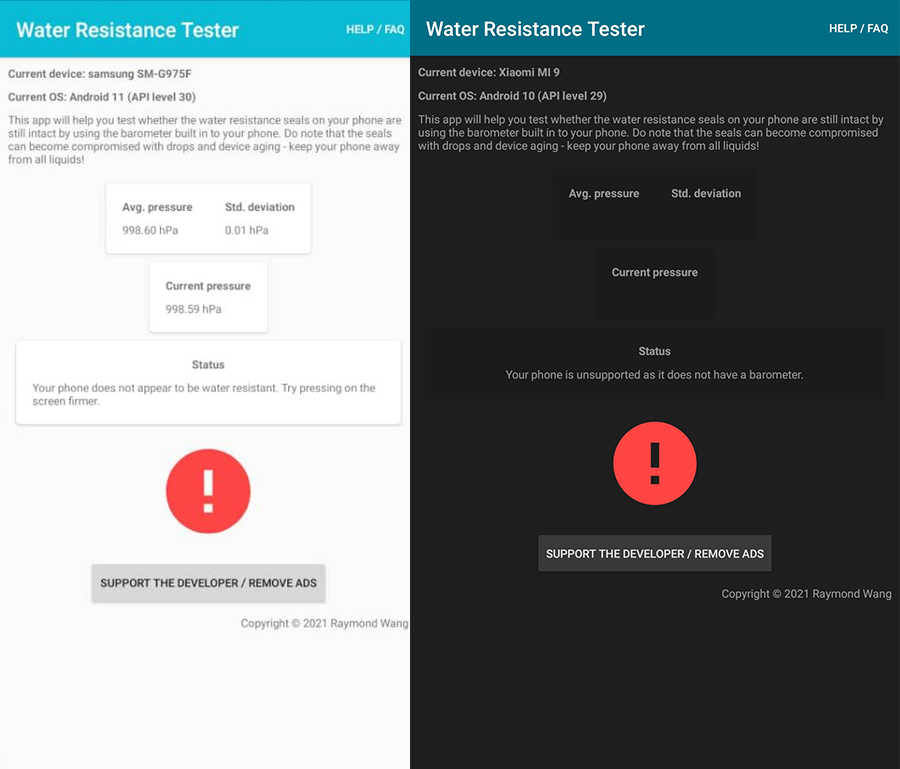 If you've bought a new device with an IP rating from the manufacturer, you could use this to test its water-resistance. Alternatively, it would also be pretty handy to check a second-hand device before buying it to ensure its seals are still intact. Another use case could also be testing it after sending it to a shop for repairs.
It perhaps goes without saying that there's no guarantee the app is 100% accurate. We tried it out on a few phones ourselves, and it gave the Galaxy S10+ a pass despite the SIM tray being slightly out. The app did give a fail once the SIM tray was fully removed though. It seems as though the app will give you a pass if the barometer detects more than 0.01 difference in pressure.
That being said, the reviews of the app are pretty positive, saying that phones tested without an IP67 or IP68 rating from the manufacturer do indeed report back accurately. The app is free to download and use, though you will see a small banner ad at the bottom. A minimum donation of RM4.11 removes the ads, and you can give the developer more too.
Water Resistance Tester is currently available to download on the Google Play Store.