Opposition Leader Anwar Ibrahim has urged the government to explain the decision of the recent 5G project award to Ericsson. Digital Nasional Berhad (DNB), a government-owned Special Purpose Vehicle (SPV) had appointed Ericsson to deploy Malaysia's national 5G network for RM11 billion.
Anwar wants the government to make public details of the contract as the cost for it will be borne by the rakyat. He said he wants the project to be questioned so that there's no chance of corruption, abuse of power, and excessive payment of commissions. Anwar also claimed that Huawei Technologies could have done the job for RM5 billion.
When the government decided to rollout 5G through a single government entity, Finance Minister Tengku Datuk Seri Zafrul Abdul Aziz previously said that the infrastructure project will cost RM15 billion over the span of 10 years. He added that the project will be privately funded and existing telcos will offer 5G services through a wholesale service via DNB.
DNB revealed that Ericsson will handle the design and build of the national network at a total cost of RM11 billion which will include tower rental and fibre leasing for the next 10 years. As announced by DNB, Ericsson will arrange the financing for the supply, delivery, and management of the entire 5G network. Meanwhile, DNB will securitise future cash flows from its wholesale business via Sukuk programmes to finance all other network operating expenditures and to repay all the vendor financing arrangements.
Digital News Asia reported that a source close to the matter claimed that the RM11 billion budget is lower than what Huawei had bid and Ericsson had brought down their pricing substantially after negotiations.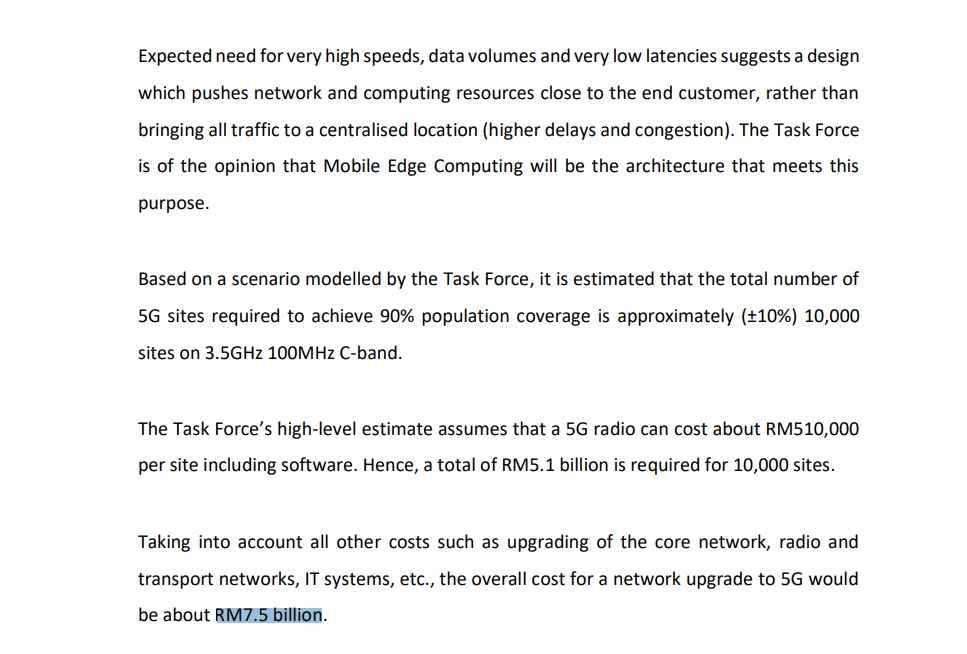 Before the fall of the Pakatan Harapan government, the National 5G Task Force had estimated that the overall cost to deploy 5G would be about RM7.5 billion inclusive of other upgrading costs covering core network, radio and IT systems. The estimate was based on the assumption that a 5G radio costs RM510,000 per site and RM5.1 billion is required for 10,000 sites to achieve 90% population coverage on the 3.5GHz band.
DNB aims to launch 5G at the end of this year with initialy coverage for Putrajaya, Cyberjaya, and part of Kuala Lumpur. In 2022, it will begin deploying its network in Selangor, Pulau Pinang, Johor, Sabah and Sarawak. It also targets to achieve 80% 5G population coverage by 2024.
Related reading