Amid concerns that Malaysia has been conducting fewer tests despite a high positive rate, Health DG Dr Noor Hisham shared a post claiming that the WHO is no longer recommending COVID-19 tests for asymptomatic cases.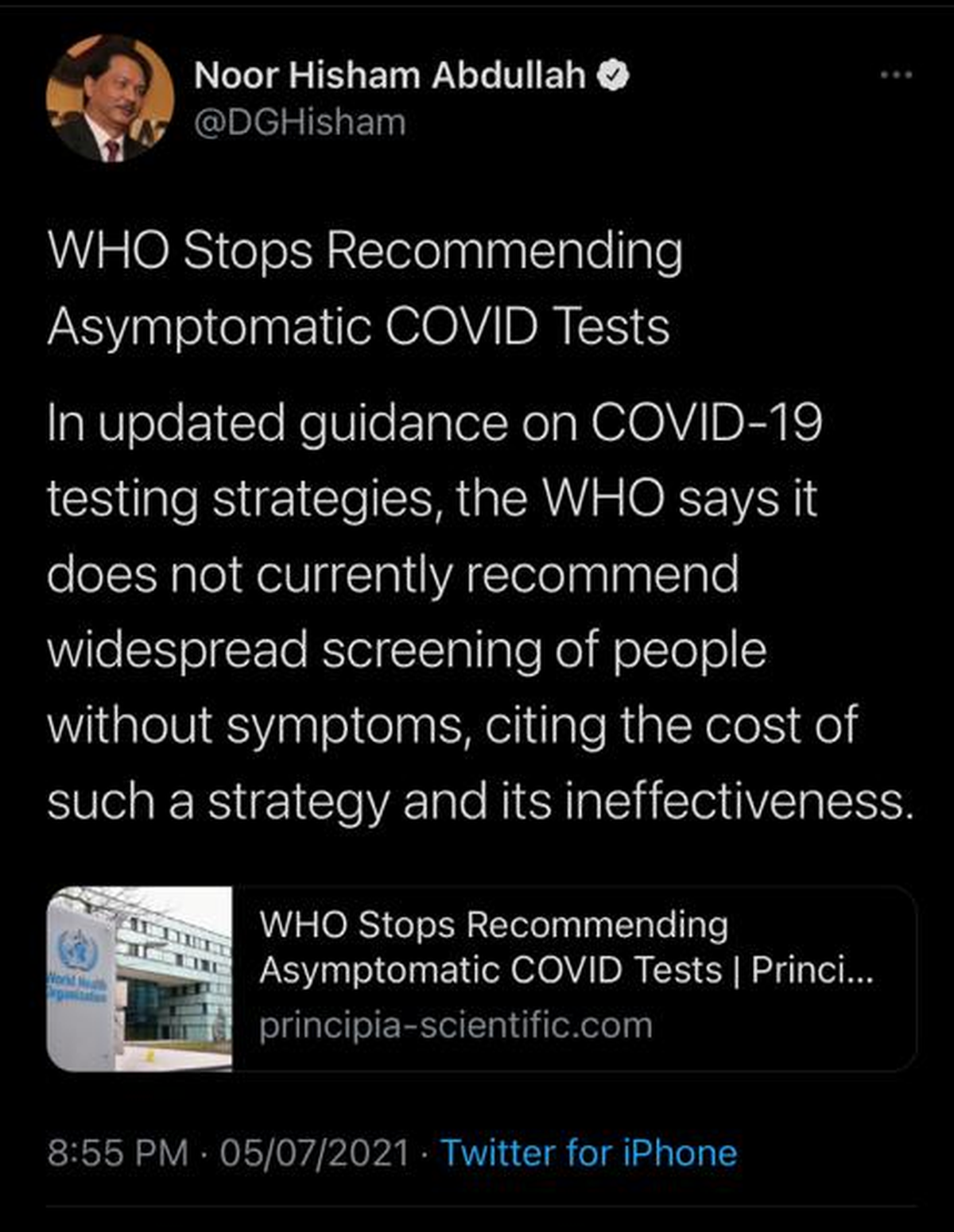 The now-deleted tweet linked an article from Principia Scientific International (PSI), a news site which claims to provide "educational resources freely in the fields of scientific inquiry". In the post, the PSI mentions that screenings should be directed to areas with possible largest impacts on public health impact, with individuals who exhibit COVID-19 symptoms to be prioritised.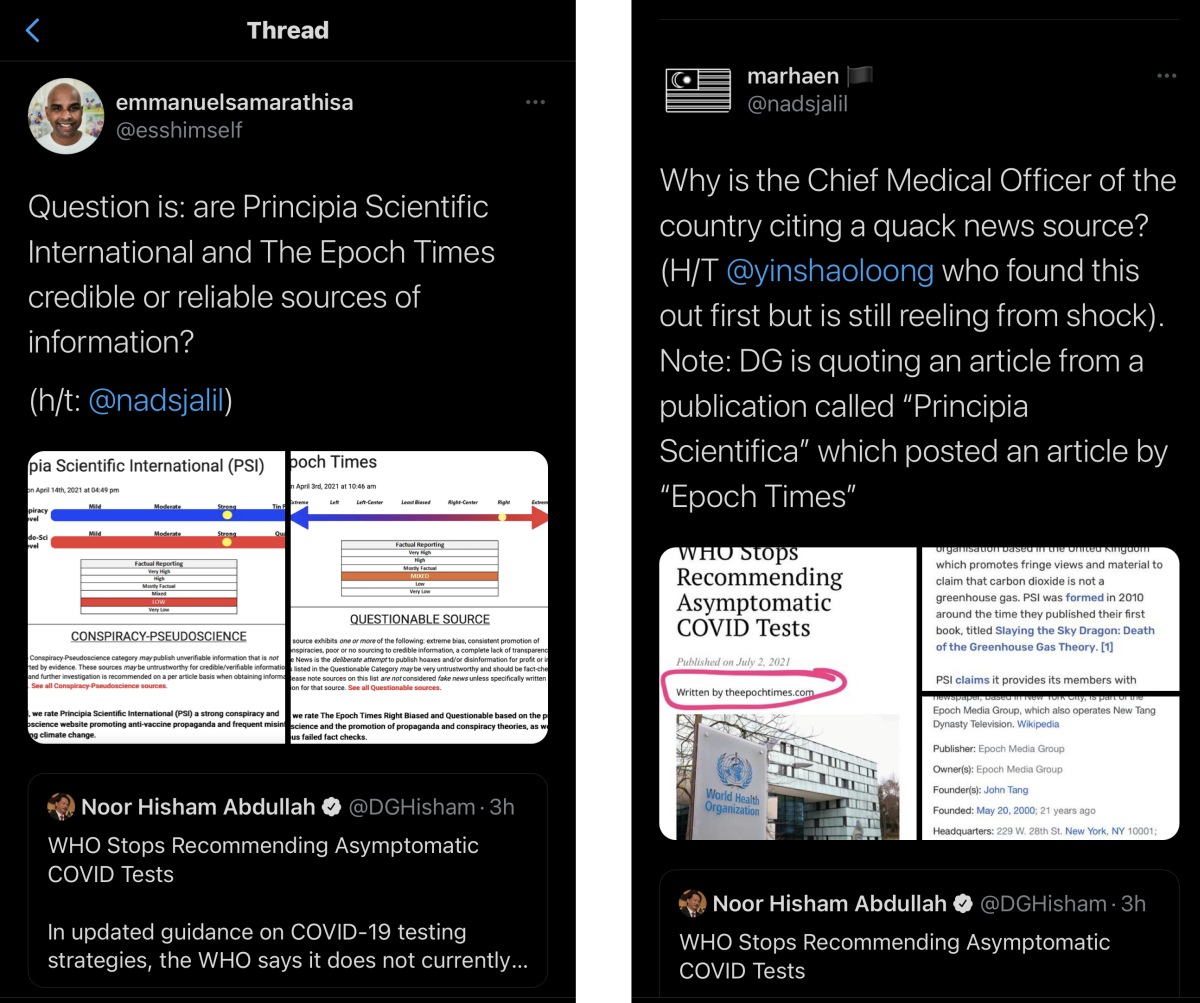 The tweet drew criticism from netizens, with some users stating the article in question was actually posted by the Epoch Times, an international far-right publication. The Epoch Times even published a highly controversial editorial that suggested that the COVID-19 virus should be referred to as the Chinese Communist Party (CCP) virus. In fact, the inappropriate abbreviation for the COVID-19 virus was also used in the PSI article.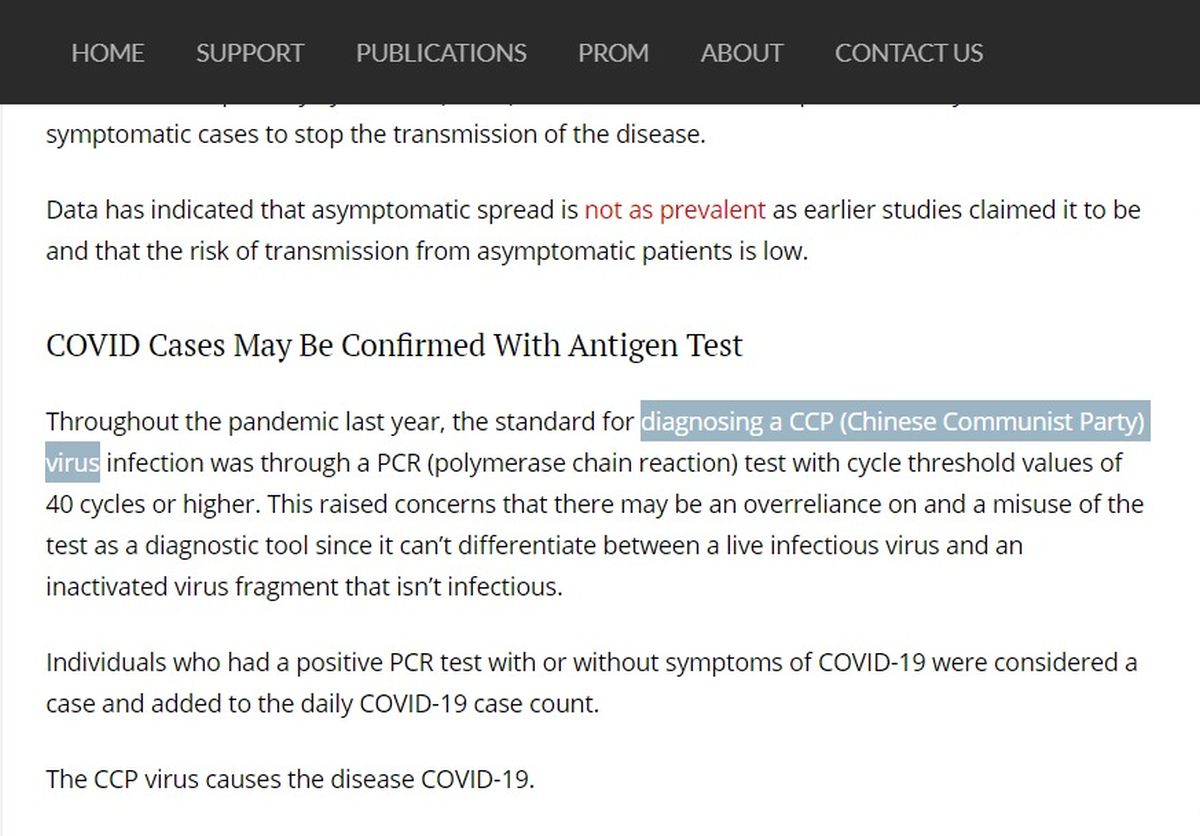 Former health minister Dr. Dzulkefly Ahmad also weighed in, sharing a link to a fact-checking website for media reporting which stated that Principia Scientific International's reporting style scored a high bias ranking, and a low rating on factual reporting.
However, the interim guidelines for testing released by WHO never claimed to stop testing asymptomatic individuals. For clarity, the report said it does not recommend widespread screening of asymptomatic people, mostly because it is costly and there is no conclusive data on its efficacy.

With that being said, the WHO recommends testing for asymptomatic people who have been in contact with potential or confirmed COVID-19 cases, and also for individuals who are at high risk of contracting the disease such as healthcare workers as well as front-liners.
WHO also adds that people that show no symptoms who undergo routine testing regardless of their vaccination status or prior infection history, may still be tested at clinical discretion.

Interestingly, several weeks ago Dr Noor Hisham himself said that Malaysia should ideally be conducting 150,000 screenings a day. Currently, the country does an average of 80,000 tests daily with a positivity rate above 7%.
Since deleting the tweet, Dr Noor Hisham has posted a series of new tweets with a direct link to WHO's guidelines. He said the WHO recommends testing of symptomatic individuals should be prioritised over testing asymptomatic individuals.
However, he added that testing asymptomatic individuals can be conducted in instances of contacts of confirmed or probable cases or testing of people who are frequently exposed to the risk of infection.
[SOURCE, IMAGE SOURCE , 2, 3, 4, ]
Related Reading