WhatsApp joins the likes of Snapchat and Instagram, as it gears up to release a messaging feature for users to send media for one-time viewing. If the current 7-day duration for disappearing messages on WhatsApp is too long, this is probably what you've been waiting for.
With the "View Once" feature, WhatsApp users can send a photo or video that can be viewed once for a short amount of time before it disappears forever. Well not forever, if the receiver is quick enough to take a screenshot or if the screen is being recorded while viewing the soon-to-be-deleted media.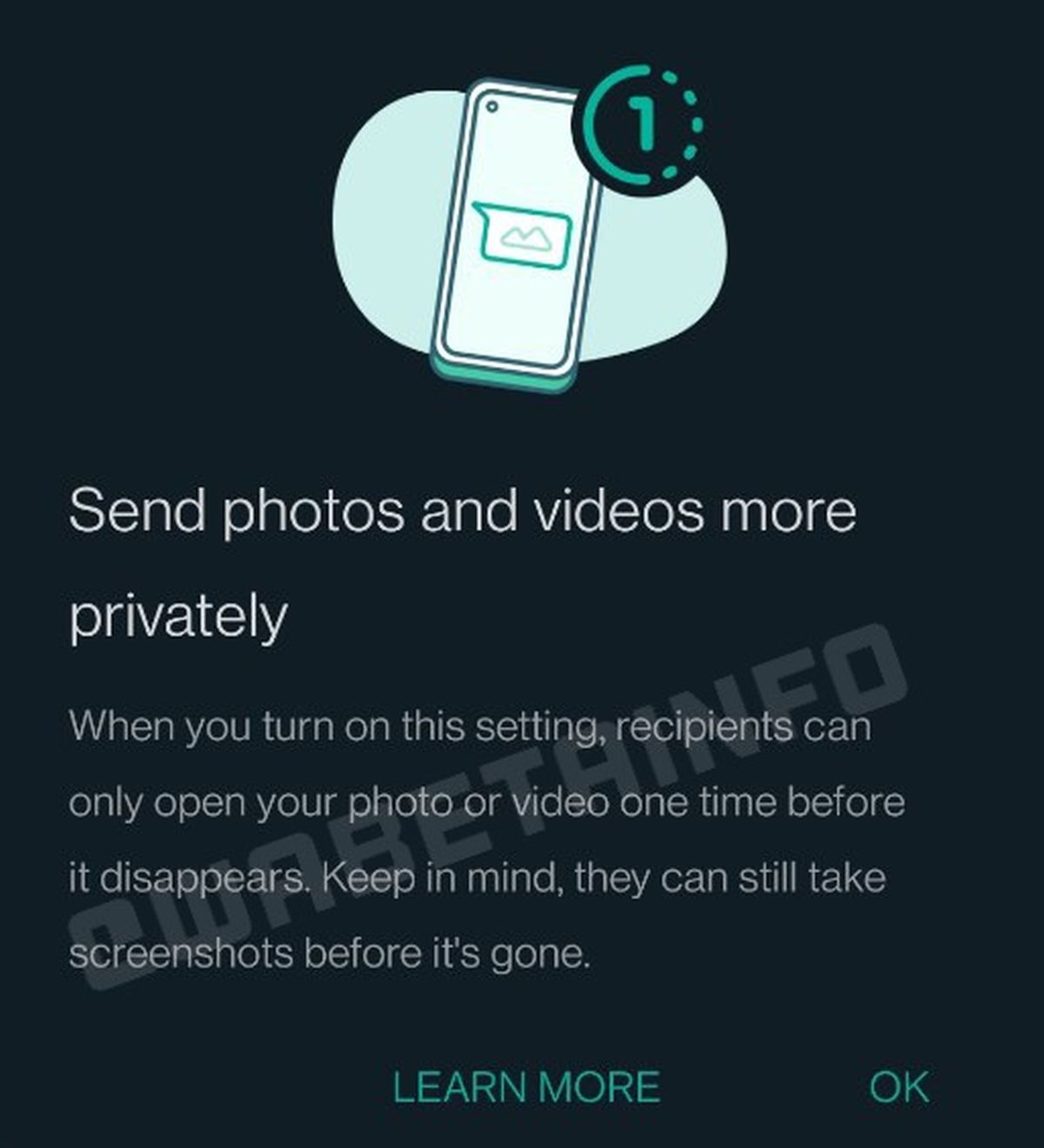 It is said that these messages do not have previews on the lock screen or the notification tray, but the feature can be used during one-to-one conversations and group chats. Simply tap the "circled 1" in the text box to use the feature.
It is unclear how long users will be able to view images or videos before they vanish. We also do not know if users would be able to send disappearing voice notes or documents.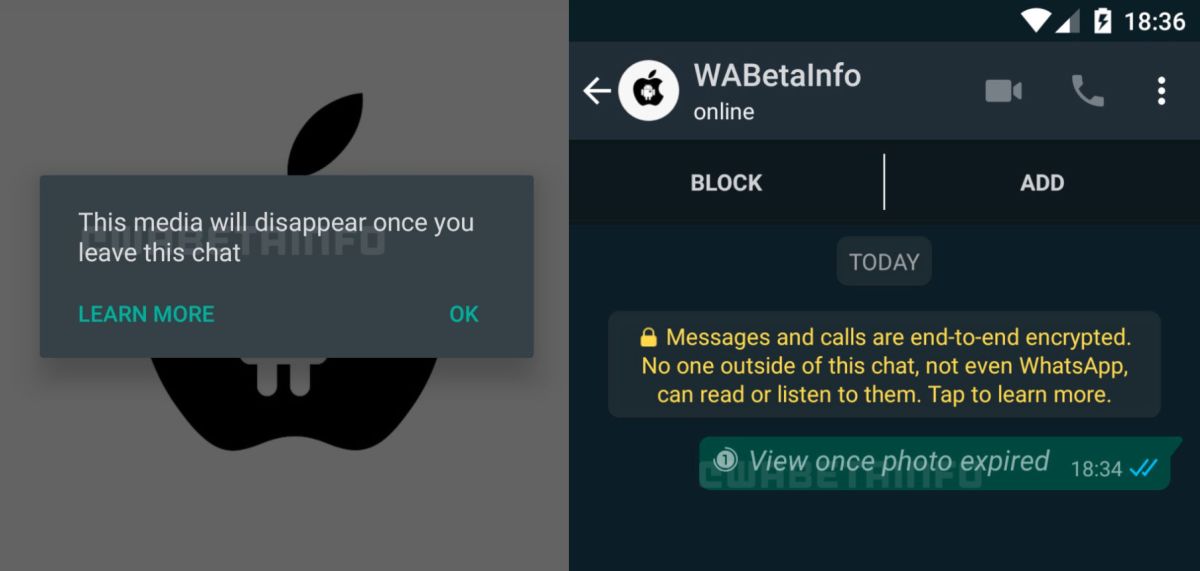 If you disable read receipts, the sender will still know if the view-once photo or video was opened but it is said that it won't work vice versa.
Unlike Snapchat and Instagram, there are no notifications for screenshots or screen recordings so it goes without saying that we should exercise caution with who we send single-viewing images or videos to.
Interestingly enough, a blocked contact in a common group will be able to see the time-sensitive view-once photos and videos as well. You will be able to view group members that have opened your quick picture or video under Message Info.
If you're already running on the latest beta version of WhatsApp, your "View Once" photos and videos will still disappear even if the receivers are still running on the current version of WhatsApp that doesn't have the "View Once" feature.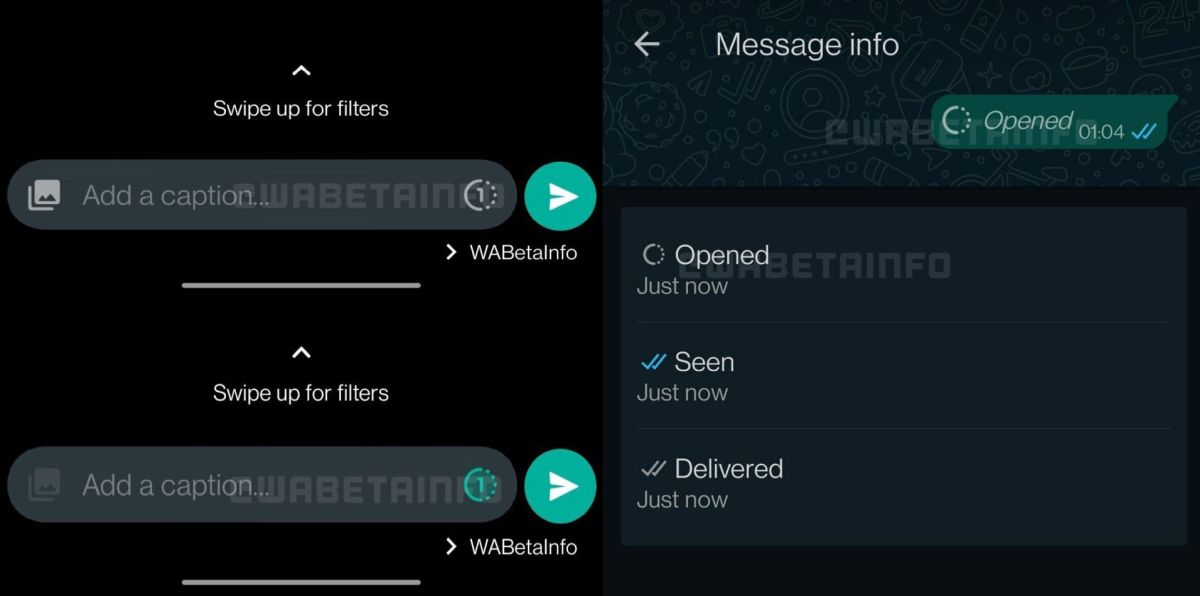 At present, the "View Once" feature is not officially released to all users just yet. According to WABetaInfo, the feature is available to all WhatsApp beta testers on Android and it will be rolled out soon for beta users on iOS.
This view-once feature appears to be part of WhatsApp's efforts to let users have more messaging privacy, as it rolled out its Disappearing Messages feature last year. The Facebook-owned instant messaging platform gained quite a bit of attention earlier in the year due to fears that it was exploiting data upon renewing its terms and privacy policy, even delaying the privacy terms update at one point.
In a chat interview with Mark Zuckerberg, WABetaInfo also shared that the instant messaging platform will soon allow users to use WhatsApp on up to 4 devices and it will still work even if your phone is not connected to the internet. In addition, WhatsApp will soon allow users to move their chat history between iOS and Android platforms, which is one of the most requested features.
[SOURCE, 2, IMAGE SOURCE, 2, 3]
Related reading