When the original Apple iPhone was first released back in June 2007, it would go on to sell over 6.1 million units before getting discontinued by July the next year. The latest iPhone 12 lineup meanwhile has already sold over 100 million units, and it hasn't even been a year since its debut in October 2020.
According to a new report by the research firm Counterpoint, the iPhone 12 series as a whole hit the 100 million sold figure back in April this year. This makes it one of the best selling iPhone lineups ever, taking only slightly longer than the iPhone 6 lineup. It completely outperforms the previous generation's iPhone however; the iPhone 12 series reached 100 millions units sold two months faster than the iPhone 11 devices.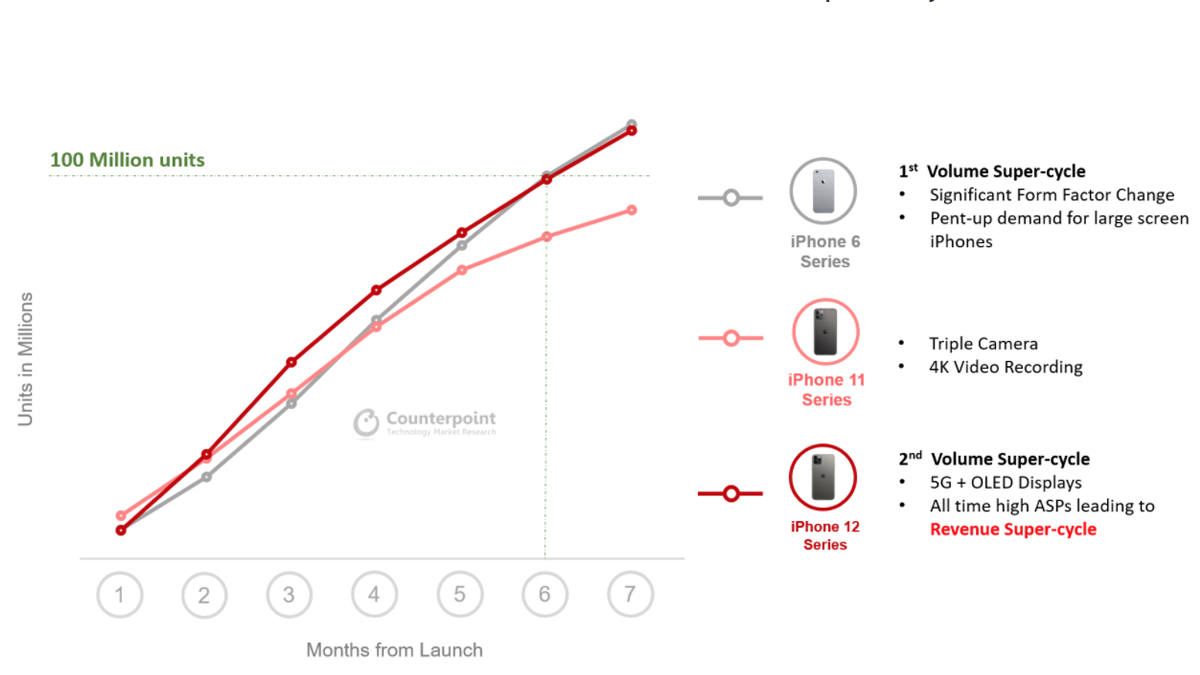 It's probably no surprise that the iPhone 12 models reached that milestone so quick. In the fourth quarter of last year, Apple's latest devices did so well that the Cupertino company became the number one brand in the global smartphone market. They sold a whopping 79.9 million units in just the last three months of 2020, edging out close rival Samsung, who sold 62.1 million units in the same period.
The strong iPhone 12 sales also showed a shift in model preference among consumers. Apple's high-end iPhone 12 Pro Max makes up for 29% in sales for the iPhone 12 series. In comparison, the iPhone 11 Pro Max was just 25% of overall iPhone 11 series sales.
One reason could be due to the iPhone 12 Pro Max having a number of choice upgrades—more RAM, 5G support, A14 Bionic chip—over the last generation device, while being priced the same. Another reason could be that the COVID-19 pandemic meant more people delayed switching to a new device, only doing so by the end of 2020 onwards.
Meanwhile, at the bottom end of the iPhone 12 lineup, things aren't as rosy. The 12 Mini suffered from disappointing sales, so much so that they had cut production of it by 2 million units in January, shifting production capacity to make more iPhone 12 Pro units instead. It only got worse though, with Apple apparently ending production of the compact smartphone back in June.
Apple however probably won't mind that. Thanks to the strong performance of the iPhone 12 series, they've hit a record-high market share of the smartphone market. If they can keep it up with the rumoured earlier debut of the iPhone 13 lineup, Apple could be in for a really good time.
Related reading