[ UPDATE 23:00 11/07/2021 ]: "Doge to the Moon" sold for 36.3 ETH, which is more than RM325,000. More details here.
===
Malaysian artist Red Hong Yi has put up her first artwork in her NFT collection 'Memebank' for auction online. The bid for the artwork, Doge to the Moon, is already at 0.27 ETH (Ether) or RM2,225.71 and those interested will still be able to bid for it until the auction ends in 11 July 2021.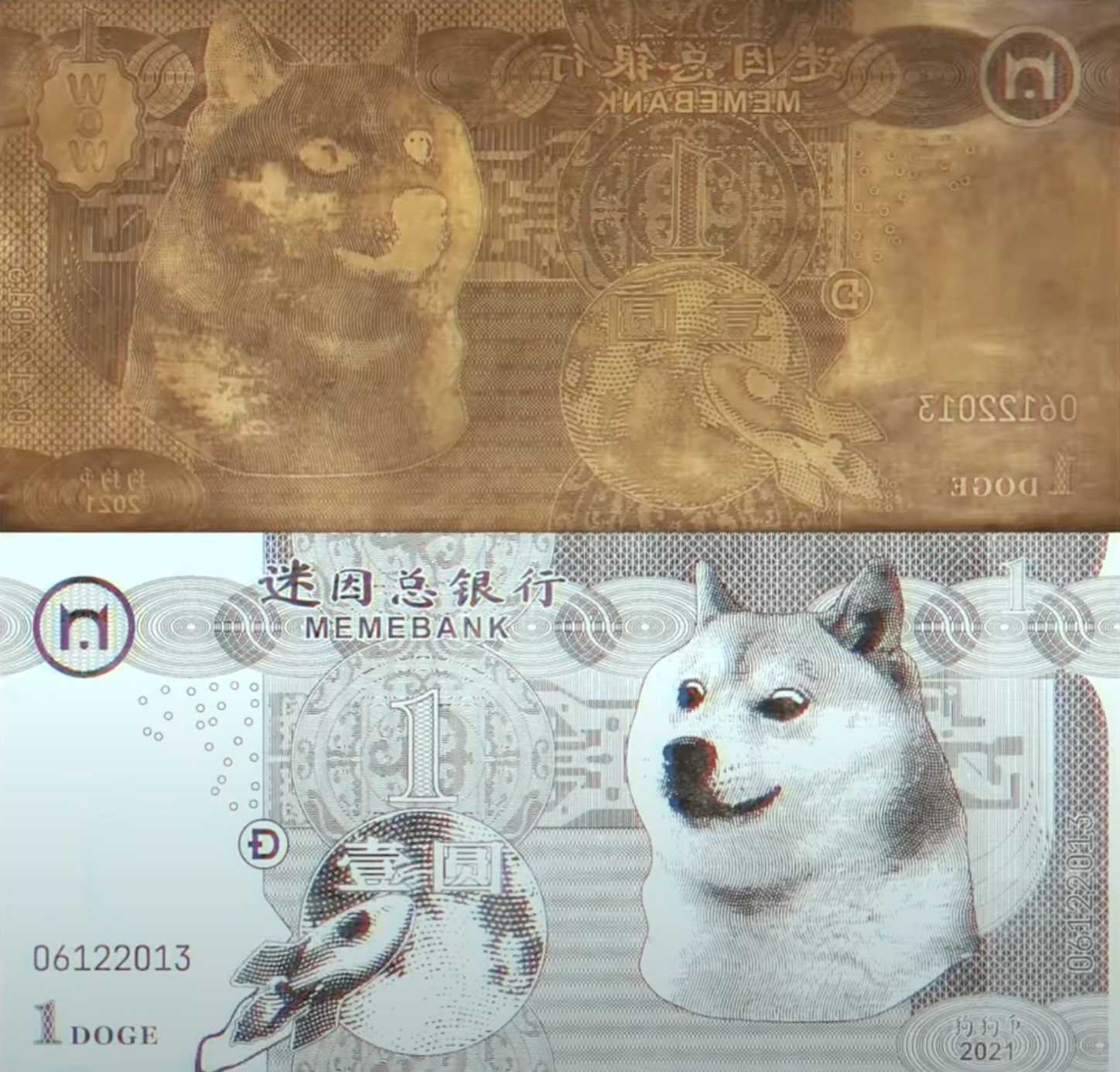 Doge to the Moon is Red's first artwork based on a series called "Memebank", which will involve spoofing and redesigning banknotes from different countries. The artwork is based off the Chinese Yuan.
"My banknotes are printed through an etched copper plate, allowing me to print as many banknotes as I want to but like an NFT, there will only ever be one master plate. The owner of the NFT will also own the copper plate!" wrote Red.
Based on her video, Red explains how she and her team created Doge to the Moon. It included making a huge printing plate out of copper, laser cutting and dipping it into ferric chloride to "eat up" the exposed copper. She also talked about the idea behind her creation—inflation due to the continued printing of paper money.
"I guess that was inspiration for me to go 'Hey, maybe I can print my own money in a way to troll banks to show that once I have a printing plate, I can have as many as I want," said Red.
There has been some criticism from her fans, as she previously addressed their concerns about how NFTs can affect the environment negatively. After all, Red rose in popularity after her incredible artwork about climate change was featured on the cover of the April 2021 edition of Time magazine.
However, she insisted that she "has done a lot of research" regarding NFTs and that she is "merely an artist who has been speaking to computer scientists to understand this technology better". According to Red, she wanted to "merge the physical and digital worlds together".
"What fascinates me about NFTs is that (the artwork) will be registered on the Blockchain. It is a proof-of-authenticity for an artwork and that its benefits can extend to a lot of industries too," said Red.
Red stated that the NFT is the "first of 6 in the series", and that you can bid on it until 11 July through Binance. But take note that Binance is not authorised to carry out cryptocurrency trading in Malaysia by the Securities Commission.
[ SOURCE, IMAGE SOURCE ]
Related reading