Astro and Netflix have announced a partnership which will enable Astro subscribers to enjoy Netflix content on the big screen directly on their Ultra or Ulti connected boxes. Similar to its recent Disney+ Hotstar bundle, Astro customers can enjoy greater value and convenience with easy payment in a single bill.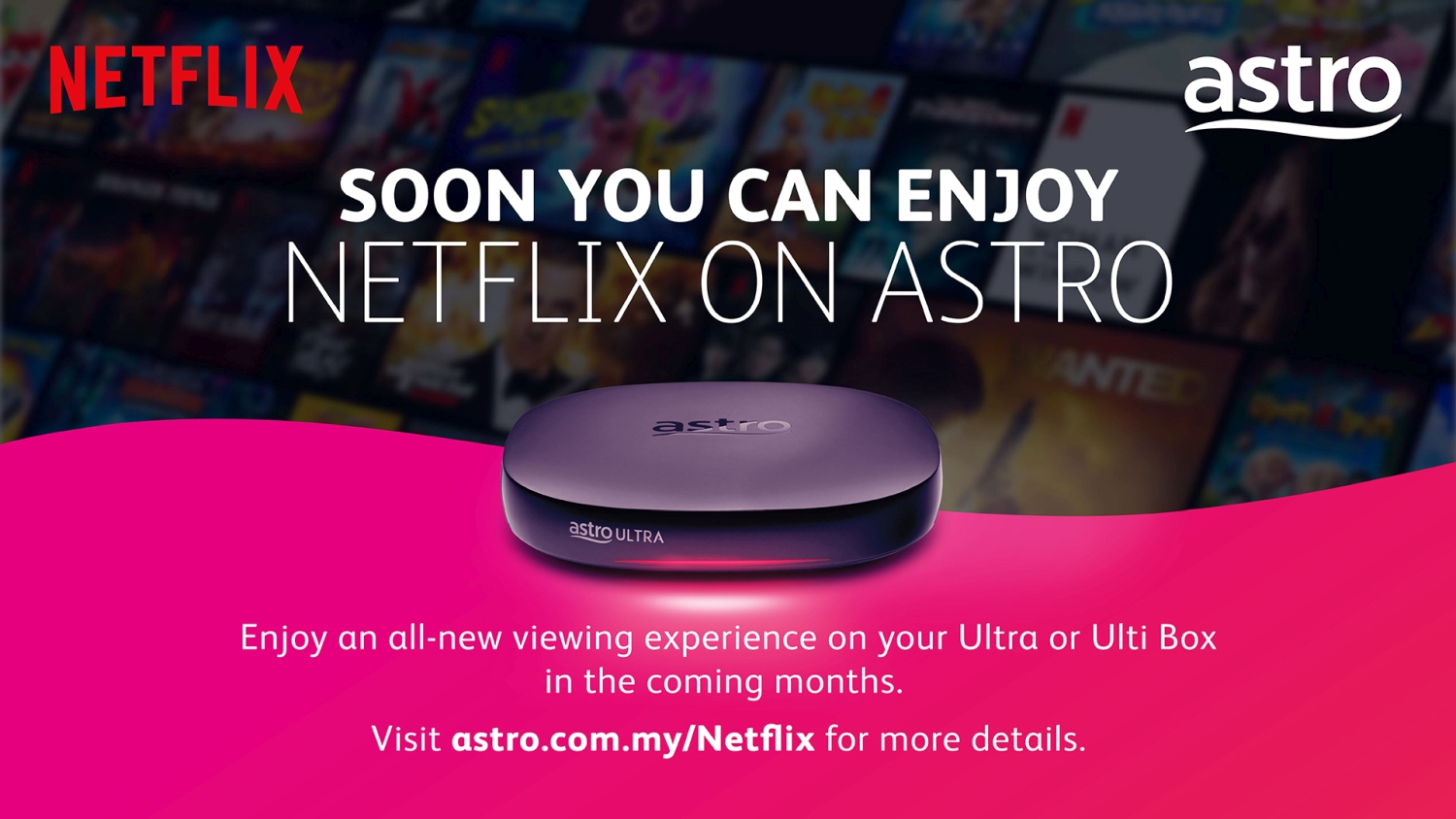 According to Astro, Netflix will be integrated into its 4K capable Ultra Box at the time of launch and it will also be made available on its Ulti Boxes in the coming months. Astro has not provided a specific launch date and it isn't clear if Netflix is offered as an option or pre-bundled into his Movies Pack. Besides Disney+ Hotstar, Astro Movie Packs customers can currently enjoy free access to HBO Go.
The official FAQ states that pricing, billing and availability will be revealed in the coming months. It would be interesting to see if Astro Movies Pack customers are given options to subscribe to a Netflix premium plan at a cheaper rate. At the moment, Astro is running registration of interest on its Netflix page.
Astro CEO Henry Tan said "Our partnership with Netflix consolidates Astro's position as the No.1 entertainment destination for Malaysians by offering the best streaming services alongside our own best-loved originals, vernacular signatures, live sports and local blockbuster movies. Our announcements to date will extend our leadership in delivering the best entertainment experience to Malaysians."
Commenting on the partnership, Netflix Vice President for Business Development APAC Tony Zameczkowski said "From Hollywood films like Army of the Dead, to top series like La Casa de Papel from Spain, Lupin from France, and great Korean dramas like Vincenzo, we believe that great stories can come from anywhere and be loved everywhere. I'm thrilled that our partnership with Astro allows us to bring a world-class multi-device entertainment experience to more Malaysians."
When Astro announced its partnership with Disney+ Hotstar, they increased the subscription fee for Movies Pack by RM5 extra per month. At the moment, Astro customers can only access Disney+ Hotstar content on smartphones, tablets, computers, or on Android TV and Apple TV devices. Astro aims to integrate Disney+ Hotstar into its Ultra and Ulti Boxes later this year.
At the moment, Netflix has a total of 5 plans. The highest Premium option which allows 4K HDR streaming and up to 4 simultaneous devices is currently priced at RM55/month. Recently, the streaming service had introduced a new mid-tier Mobile+ option that allows you to stream Full HD 1080p content on your phone, tablet and desktop computer for RM25/month.
Related reading