After announcing an extension of the current "total lockdown", Senior Minister Datuk Seri Ismail Sabri Yaakob has said that the government will review the need to continue or to loosen movement control order restrictions if the daily COVID-19 cases drop below 4,000. He added that the 4,000 cases per day target was set by the Ministry of Health with the aim of reducing the daily infectivity rate.
The Minister said that he was informed by both Health Minister Dr Adham Baba and Health Director-General Dr Noor Hisham Abdullah that the MCO can be reviewed once cases are down to 4,000. He said this doesn't mean the end of MCO but it may review the existing SOPs that can be relaxed. The last time Malaysia recorded less than 4,000 cases was on the 16th of May 2021.
When the current "total lockdown" was announced, it was supposed to be implemented in three phases. Once the COVID-19 situation improves, Malaysia can move into lockdown phase 2 where more business sectors can be reopened. If the new cases drop further, phase 3 can kick in where almost all economic sectors can open with strict SOP.
Since Malaysia continues to record over 5,000 new COVID-19 cases daily, the current phase 1 of total lockdown has been extended by another two weeks until 28th June 2021.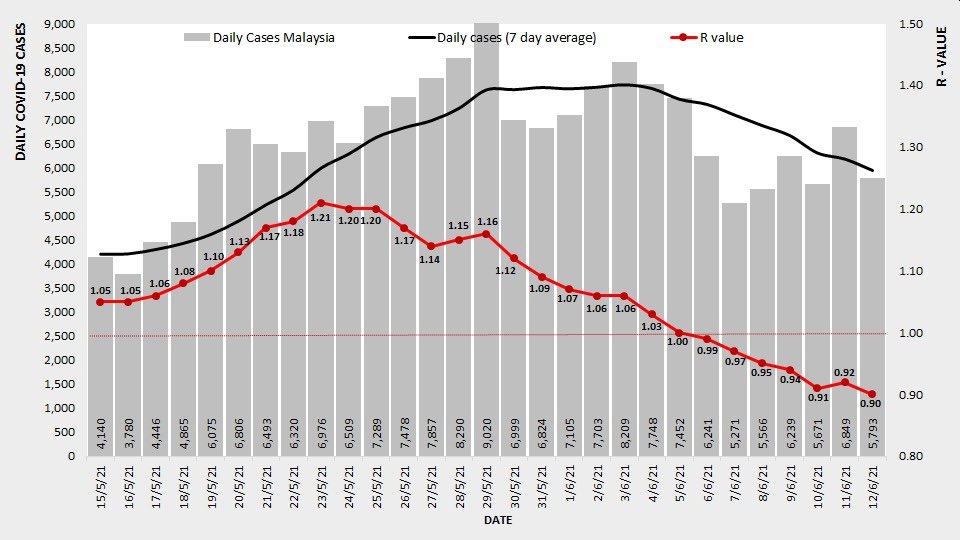 As shared by Dr Noor Hisham, the COVID-19 infectivity rate (R0) has been hitting below 1.0 in the past week. Malaysia has also been recording more recoveries than new COVID-19 cases for 6 straight days, however, the number of new COVID-19 fatalities remains high with an average of 79 deaths per day in the last 7 days. There are still over 900 COVID-19 cases in ICU and over 450 of them requiring ventilators.
To get Malaysia out of this dire situation, vaccinations are currently being accelerated with the goal of getting 80% of the population vaccinated by end of this year. As of yesterday, almost 10% of the population have received at least one vaccine dose and the national COVID-19 immunisation programme aims to ramp up vaccinations to 300,000 per day by August.
[ SOURCE ]
Related reading