Huawei has announced two new smartwatches – the Huawei Watch 3 and Huawei Watch 3 Pro. What makes them stand out over their previous smartwatches however is that both new devices will be running the HarmonyOS 2 operating system on them. This will be the third operating system the Chinese giant has used for its smartwatches, having previously used Android Wear and then later LiteOS on its smartwatches.
Hardware specs
The Watch 3 comes with a 1.43-inch, 466×466, AMOLED watchface, with support for fullscreen touch operations such as swiping, tapping, pressing and holding. It comes with an edge-to-edge screen, so instead of a rotating bezel you control it with the crown, similar to the Apple Watch.
Built from stainless steel and ceramic, it weighs 54g and is 46.2mm x 46.2mm x 12.15mm. Along with HarmonyOS 2, the Watch 3 has 16GB of storage and 2GB of RAM in it.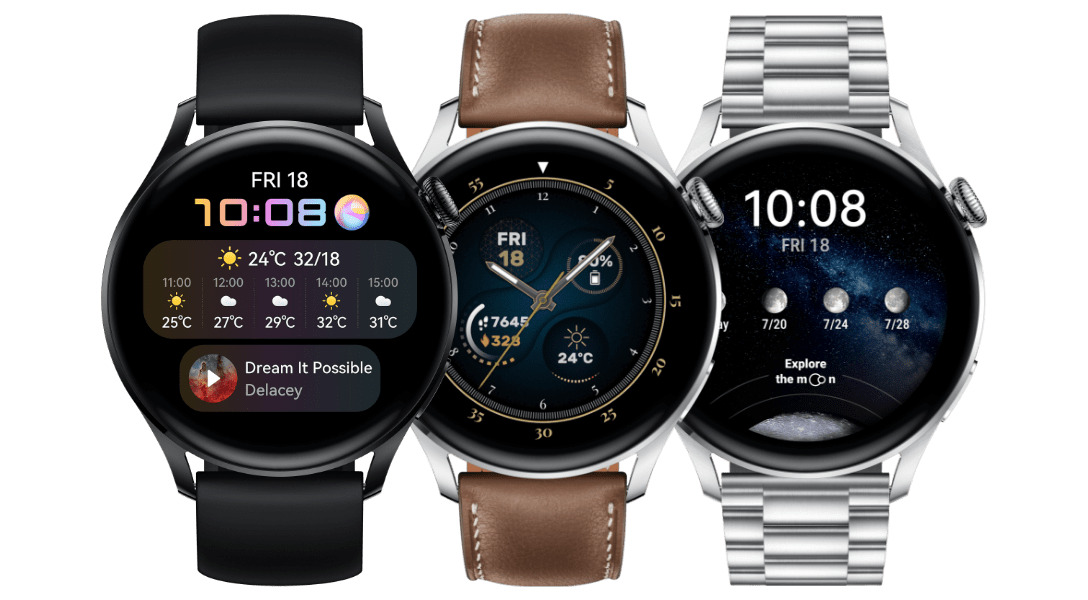 For the first time, Huawei has included a high-precision temperature sensor in the Watch 3 to support skin temperature detection. There's also new features such as handwashing and fall detection, allowing for better monitoring of workout progress and health conditions. As for connectivity, Huawei has included in the Watch 3 eSIM support, letting users share phone numbers between their smartphone and the smartwatch. You can also answer MeeTime calls with the Watch 3 too.
Battery-wise, Huawei says you can expect the Watch 3 to last for up to 3 days when in smart mode. Switching the device to ultra-long battery life mode however would net you up to 14 days of use.
As for the Huawei Watch 3 Pro, it looks pretty similar to its non-Pro sibling, and for the most part has similar features too, but offers a few choice upgrades over the base model. For one, the Watch 3 Pro offers a significantly longer battery life over the Watch 3, getting five days of battery life in smart mode while getting 21 days when switched to ultra-long battery life mode.
The Watch 3 Pro's casing is also made of titanium and ceramic, and has slightly bigger dimensions at 48mm x 49.6mm x 14mm. It's also a tad heavier, weighing in at 63g.
Price and availability
The Huawei Watch 3 comes in three different options: Active, Classic and Elite Edition. The Watch 3 Pro meanwhile will come in either Classic or Elite Edition.
According to Huawei, the smartwatches will be made available this month, although local prices were not revealed. That being said, the prices for the United Kingdom have already been announced, which are GBP 349.99(about RM 2,042.57) for the Watch 3 and GBP 499.99(about RM 2,917.99) for the Watch 3 Pro.
In the meantime, you can check out the product pages for the Watch 3 and Watch 3 Pro here.