As Malaysia goes into total lockdown starting tomorrow, Astro is giving free access to a selection of Kids, News and Bollywood movie channels for a period of two weeks starting from 1st June. According to the pay TV provider, they are committed to serving Malaysians during these challenging times by keeping them informed and entertained.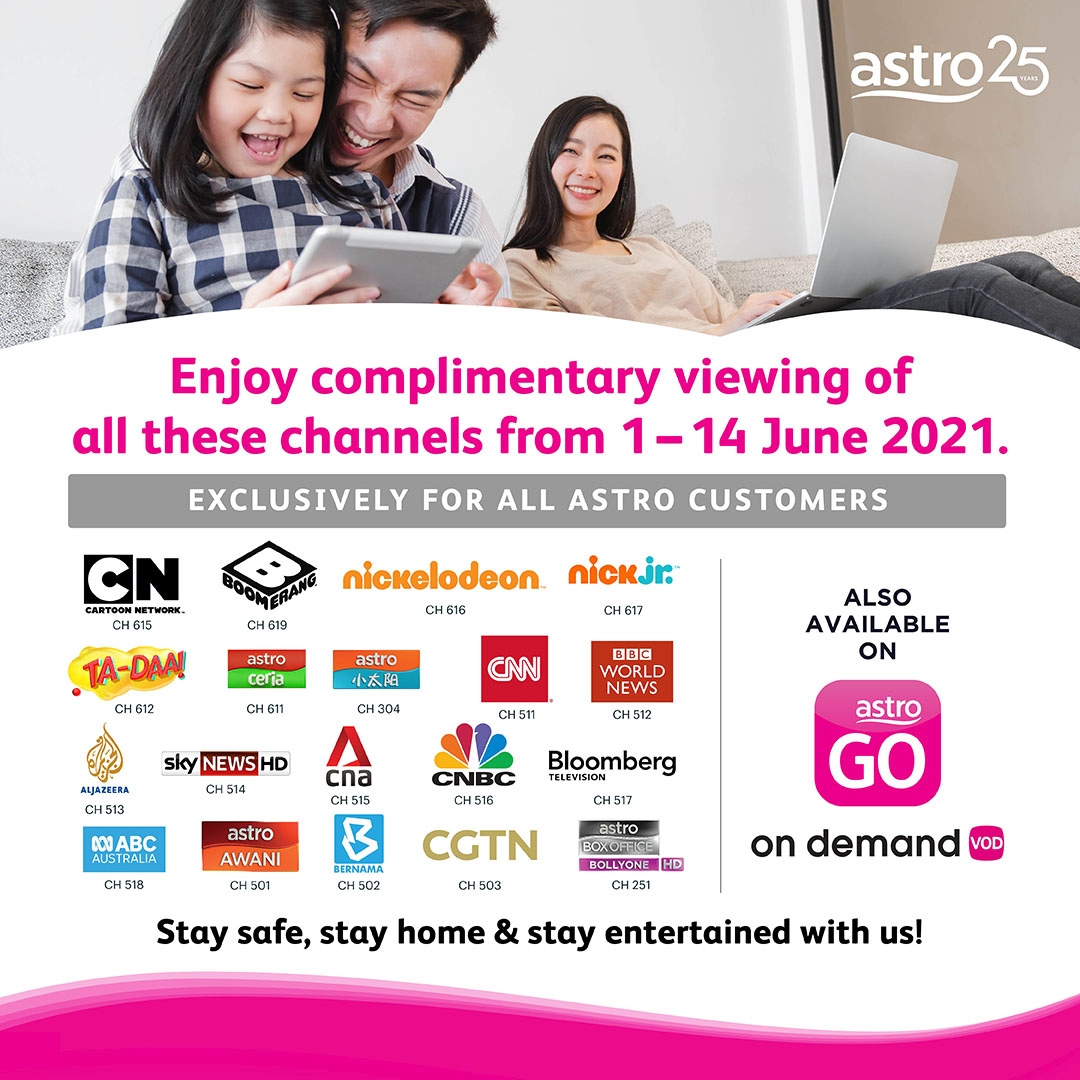 The complimentary access covers the following channels:
Kids Channel
Ta-Daa! (CH 612)
Cartoon Network (CH 615)
Nickelodeon (CH 616)
Nick Jr (CH 617)
Boomerang (CH 619)
Astro Ceria (CH 611)
Astro Xiao Tai Yang (CH 304)
News Channels
Astro Awani (CH 501)
CGTN (CH 503)
CNN (CH 511)
BBC World News (CH 512)
Al-Jazeera (CH 513)
Sky News (CH 514)
Channel News Asia (CH 515)
CNBC Asia (CH 516)
Bloomberg TV (CH 517)
ABC Australia (CH 518)
Astro Box Office Movies
You can also enjoy the free channels on your mobile device by downloading the Astro Go app from the Apple Appstore and Google PlayStore. Alternatively, you can also access Astro Go on their website.
In case you missed it, Disney+ Hotstar will be available in Malaysia starting from 1st June. If you're an Astro Movie Pack customer, your monthly subscription will be increased by RM5/month as all customers will get access to Disney+ Hotstar streaming service. For non-Astro customers, you can subscribe to the service standalone for RM54.90 for 3 months via the official app.
Related reading