The COVID-19 Immunisation Task Force and Selangkah are at loggerheads over allegations of phantom vaccine registrations for AstraZeneca. Selangkah's developer Dr Helmi Zakariah had refuted the allegations and have pointed out that the issue of sudden appointment change is also happening outside of Selangor. Now it appears that there could be a bigger issue with the vaccine registration system which affects not only AstraZeneca but also the mainstream programme which currently administers Pfizer and Sinovac.
Yesterday evening, it turns out several individuals were given appointments at centres located over 1,500 kilometres away from their current address. Twitter user @Zarn_G, who shared that his dad who is residing in Johor was given an appointment in Lahad Datu which is across the South China Sea. Although interdistrict and interstate travel is permitted for the purpose of vaccination, taking a return flight to East Malaysia just to get the jab is obviously not acceptable.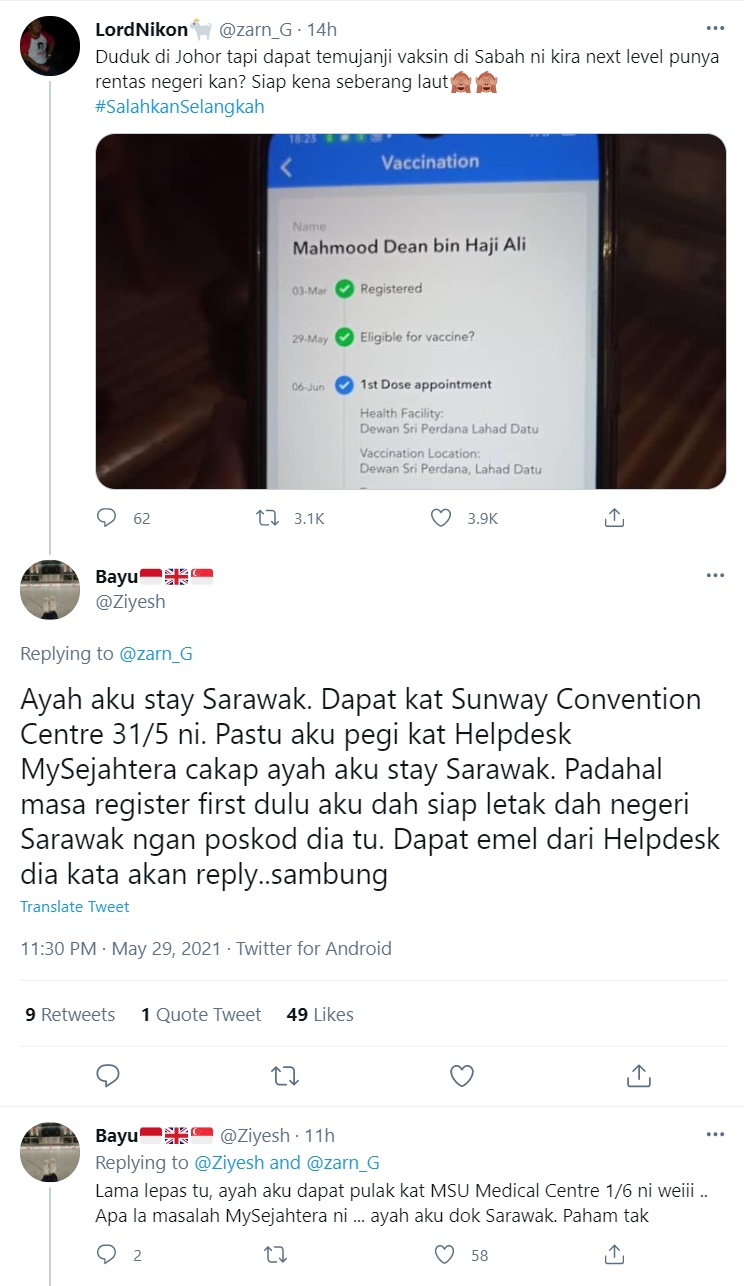 In another tweet, @Ziyesh shared that his/her father was given an appointment at Sunway Convention Centre in Subang Jaya on 31st May but the issue is that the person who is supposed to get the jab is actually residing in Sarawak. After that, the appointment was then changed to MSU Medical Centre on the 1st of June which is located in Shah Alam.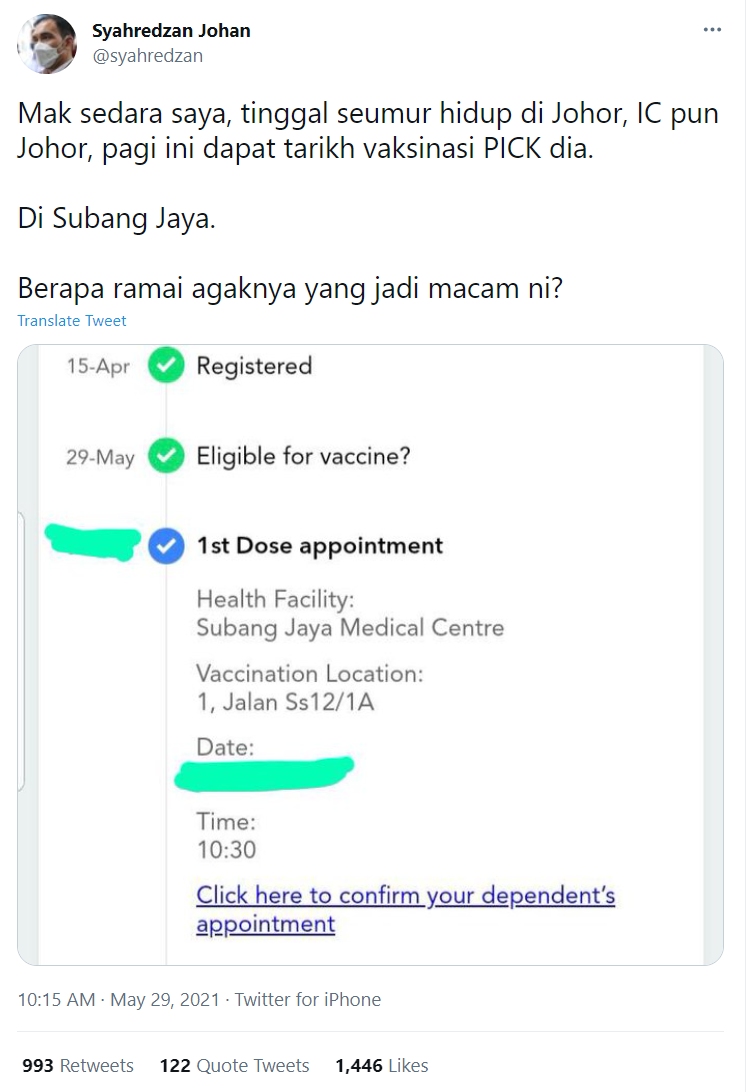 Some appointments weren't as far but it is equally as inconvenient. Civil liberties lawyer Syahredzan Johan shared that his relative who has been staying in Johor throughout her life was given an appointment at Subang Jaya Medical Centre. He managed to contact JKJAV and they have informed him that they will change the location which will be reflected in MySejahtera soon.
This whole issue raises concerns about the vaccine registration and appointment system. What happens to those who don't check their MySejahtera app or don't own a smartphone? Syahredzan also questioned if the high number of no-shows for vaccination was due to hesitancy or due to problems with the system. He said it isn't right to just blame the people for failing to turn up for the jabs and there could be another side of the story.
It was recently reported that over 52,000 people have missed their COVID-19 vaccinations in 7 states. Kedah, Pahang and Kelantan tops the list with about 10,000 no-shows each, followed by Perak (9,009), Negeri Sembilan (6,323), Melaka (3,612) and Perlis (3,000).
During the initial Phase 2 rollout which mainly targets senior citizens, Khairy shared that 57% have failed to respond to the vaccination appointment. Out of 31,776 individuals who have been notified, 18,215 didn't respond at all.
At the moment, there are multiple ways for people to register for the vaccine which include MySejahtera, Vaksincovid.gov.my, call-in at 1-800-888-828 as well as manual registrations at healthcare centres and outreach programmes.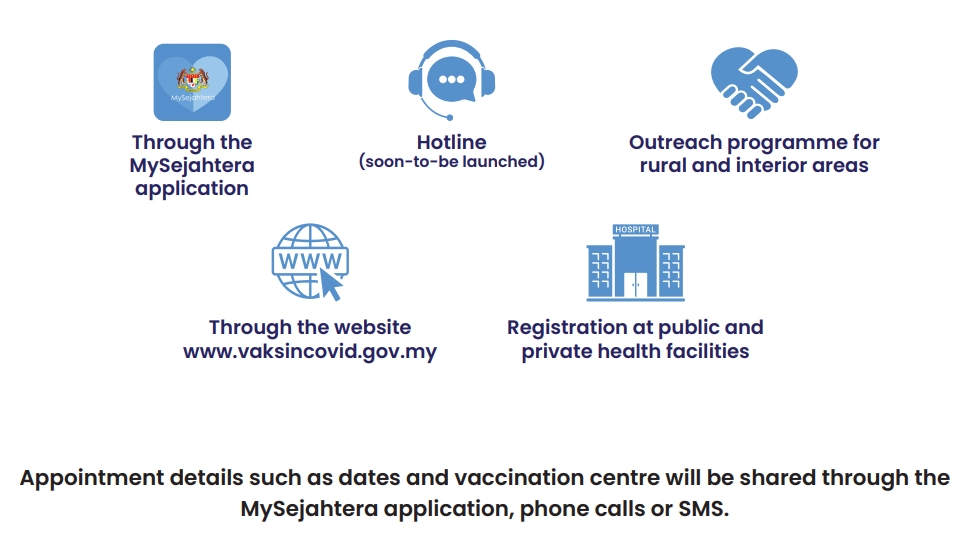 As we've discussed previously, there's a concern that the vaccine registration info isn't synced properly and that's the reason why the status on the website might be different from MySejahtera. If you created your MySejahtera account using your email instead of your phone number, you might not be able to find your registration status on the online status checker.
There are some instances where individuals only got their appointment notifications after their scheduled date. Meanwhile, there are others that didn't get notified about the vaccine appointment via MySejahtera or SMS at all. Instead, they got contacted by the vaccination centre via phone call.
Related reading