It's been over a year since the Honor 30 series was launched back in April of 2020, and since then it's gone through a change of ownership as well. Many fans of the brand have been patiently awaiting for the series' followup, and it appears as though we will get that in the form of the Honor 50 series.
Perhaps the biggest part of the new Honor 50 lineup though might be that it's set to come with Google Mobile Services (GMS) – at least that's according to a now-deleted tweet by Honor Germany, in response to a query about GMS in the Honor 50. This potentially makes it the first Honor device to have GMS included since the US sanctions imposed on Huawei back in May 2019.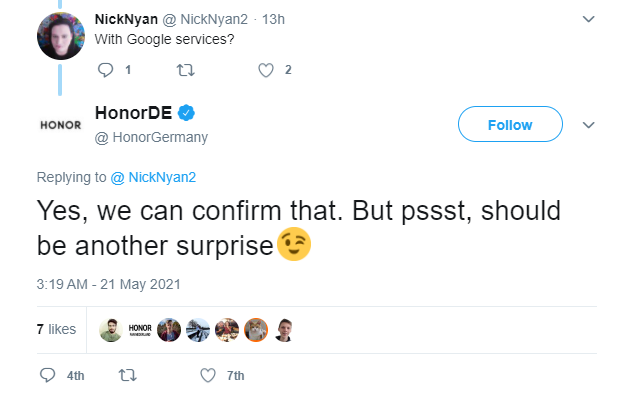 Seeing that the tweet has been deleted, it may be hard to be completely sure about GMS in the Honor 50 lineup for now. But what we can be sure though is that it is set to be powered by the Snapdragon 778G, a newly announced SoC from Qualcomm.
Other rumours surrounding the upcoming Honor 50 include a possible Pro variant with the Snapdragon 888 under the hood, as well as a triple camera setup using a 50MP main camera. Curiously, it seems as though Honor will be retaining the Magic UI interface used since its Huawei days.
That being said, only time would tell as for whether or not it the inclusion of GMS and a Snapdragon SoC would be enough to bring the Honor brand back to the big time.
Related reading