[ UPDATE 23/05/2021 15:00 ]: Village Grocer currently does not allow individuals with "Casual Contact with No Symptoms" from entering their stores. This has been confirmed at their Plaza Arkadia outlet and they only accept individuals with "Low Risk with no symptoms".
According to the latest SOP issued by the National Security Council, premises are only allowed to accept customers with Low Risk status including Casual Contact Low Risk status in the MySejahtera app.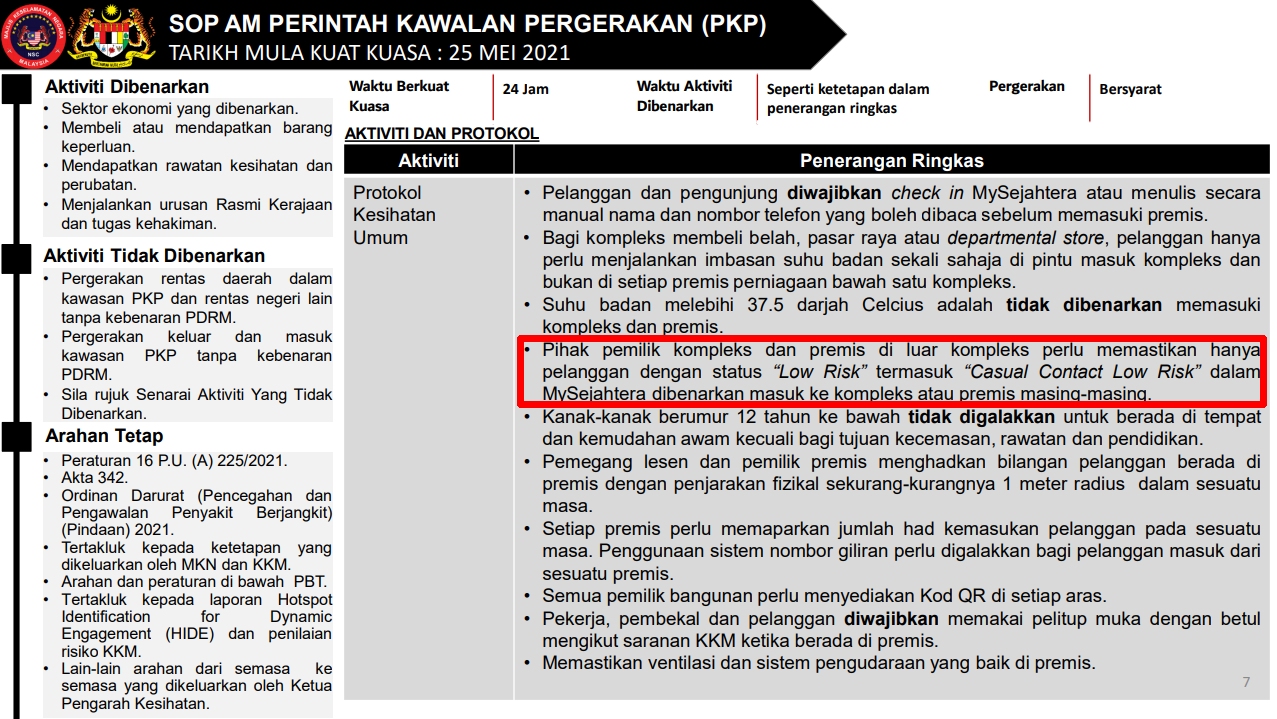 ===
Since last week, the National Security Council has announced that all premises are only allowed to grant entry to individuals who are listed as "low risk" under the MySejahtera app. But what happens if you've received notification that you may have come into contact with a COVID-19 positive individual on MySejahtera?
What is Casual Contact?
If you got the message, you are required to answer 3 self-assessment questions which include your current health condition and whether or not you've made close contact with a confirmed COVID-19 positive case. If you don't have any symptoms, your MySejahtera app will display the status Casual Contact, No Symptoms (Kontak Kasual Tidak Bergejala).
You probably got this message after a positive case has been reported at a location that you've checked-in previously. Unfortunately, MySejahtera doesn't reveal the location of the positive case.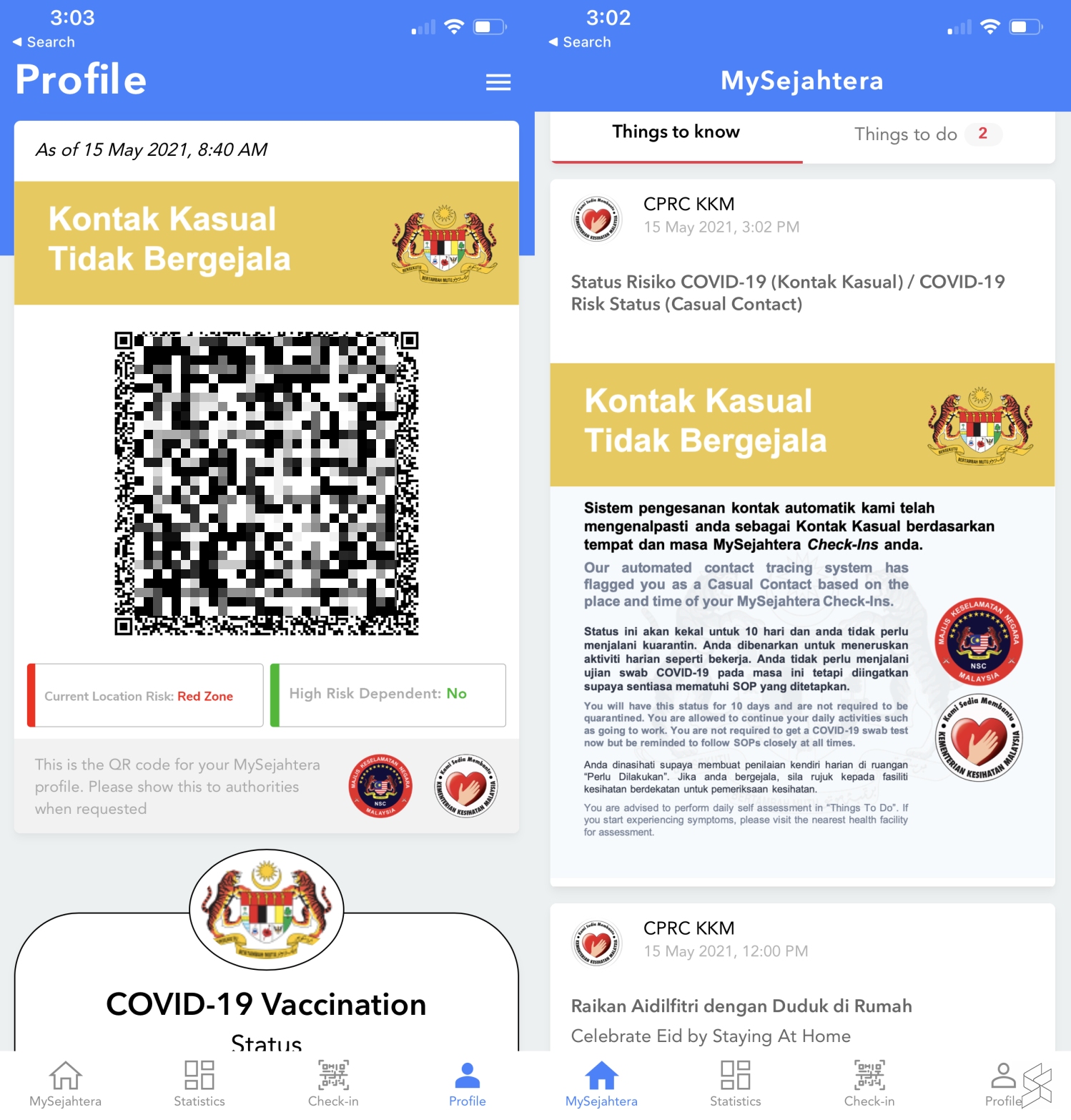 According to the description, this status will be displayed for 10 days and there's no need for you to be quarantined or go for a COVID-19 test. However, you are required to complete the health assessment questions for the next 10 days. If you start experiencing symptoms such as fever, cough and etc, you are urged to seek medical treatment immediately.
Can you still enter malls?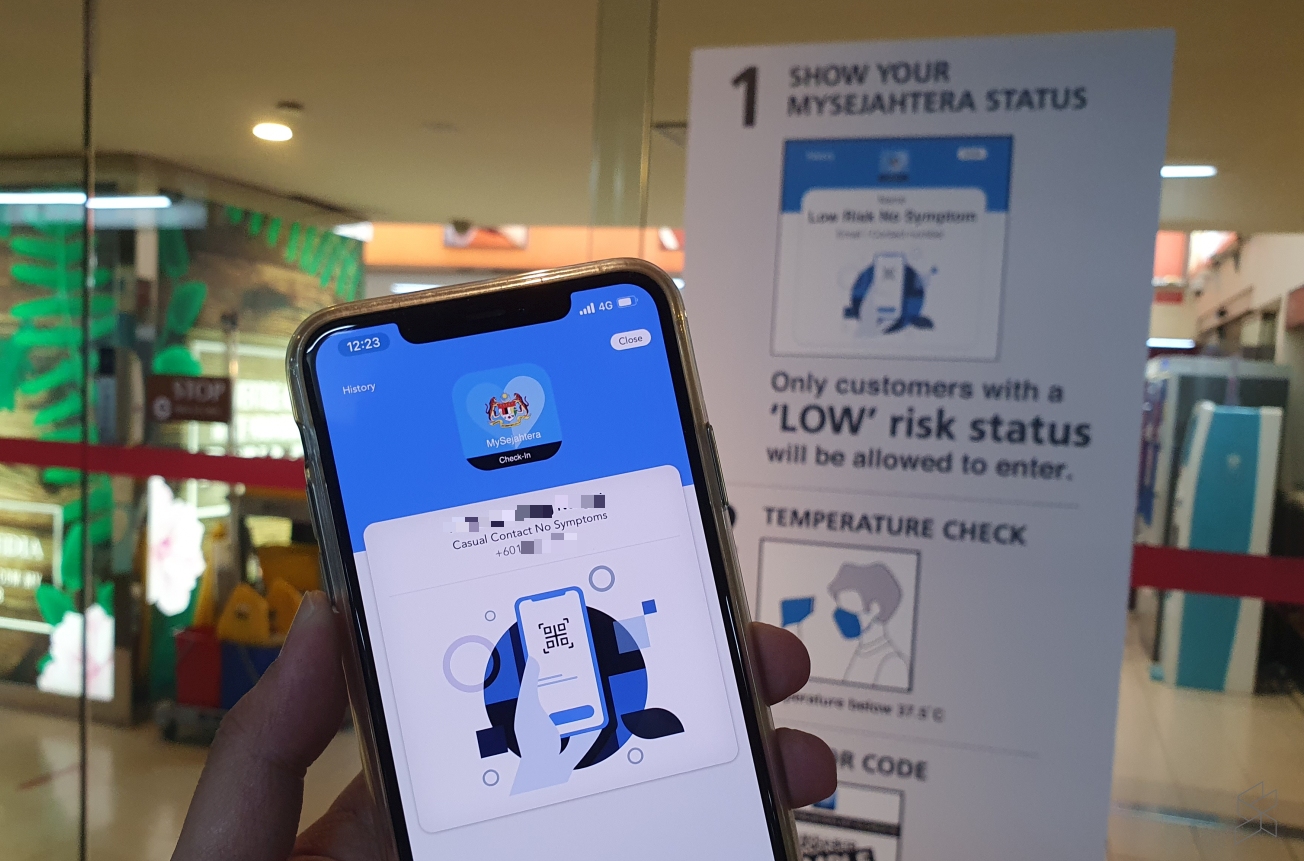 According to the SOP, only customers with "Low risk" status are allowed to enter. If you've completed your health assessment and you don't have any symptoms, you are deemed as "low risk".
Depending on the premises, some would want to check your MySejahtera app before you check-in while others require you to check-in first before showing the status.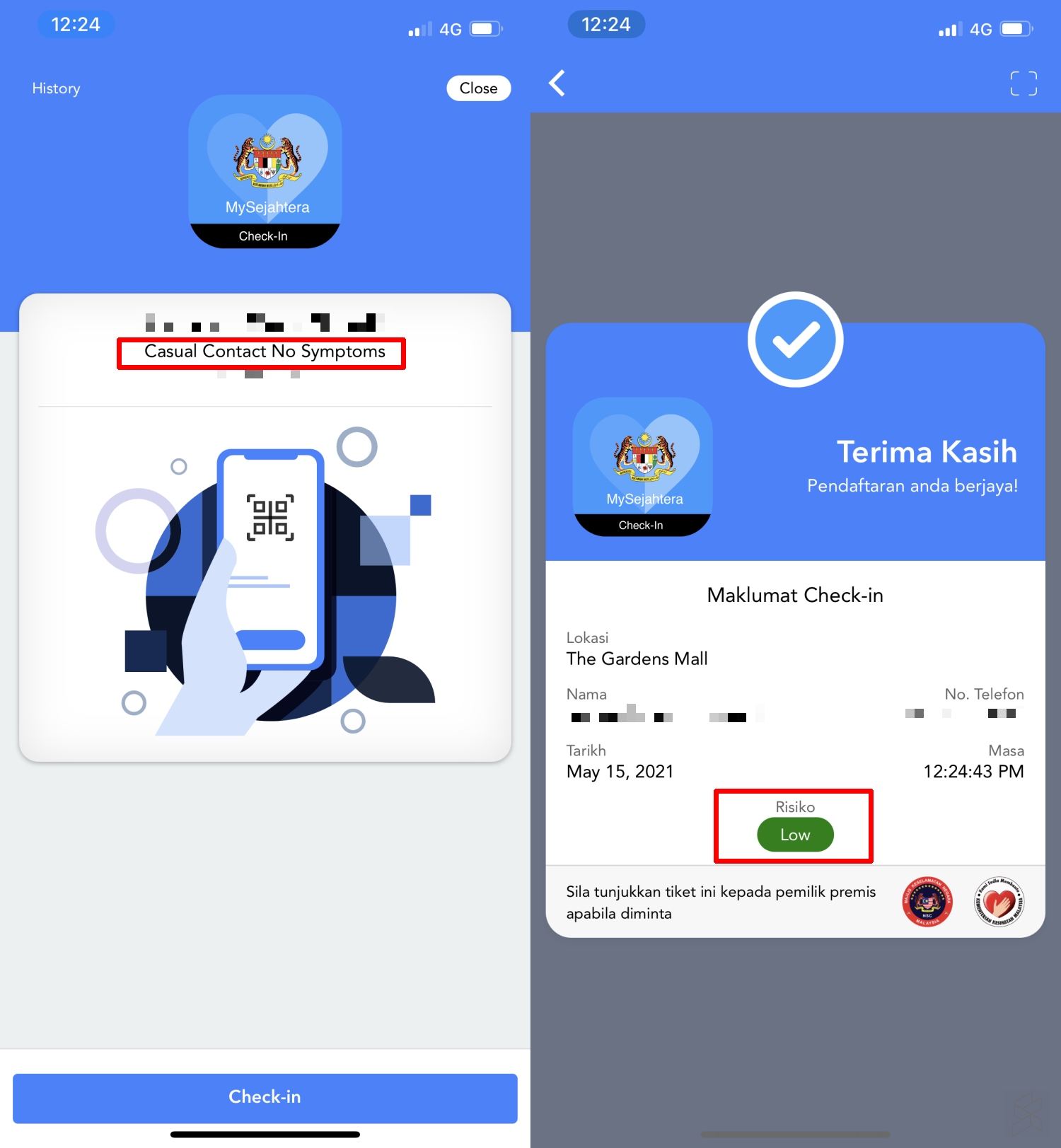 Before scanning the QR code, the app will show "Casual Contact No Symptoms". After you've checked in, the app will display your risk status as "low". Either way, you are allowed to enter.
Individuals with "High Risk" status will not be allowed to enter.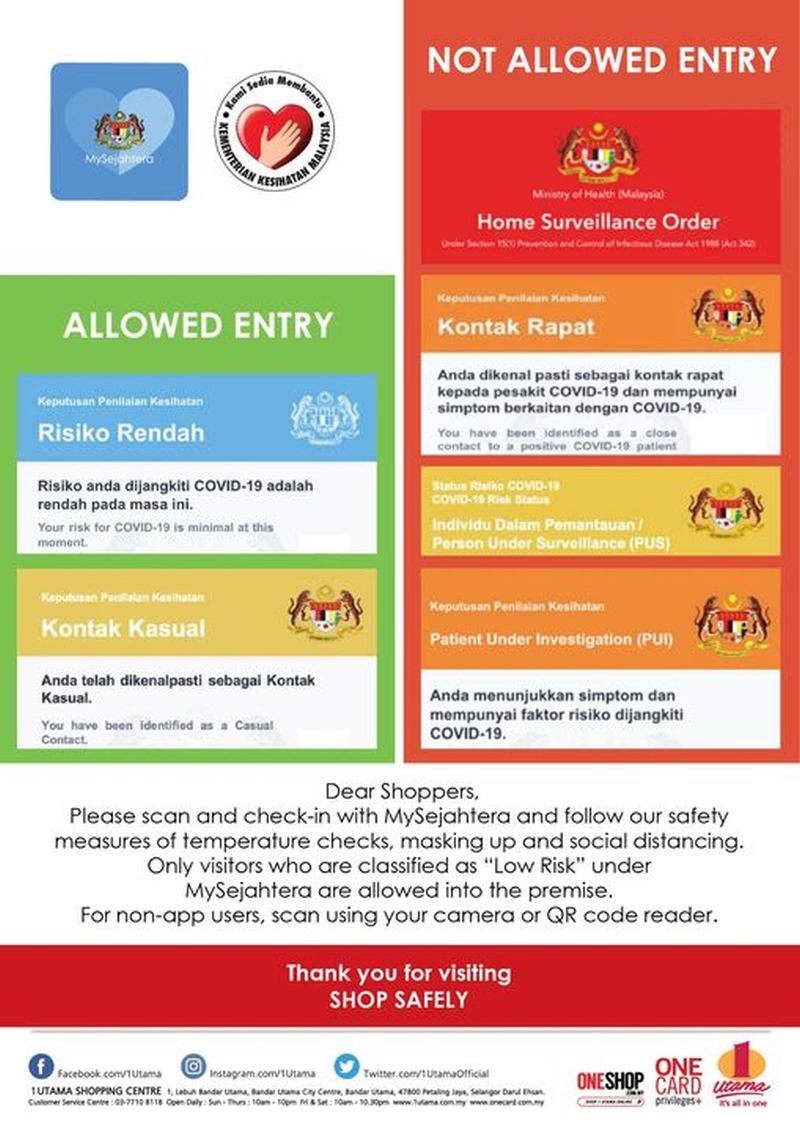 To provide clarity, 1 Utama has shared on Facebook about its risk status inspection for those planning to visit the mall. Individuals with Low Risk (Risiko Rendah) and Casual Contact (Kontak Kasual) will be allowed entry. If your MySejahtera app is showing other statuses such as Home Surveillance Order, Close Contact and Patient Under Investigation (PUI), you will be denied entry.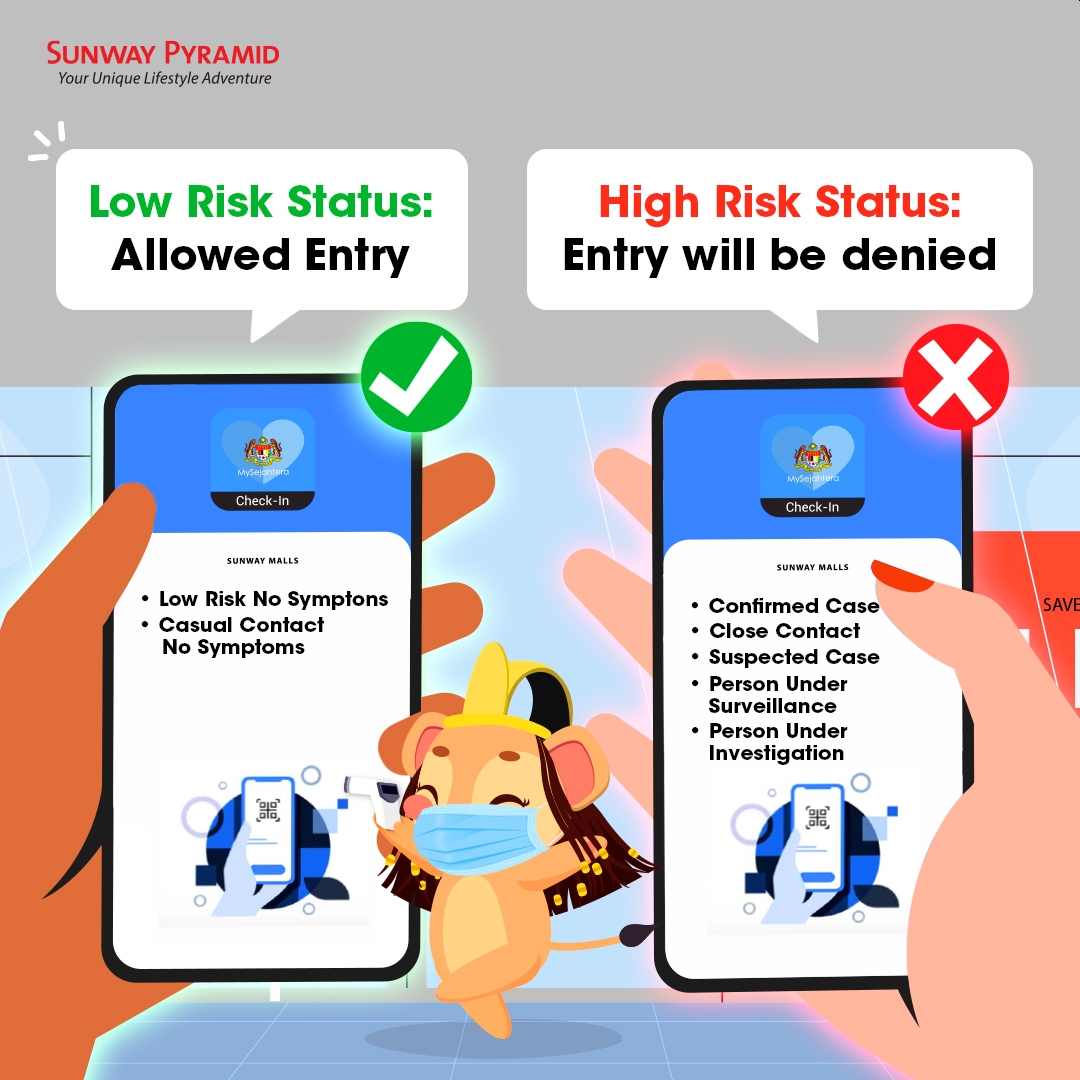 Sunway Pyramid also has a similar policy where it will allow individuals with Casual Contact with No Symptoms to their premises as well as people with low risk and no symptoms. Entry will be denied to those who are considered high risk including confirmed cases, close contact with suspected case, person under surveillance and person under investigation.
The COVID-19 immunisation task force (JKJAV) had also tweeted that individuals with Casual Contact status are still permitted to get vaccinated. However, if you're experiencing symptoms such as fever and cough, you're not allowed to enter the vaccination centre.
As always, if you don't have any good reasons to go out, please stay at home as much as possible. Go out only if absolutely necessary such as buying groceries, food or medication.
Malaysia has recorded over 4,000 new COVID-19 cases for 4 straight days and there are now over 42,000 active cases remaining. Today also marks a new record high of 44 deaths, which is the highest reported in a day since the start of the pandemic. Health D-G Dr Noor Hisham has shared that Malaysia's COVID-19 infectivity rate hovers at 1.14 and Malaysia could record 8,000 cases in a day by first week of June.
Related reading