If you need unlimited data for you and your family, Maxis has introduced its new Family Plan which comes with 4 postpaid lines and 1 home broadband from RM299. For your home, you can get either fibre or a fixed 4G powered broadband.

For RM299 a month, you'll get four postpaid lines that come with unlimited data, calls and SMS. The price includes 30Mbps fibre broadband with backup 4G which kicks in when your fibre line goes down. If you're out of fibre coverage, you can opt for their Home 4G WiFi solution for the same price.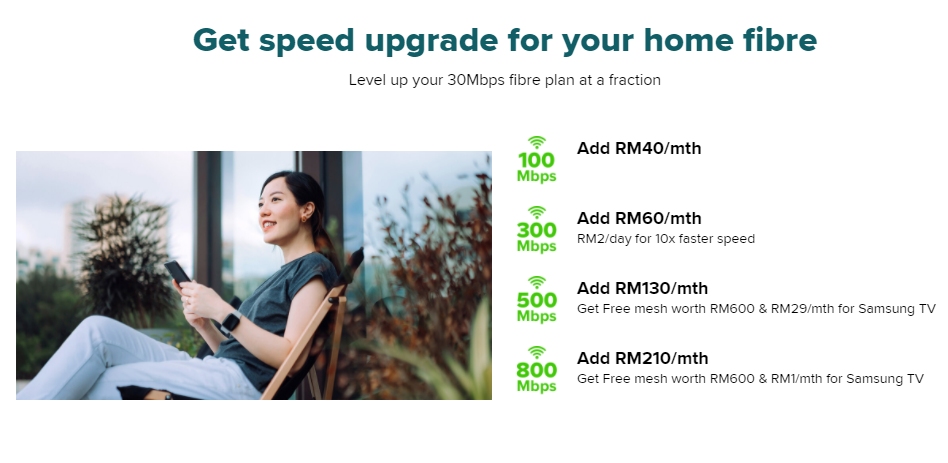 If you need faster speeds on fibre, you can add RM40/month for 100Mbps, extra RM60/month for 300Mbps, extra RM130/month for 500Mbps or extra RM210/month for 800Mbps. Similar to its existing offers, you can get a Samsung 65″ TV from as low as RM1/month on instalment. If you need new phones, the plan also allows you to add up to four devices on Maxis Zerolution from RM19 per mobile line.
Compare this to the current MaxisOne Prime offering, you would save RM92/month with the same 4 postpaid lines and 30Mbps fibre broadband combo (RM89 for fibre + RM158 for MaxisOne 158 + RM48 x 3 Share Lines = RM391/month). This is great if you have a family of four and everyone needs unlimited calls, SMS and data for their mobile devices. Unfortunately, there's no option to reduce the number of supplementary lines.
Existing Maxis Postpaid and Broadband customers can switch to this new family plan but according to the FAQ, you'll need to refresh your contract. If you have an existing device contract, you'll need to terminate that first which will incur an early termination fee.
For more info, visit Maxis' Family Plan page.
Related reading