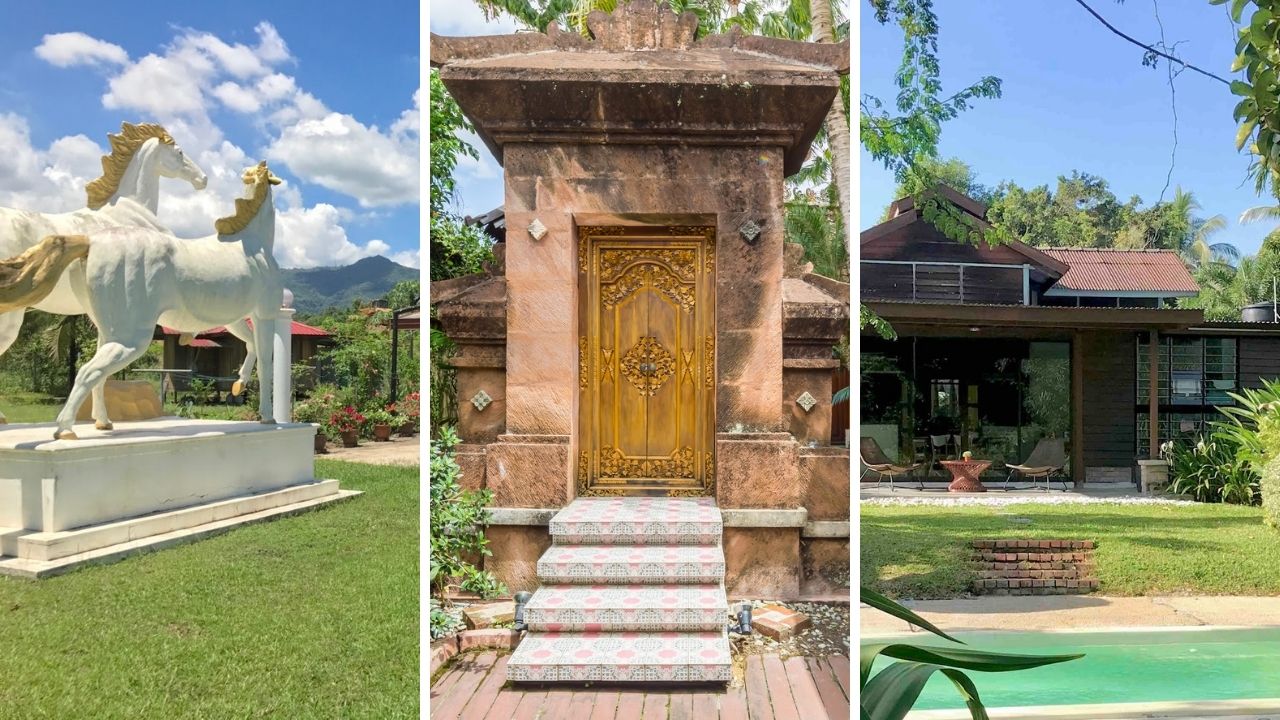 We might still not be able to travel too far due to the pandemic, but staycations are the next best thing if you want a little escape during Hari Raya break. For World Heritage Day on 18 April, Airbnb recommended a few unique and cultural stays around Malaysia to give your staycation that extra oomph.
"Every year on 18 April, we celebrate World Heritage Day as a commemoration of our diverse cultural heritage, and a reminder to continue driving awareness of and preserving iconic cultural monuments for our future generations," wrote Airbnb in their press release.
While it might be a little too late for you to book a stay here for World Heritage Day weekend, you can still use this as a guide for your future plans. This coming Hari Raya break is a great excuse for you to spend the holiday at a place that can give you the "kampung" vibe you crave for.
Casugria Dutch Melaka Chalet, Malacca
Those who want a very atas cultural experience in Malacca can try out Casugria—a colonial chalet built in 1810 under Dutch colonial rule. It was also the homestead of a Dutchman who is believed to have once been the acting Dutch Governor of Malacca.
The stay includes three bedrooms, three bathrooms, and six beds—and the whole stay can fit up to 9 guests. Casugria also has an entire pool to yourself, as well as a dining pavilion.
The stay also comes with a Halal breakfast, and parking at en external carpark leased by the hosts. The rate for one night starts at RM849, and you can check out their Airbnb page here.
Classic Heritage Loft House, Kuala Lumpur
City dwellers might be surprised to find such a unique stay in the Classic Heritage Loft House in KL. You'd get the experience of living in a traditional wooden house, while it also claims to being taxi, bus, and train friendly.
The loft includes one bedroom, one bathroom, two beds, and can fit up to six guests. The space also has a space for basic meal preparation, and a shared garden.
The rate starts at RM330 a night. You can get more information here on their Airbnb page.
Laman Tamara, Sri Menanti, Negeri Sembilan
This stay might make you feel like you're staying at an entire resort, as you'll have the whole villa to yourself. Laman Tamara in Negeri Sembilan was built in the 1960s, but much of the original design has been retained.
They stay has five bedrooms, three bathrooms, seven beds, and can fit up to 15 guests. The land itself also has a swimming pool, a BBQ pavilion, an orchard, and a fishing pond.
The rate starts at RM806 per night, and you can find more information of the Airbnb stay here.
Sawah Padi Villa, Langkawi, Kedah
This stay right at the edge of a paddy field in Kedah is truly something refreshing for us city folk. It's surrounded by nature, plus you'd get to stay in a traditional Malay villa.
The Sawah Padi Villa can fit up to five guests, and has two bedrooms, one bathroom, and three beds. It is also described by reviewers as serene, quiet and remote—so take note of that if you'd rather stay somewhere with more activity.
The villa stay starts at RM105 a night. You can find more information in their Airbnb page here.
Pulutan Heritage House, Kota Kinabalu, Sabah
No words can describe how unique this place is in Kota Kinabalu. The Pulutan Heritage House has a hard-to-miss statue of two white horses with flowing gold manes in front of the home, and it is a Sino family heritage home converted to a homestay.
Based on their pictures, the homestay can be used as a place to hold weddings, as well as other huge gatherings. It can fit up to 16 guests, has five bedrooms, two and a half bathrooms, and six beds.
The stay starts at RM400 per night. You can find out more on their Airbnb page here.
Related reading